Sara's Fabulous at 40 Boudoir photoshoot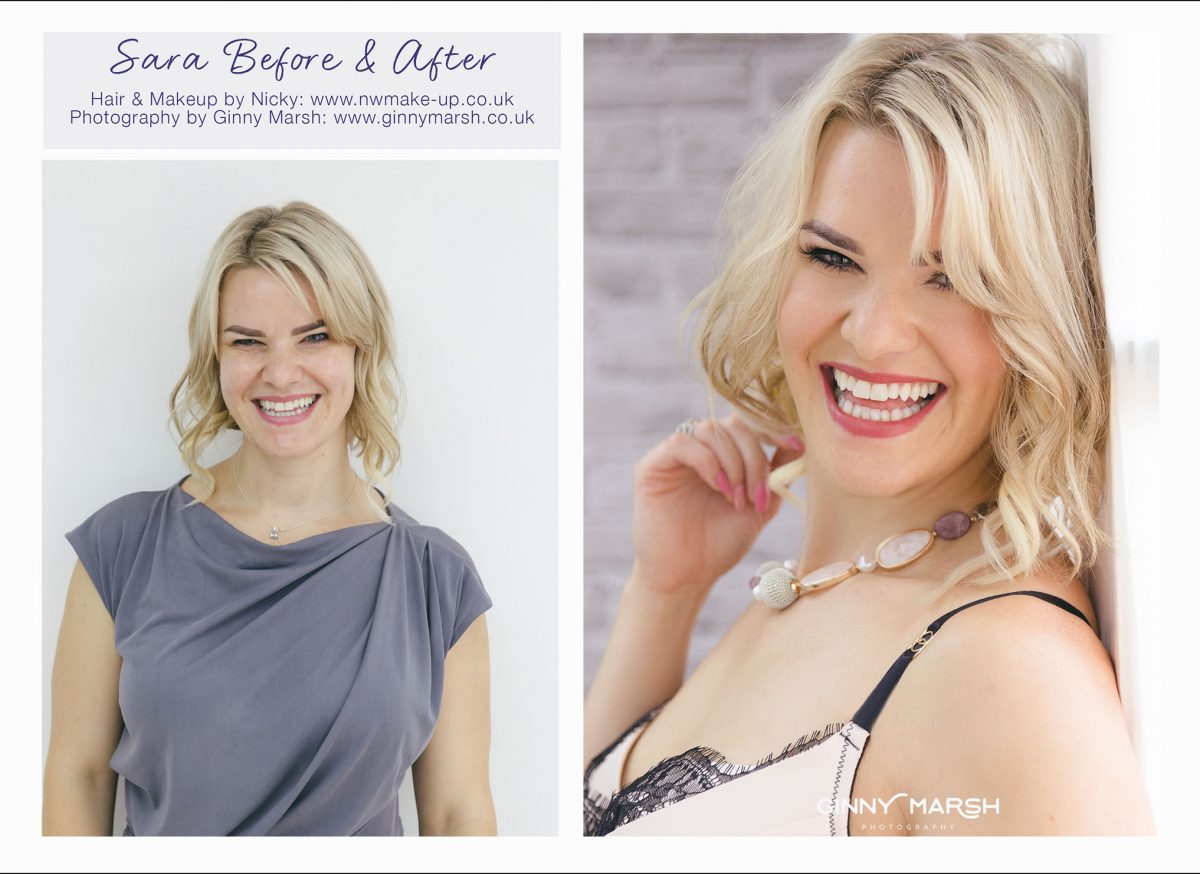 Meet Sara
Sara had a Boudoir shoot with me a few years ago and decided it was time to do another one. This time to celebrate being Fabulous at 40! It was really nice to see Sara again. Last time we did Sara's photoshoot at Hotel de Vie in Farnham. In both a hotel and in my studio I can achieve a lovely variety of images. This time Sara decided she wanted to do something a bit different though so she came to my studio for a light, bright, airy feel. Sara felt like she needed a bit of a confidence boost and her birthday was a great excuse to celebrate herself with a photoshoot!
Sara brought lots of lovely outfits, and accessories to go with them, which I feel really finished off her look. I have a wardrobe full of accessories I am happy for people to borrow, from jewellery to fur coats and shrugs etc. I lent Sara some jewellery – such as the big chunky necklace seen in the image at the bottom. She had so much lovely stuff though she didn't really need anything!

Pre-shoot consultation
Before the shoot, I had a phone consultation with Sara. As she lives quite far from the studio she couldn't come in to meet in person. My pre-shoot consultations are really important, so if my clients can't make it in person then I am more than happy to talk over the phone or skype. We discussed the style of photos Sara prefers and how she wanted to come across for her fabulous at 40 Photoshoot… Casual and girly, which we definitely achieved! We also discussed ideas for what she could wear. I find preparing my clients like this means they have a chance to really make the most of their photoshoot. And makes sure we achieve photos that they will really cherish. This preparation also helps put my clients at ease so they know exactly what to expect and realise there is nothing to worry about.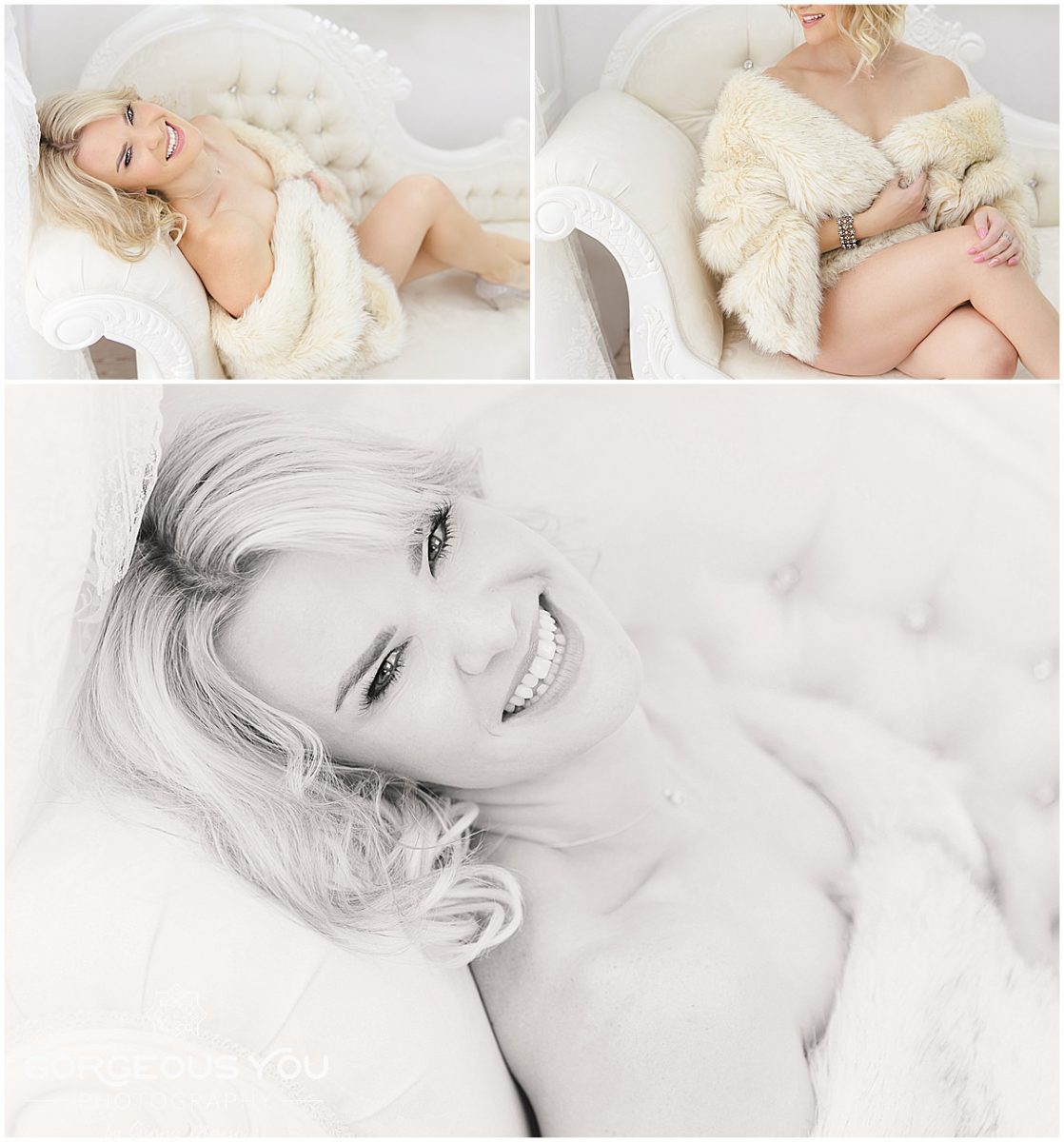 Hair and make-up
Before the shoot, Sara had her hair and make-up done by the lovely Nicky from Natasha Wiggins hair and make-up. I love getting my clients properly pampered before their shoot so they feel the best version of themselves. Having your hair and make-up done before the shoot is also really important as it makes you camera ready. It's important your features stand out as the camera can't see as much as the human eye. My hair and make-up artist stayed throughout the shoot to make sure Sara always looked her best and that no hair was out of place! We can also change your hairstyle/lip colour halfway through if you would like, so you can get a different look.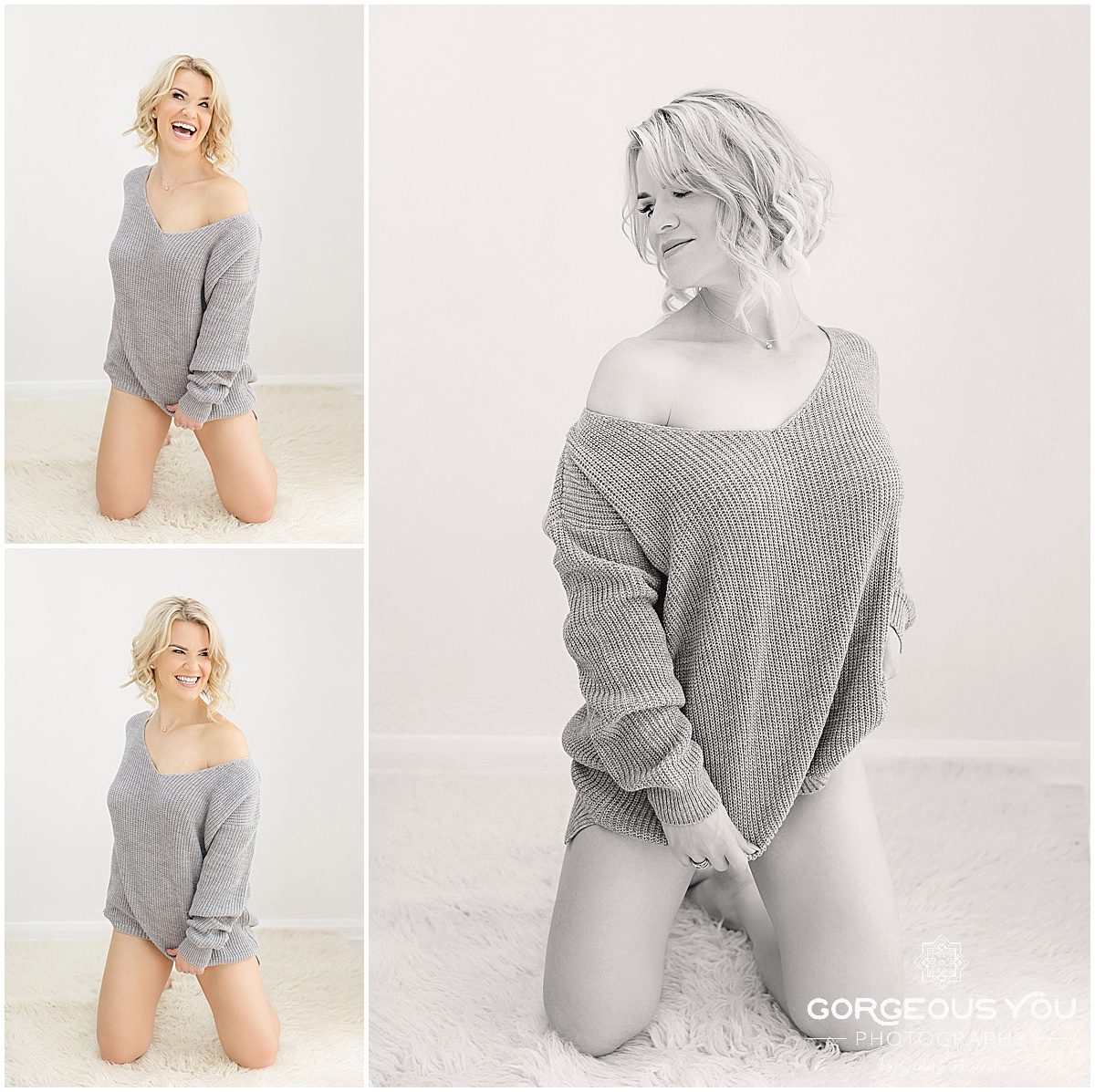 Sara's Fabulous at 40 Photoshoot
In the pre-shoot consultation, Sara said how she wanted a mixture of photos, boudoir as well as some nice headshots for LinkedIn. There is plenty of time during the shoot to do a few outfit changes so we were able to get a complete mixture of styles from casual, girly, sexy to more formal headshots. I am happy to do a mixture and help in any way I can. Everyone needs a headshot whether it's for work, social media or a website, it's always handy to have. So I'm glad I could help Sara with this. I can really cater the shoot to suit your needs.
Throughout the shoot, I will guide you through different poses whilst playing an empowering girly playlist! I will be sure to pose you in the most flattering ways for your body shape, so you always look your best.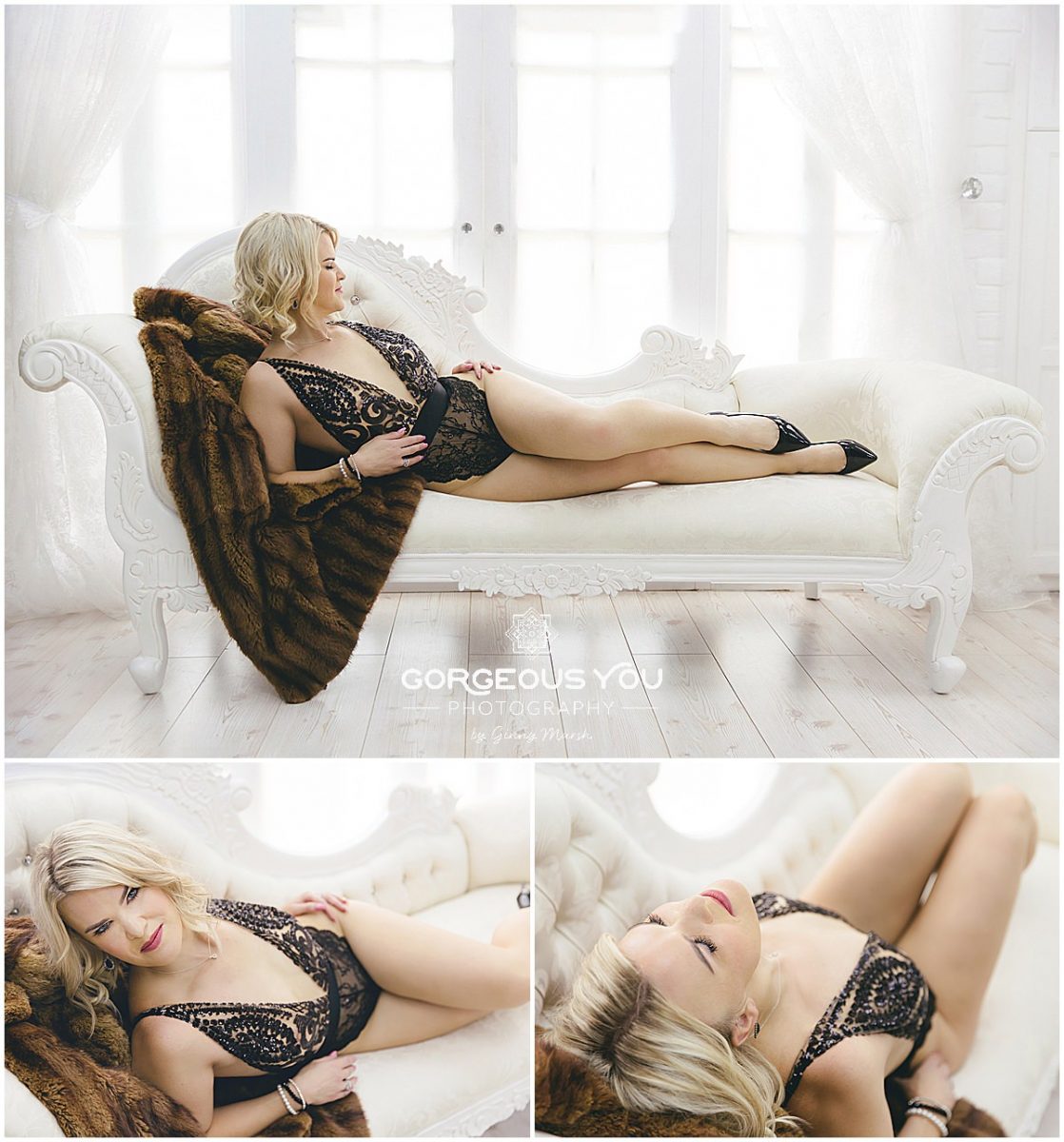 Sara's thoughts about her experience:
"This is my second time doing a shoot with Ginny. My first shoot was to give me a confidence boost after coming out of a long term relationship. I wanted to feel confident and ready to go into the daunting world of dating. For this year's shoot, I had just turned 40 and I felt womanhood had only just hit me! The difference in the photos from 2015 to 2019 is amazing. I went from a girl to a woman who knows what she wants and where she is going. It's like having a friend do your photoshoot, rather than a formal awkward shoot, where you just don't know where to put yourself, it's relaxed and most of all fun! It's a fantastic studio and the makeup artist was great". Keep scrolling to read more of her feedback…
Below are two photos from Sara's 1st photoshoot with me in 2015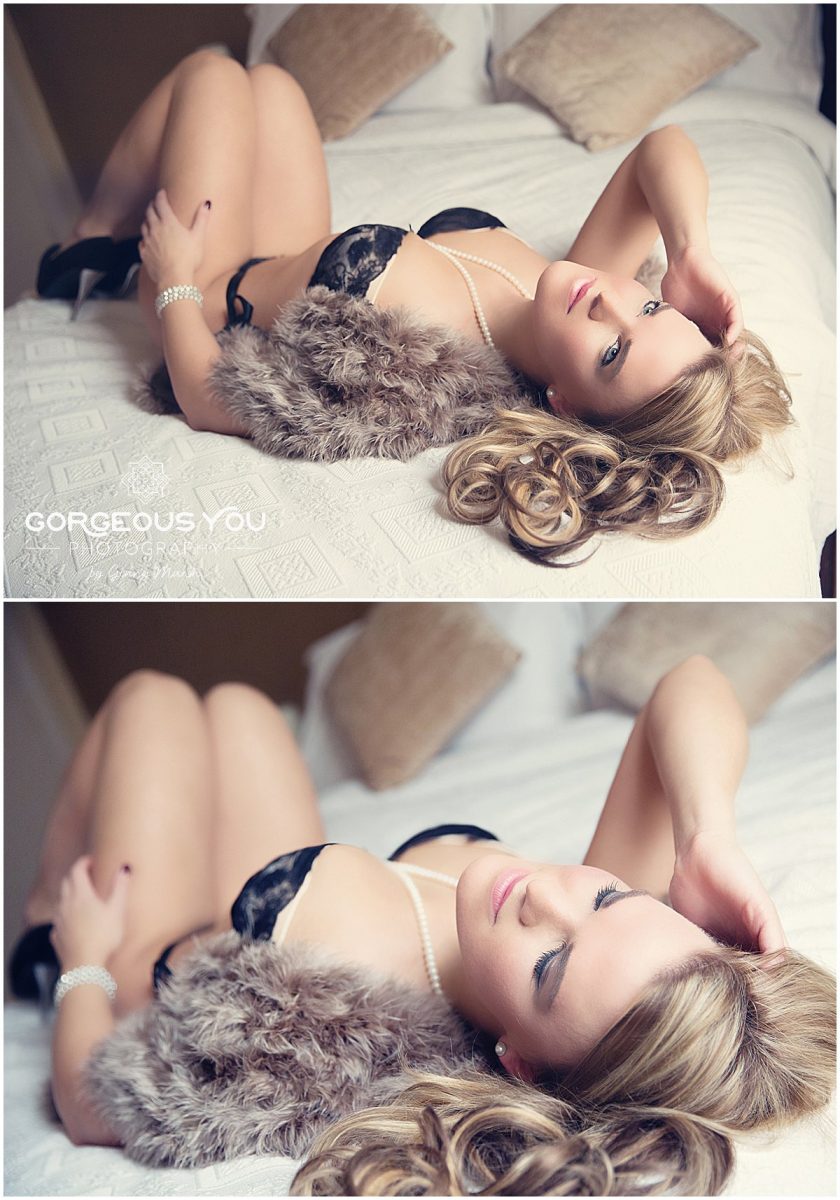 "I came to Ginny because I wanted to look Fabulous at 40 and I wasn't disappointed. They are tasteful, beautiful and capture the fun-loving side of me just as I hoped they would! Whenever I feel like I need a bit of a boost of confidence all I have to do is take a look at my fabulous photos and see the happy-go-lucky body confident woman that the photos portray! I am so lucky that I found Ginny! Now I have my own pictures as a legacy, I can show them off in my ripe old age and people will look at them and say… wow you didn't look bad when you were 40! I was so surprised that I could have pictures that look so good."
Photographer: Gorgeous You Photography by Ginny Marsh
Hair and make-up: Nicky from Natasha Wiggins Hair and Makeup
Is it about time you celebrated yourself?
Get in touch and see how I can help you!
Thanks,
Ginny x