Behind the Scenes at Carelle's EP Cover Shoot
We just did a shoot for a very talented and lovely singer / songwriter, Carelle, who is soon to be releasing her new EP and wanted a fantastic image for the front cover, as well as some new promotional material. This is where Natasha Davies Photography and I come in! Natasha Davies (now Shuttleworth because she recently got married) was the official photographer, but she asked me to come along and assist, and I even ended up shooting some of the images. But mainly I was there to sort the lighting, hold reflectors, and take behind the scenes footage!
Who is Carelle?
Carelle is a singer/songwriter of pop country music. She has been songwriting and performing for many years and has performed in her local Surrey area and has gigged in Camden, London.
Carelle has recently received excellent feedback since setting up a personal Youtube account recording acoustic live performances and videoing performances in her singing lessons with David Grant (Fame Academy's judge and vocal coach to the stars) who is extremely supportive and encouraging of her music career.
Carelle has received excellent feedback on her demo album and loves being recognised as a 'songwriter and lyricist' and not just a great singer.
As Carelle got older she really started to appreciate the lyrics behind country music. Country music is the biggest selling genre of music in America and it's popularity is increasing rapidly in the UK. Carelle would like to be known as the British answer to the new Taylor Swift and Shania Twain.
As an unsigned artist and having never been taught at a music school, Carelle said she had worked hard on building herself a strong identity and sound. You can find her music on iTunes and You Tube – go have a listen 🙂
Behind The Scenes….
The shoot took place at a stunning old mansion in Farnham, which was perfect for our shoot! We started off the day having a look round while Carelle was getting her hair and makeup done by the lovely Shillito Sisters, who are a hair and makeup duo known as Holly and Fran…
Nat and I just wanted to keep exploring, there were so many little rooms on different levels, and even the garden had a vast amount of space with different paths leading to new little areas of garden or woodland, not to mention the swimming pool! We even found an air raid shelter, which we would have climbed into if it wasn't boarded up! We were like a pair of kids at Christmas!

Look 1…
Our first look was in a nice casual jumper for some relaxed and informal images inside and out. The house has stunning views of the Surrey Hills from its 5 acres of land. There was also some general messing about and giggles from the girls – all good fun!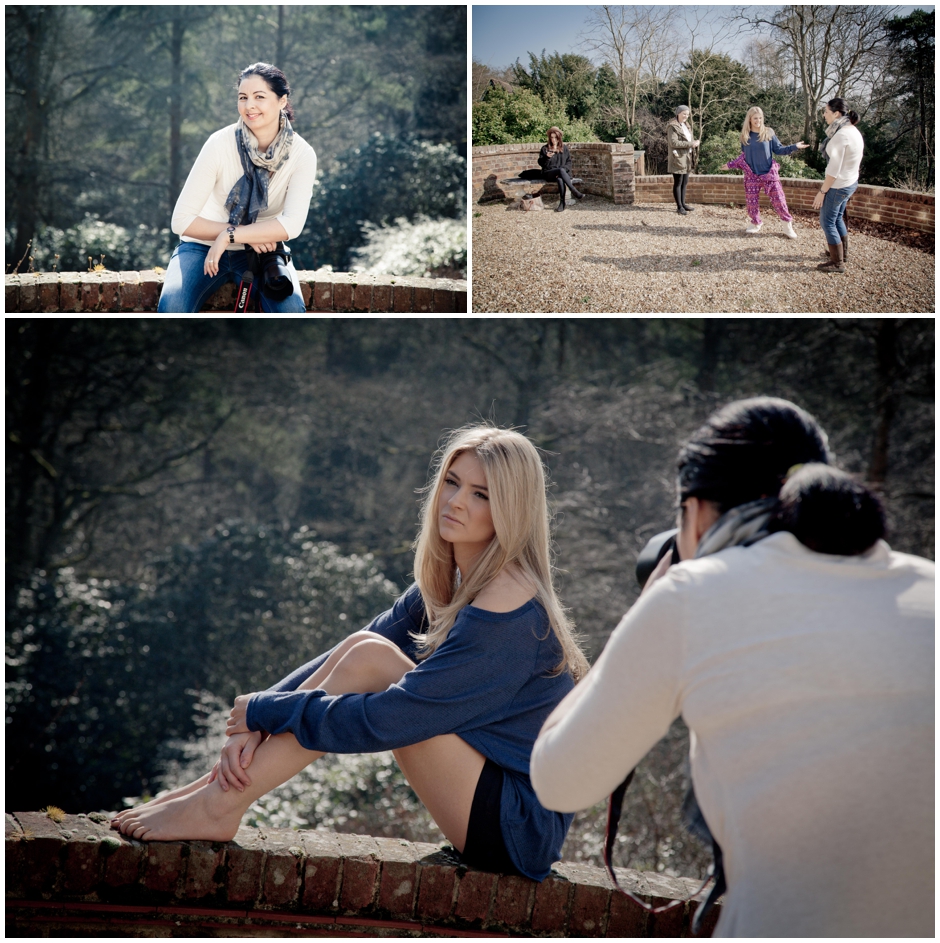 Look 2…
Carelle then got changed into the most amazing green sparkly dress! We used 'the map room' on the top floor, which had a whole wall covered with a world map, which was peeling off in places, but gave an interesting colour and texture to the background of the images. Then I took over for a bit while we all tried to make Carelle laugh. We got her to blow some sparkly confetti from her hands, which looked pretty cool, and then proceeded to throw piles of leaves from the garden over Carelle (yes, in the room!) and then made her lie in it, which created some interesting and different images!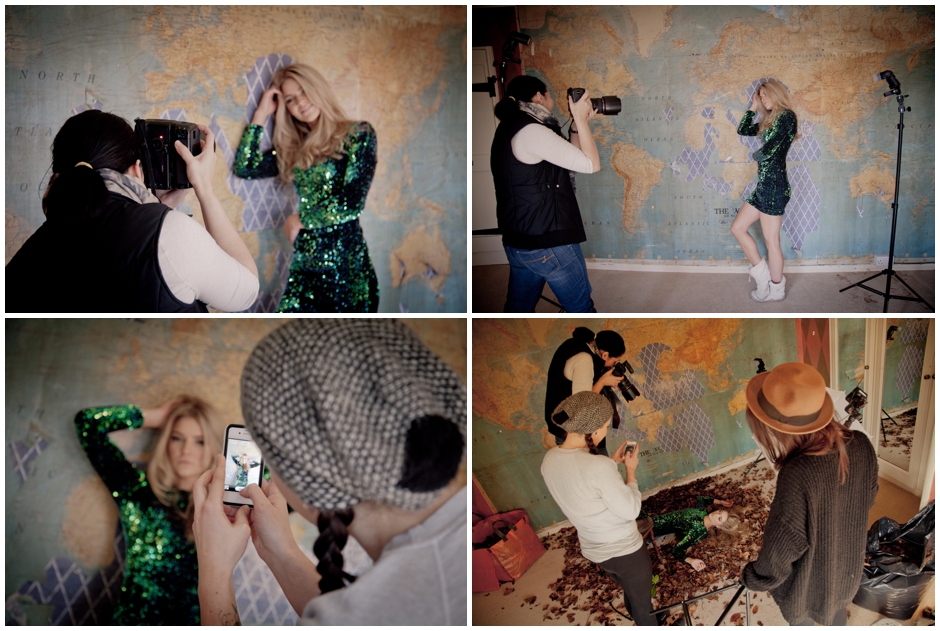 Look 3…
Finally Carelle had her hair and makeup changed for the third time and put on a little black dress for a different look. We used the living room space, which had one sofa in it, and Nat captured a range of different images from very light spring-like images with sun flare, to dark and moody lighting in the corner of the room.

All in all it was such a fun day – definitely didn't feel like work with us 5 girls all having a giggle! If only I could do shoots like this more often…
Thanks for reading, please feel free to comment and share 🙂
Ginny x
All images in this blog were taken by me, Ginny Marsh Photography. Part 2 of the Carelle Shoot blog will follow with all the final images, so watch this space!