Confidence boosting Gorgeous you photoshoot for Seema… a surprise birthday gift from her husband
About Seema
Seema was very lucky to be surprised by her husband with the gift of a Gorgeous You photoshoot and Wardrobe Styling session!
I know Seema and her husband Kunal from the Farnham Business Hub so it was really nice to be able to help them. Kunal saw some of my photography work and thought it would be the perfect present for his wife because she hates photos of herself and could do with a confidence-boosting shoot!
Their business is called Sprinkle of saffron. Seema creates yummy home cooked Indian food for curry nights at local venues around Farnham and supplies frozen curry boxes to shops too.
I wanted to make sure she got the most out of her photoshoot and had some lovely headshots she could also use for her business.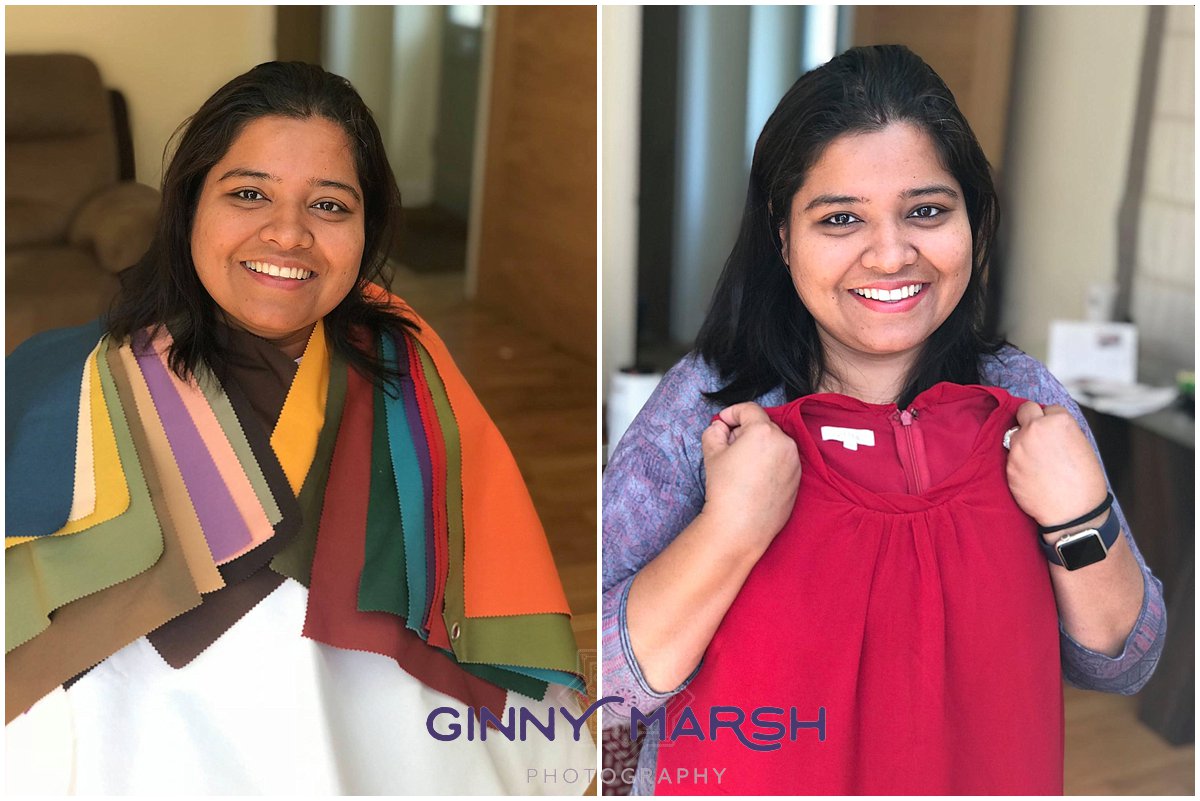 Before the shoot
Before the shoot I always recommend a colour & style session with Jo from Sparkling Ginger, as shown in the above photos. Especially if you want a complete confidence boost and help with what to wear. Seema's husband thought this would be a great idea for her!
Seema didn't find out she was having a photo shoot until the day of her style session! Jo and I turned up at Seema's house to surprise her on her birthday… Thank goodness she was really happy about it! We had done our research and were very confident it's something she would want (otherwise I wouldn't recommend investing a large amount of money as a surprise gift!).
Finding colours that really suit you can make such a difference for photos. We found out that Seema really suits vibrant Autumn colours, such as reds, purples and oranges.
Then on the day of the shoot, Seema came to my studio and had her hair and make-up done by Catherine, who works for Natasha Wiggins. I find this whole process very important as it gives my clients a great confidence boost ready for the shoot and gets them camera ready! Check out Seema's before and after photos below.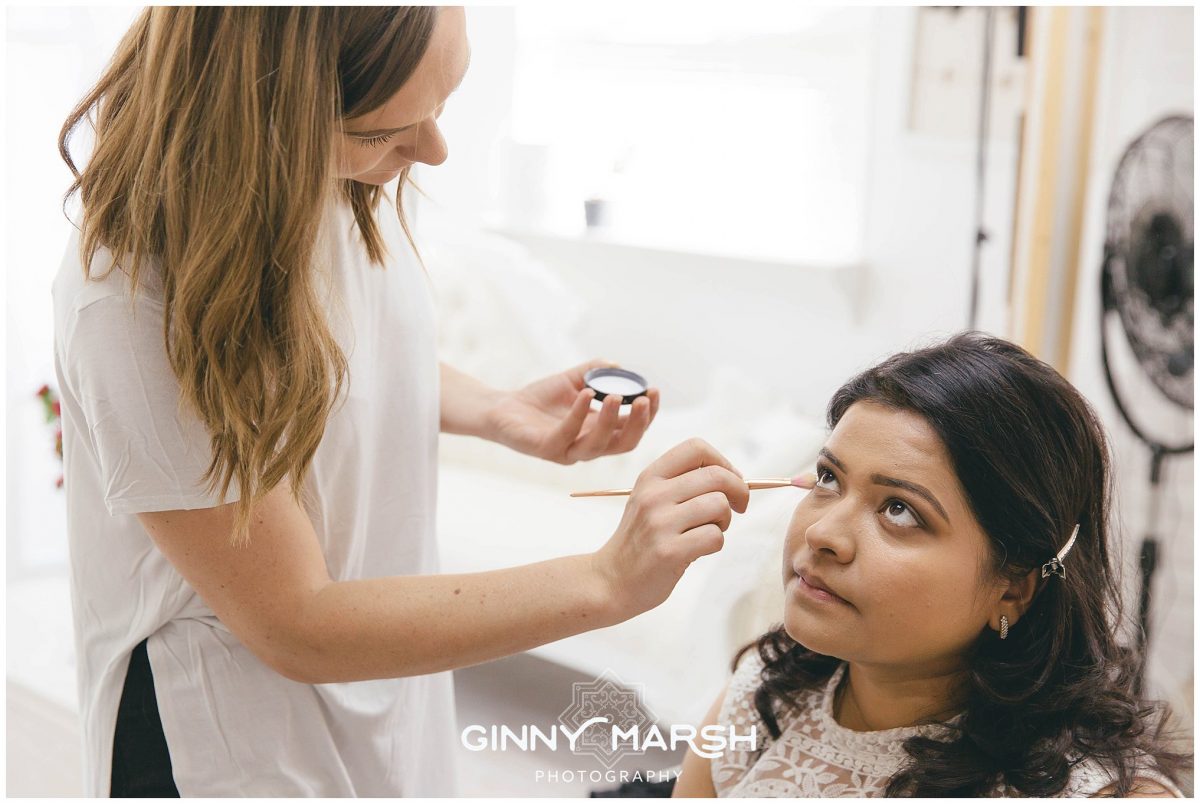 The Photoshoot
During the shoot, we have the hair and make-up artist on hand to change your hairstyle if you wish and you are also able to change outfits a few times too. So you get a lovely variation of looks that show the gorgeous you with the result you want! I take a variation of photos with different backgrounds as well. And I always choose a background which I know will compliment you and what you're wearing (which is why it's really handy to be prepared and know exactly what you're bringing before-hand!).
I will be sure to guide you through different poses to flatter your figure so you don't need to worry about a thing. You will come away from the shoot with a great confidence boost, and feeling the best version of yourself! And even more so when we reveal your images at your private viewing session a week or two afterwards!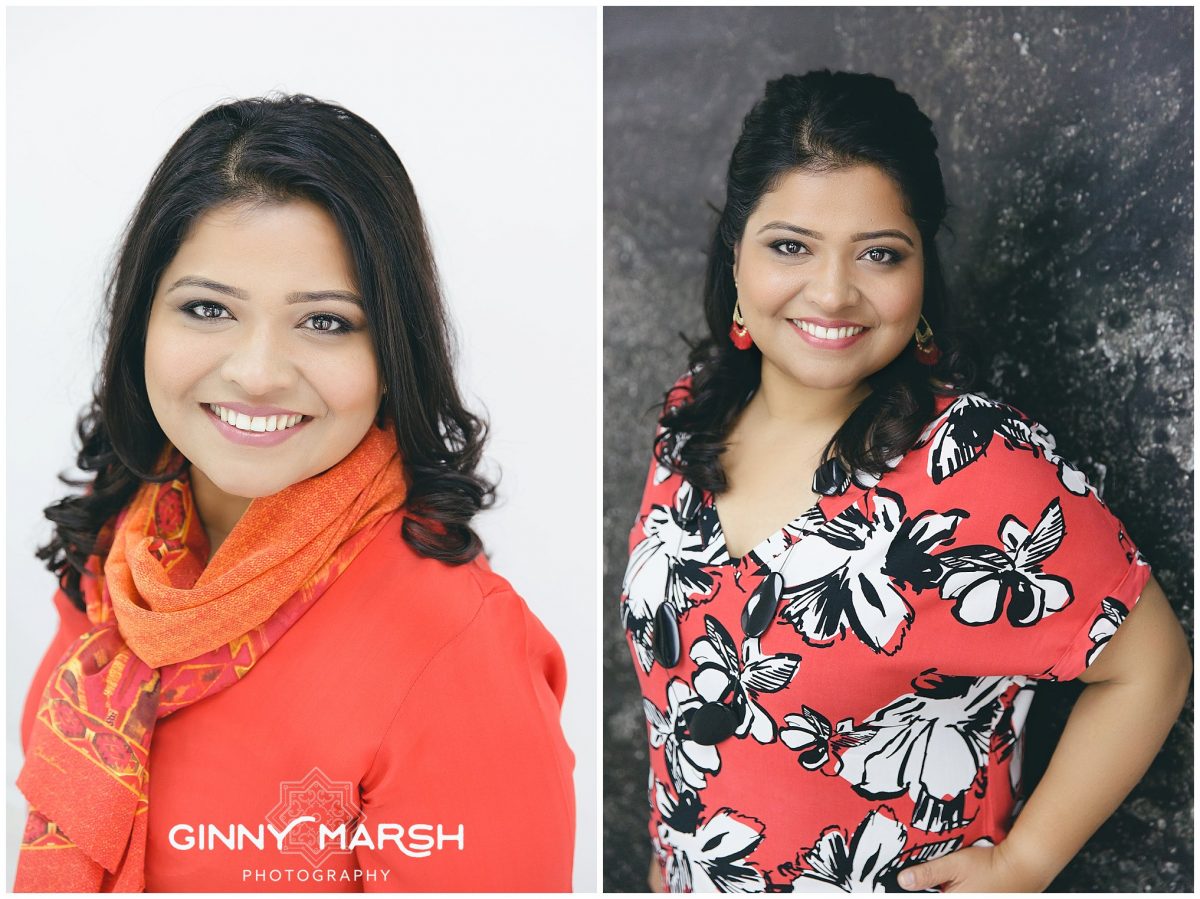 Photographer- Ginny Marsh Photography
Hair and Make-Up – Catherine from Natasha Wiggins
Styling- Jo from Sparkling Ginger
Are you in need of some business headshots?
Or some beautiful portraits to celebrate you and/or boost your confidence?
Contact me and let's have a chat about how I can help you.
Thanks for reading
Ginny x