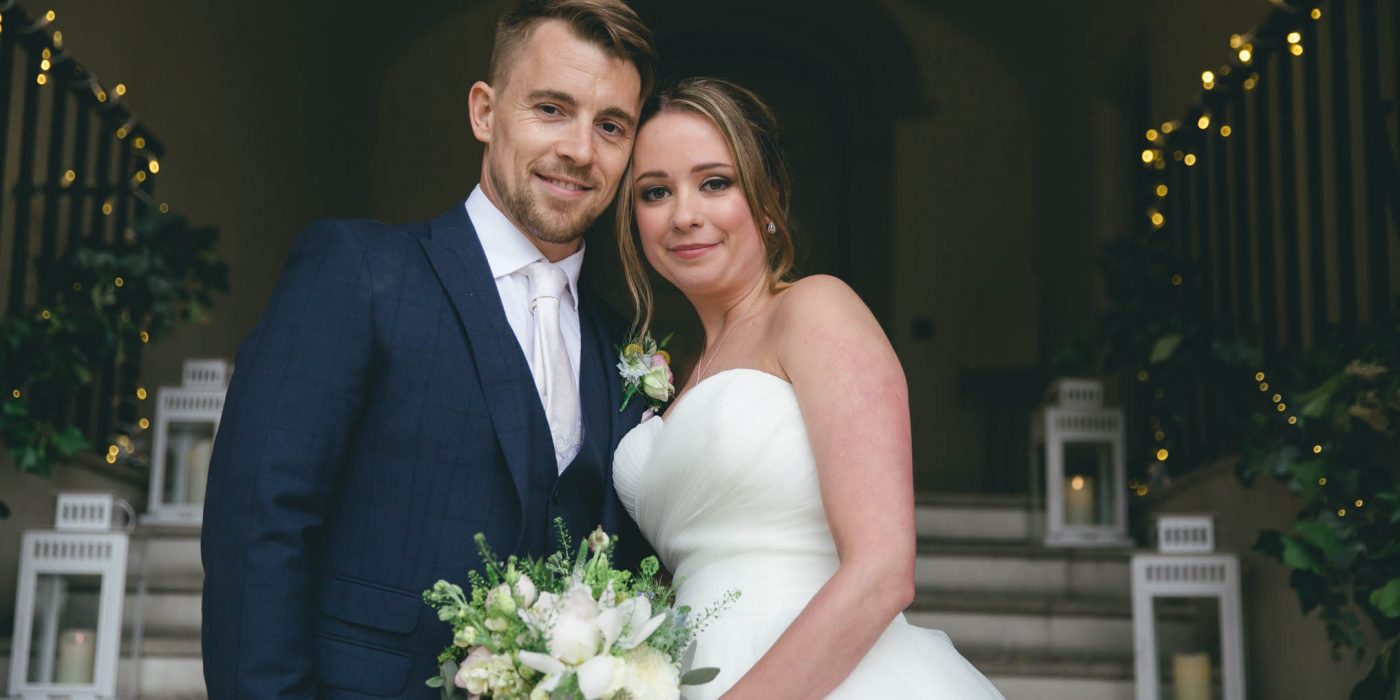 Rob and Lucy's Magical Rainy Spring Farnham Castle Wedding
The Happy Couple…
Rob and Lucy are a really sweet couple who compliment each other really well. They met through friends but kept missing each other on nights out… Rob had his eye on Lucy and finally, they got together!
Then he proposed one weekend in Frome, Somerset, and left a little note for Lucy to find when she was getting ready for dinner, which led her outside to where he was hiding with the ring.
Rob seems to be a true romantic. On the morning of their wedding, he organised a series of little surprises for Lucy, including a video with pictures of them as a couple and their dog, Snoopy. This almost had Lucy in tears!
Here's a pic above from their pre-wedding shoot, which took place at Virginia Water, including cuddles with Snoopy the Beagle! Rob's pretty natural in front of the camera, but Lucy was a little bit shy, so we met up for a walk before their wedding to get a bit more comfortable in front of my camera.
The Venue… Farnham Castle, Surrey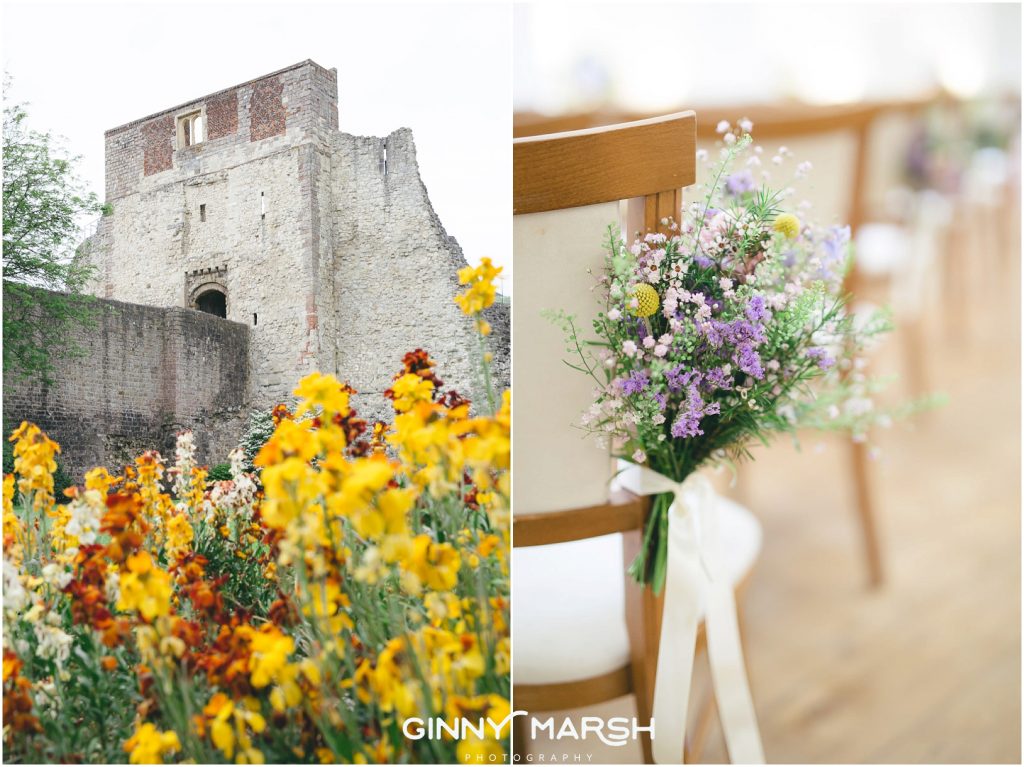 Rob and Lucy decided on their wedding venue very quickly as they both fell in love with it straight away. Especially with all the lovely views in and around the castle.
Farnham Castle is full of history and exudes sophistication and style. Therefore, it's no shock that Farnham Castle is recommended as one of the most enchanting wedding venues in England!
The Castle has a choice of ceremony settings, and the fabulous Great Hall is perfect for your wedding reception. The yummy world-class food is prepared in the Castle kitchens by a talented catering team; it also has breath-taking landscaped grounds and accommodation. Recent renovations have really brought Farnham Castle up to date. It makes it easy for me as a Farnham wedding photographer to get some beautiful images!
Wedding Style… Spring flowers and a delicate Pastel Colour Scheme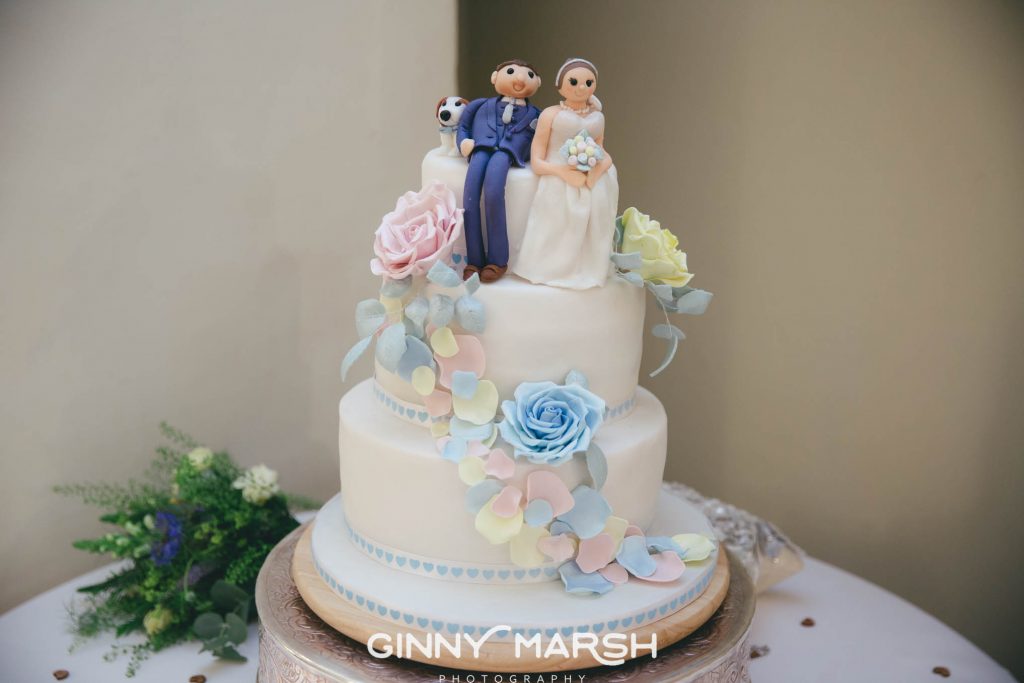 Rob and Lucy's beautiful Farnham Castle wedding had a delicate and fresh style with a mixture of pastel colours to accompany the abundance of spring flowers.  Most of all, their wedding had a lovely bright feel, with big bouquets of delicate but vibrant flowers in large vases on the tables and decorated all around the venue. The Lantern Hall was beautifully decorated with small bunches of flowers tied by ribbon to the chairs down the aisle. All of the flowers matched Lucy and her bridesmaids' bouquets.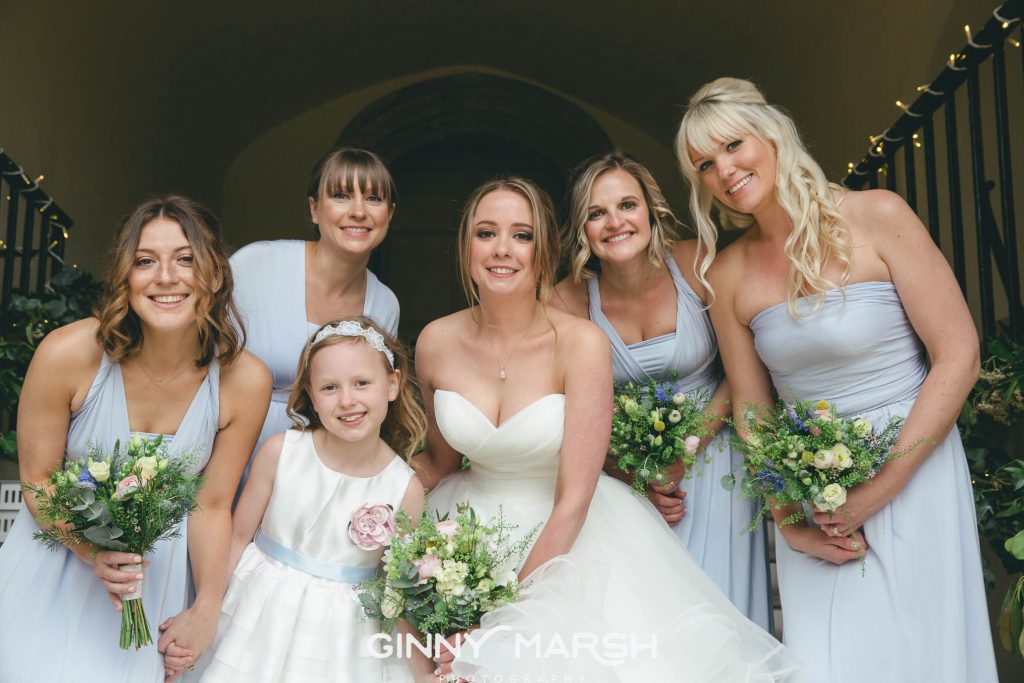 Lucy wore a beautiful floor-length elegant and billowing tulle wedding dress with a sweetheart neckline. Lucy accompanied her dress with a very impressive bouquet of Peonies, coloured roses and wildflowers, and as a result, took everyone's breath away when she walked in! Her bridesmaids all wore gorgeous floor-length pale pastel blue coloured dresses each wearing them differently at the top!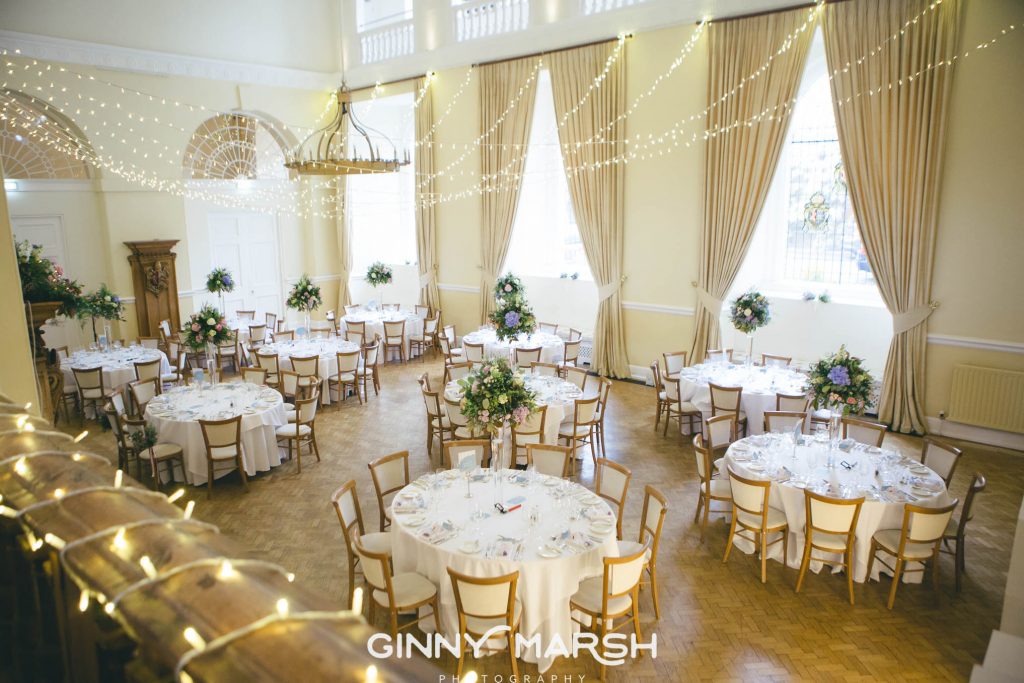 Highlights of the day… A rainy wedding and Dancing on starlit clouds!
Lucy and Rob didn't have the weather on their side, unfortunately – it rained for most of the day! Most of the photos had to be taken indoors. Luckily, Farnham Castle has a lovely big entrance and arch covering the steps leading up to the main door, which enabled us to do the group photos and some of the Bride and Groom with beautiful natural light under cover. It just goes to show that a rainy wedding day shouldn't spoil your day! We still got some gorgeous pics inside – there's a balcony running around the top of the Great Hall, where we went for some nice portraits after their meal.
I loved the setup for their first dance – they had a starlit dance floor and smoke machine, all supplied by Farnham Sound & Light, which looked really magical. It was as if they were dancing on clouds! *Top tip* – if you have a smoke machine, you need to make sure there are no drafts, otherwise the smoke will rise up.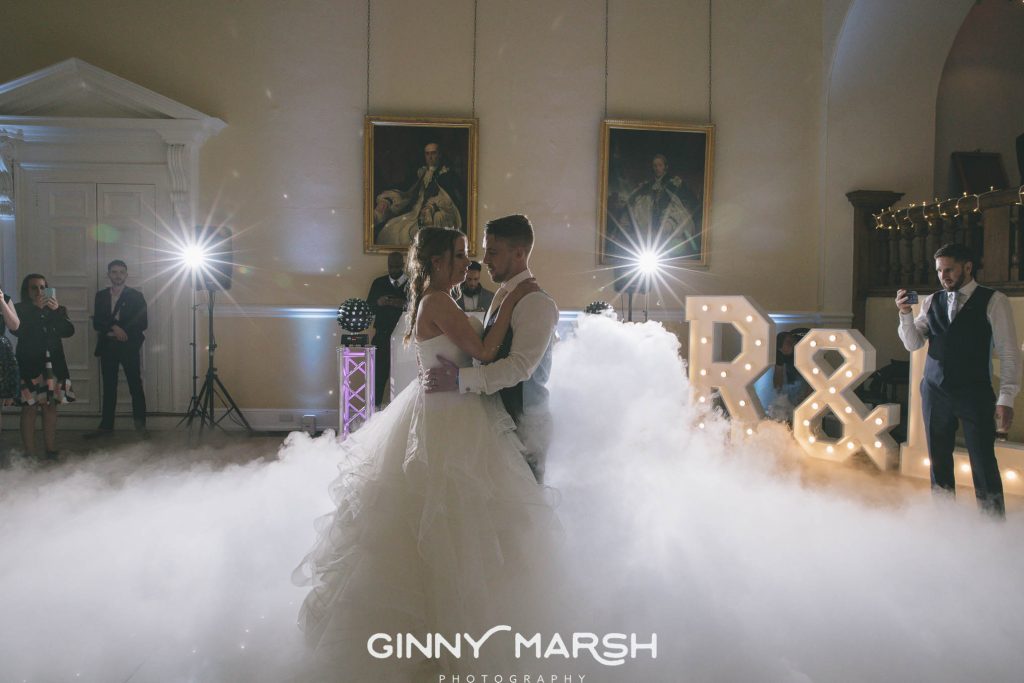 Thanks so much to my second photographer, Charlie Davies – we filmed their day too and I can't wait to make their wedding video!
Check the bottom of this blog for details of their suppliers 🙂
Here are some more gorgeous images to tell the story of their day…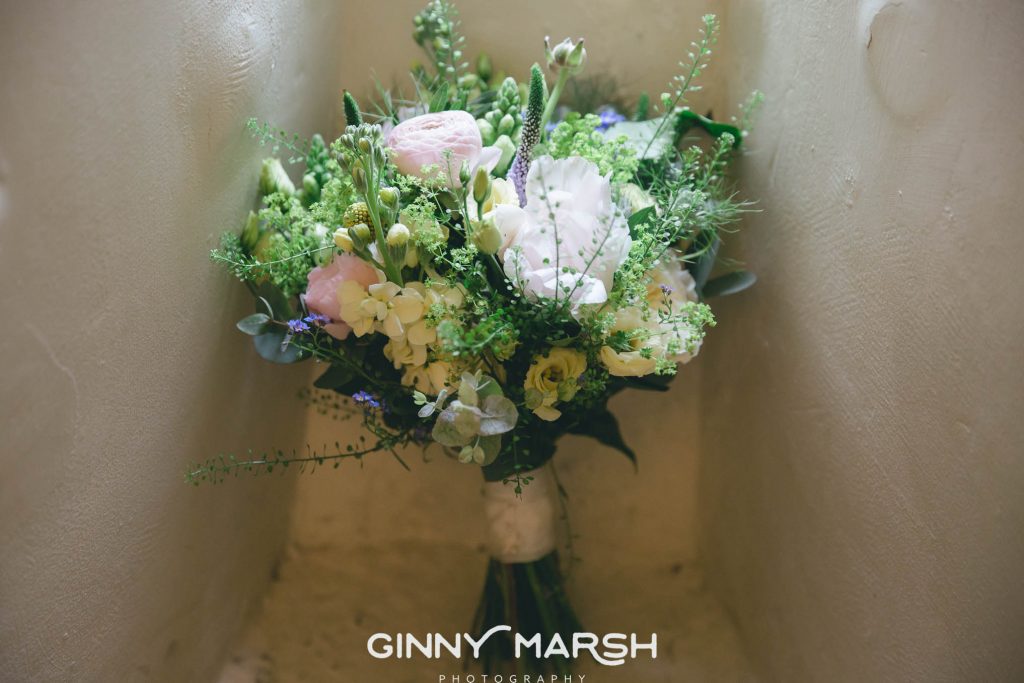 WEDDING SUPPLIERS…
Venue & Wedding Coordinator: Heather @ Farnham Castle
Flowers: Lavender Hill Flowers
Cake: Karen Palmer Cakes
DJ: DJayR
Lighting, Dancefloor & Photobooth: Farnham Sound & Light
2nd Photographer: Charlie Davies Photography
Many thanks for checking out my wedding photography! In addition, are you planning on getting married at Farnham Castle, Surrey or having a Spring wedding? Please Contact Me for a quote and to check my availability before it's too late!
Alternatively, you can see some more of my lovely weddings HERE
Thanks so much for taking the time to read this Blog.
Ginny x