Chloe and James' Elegant Autumn Frensham Heights Wedding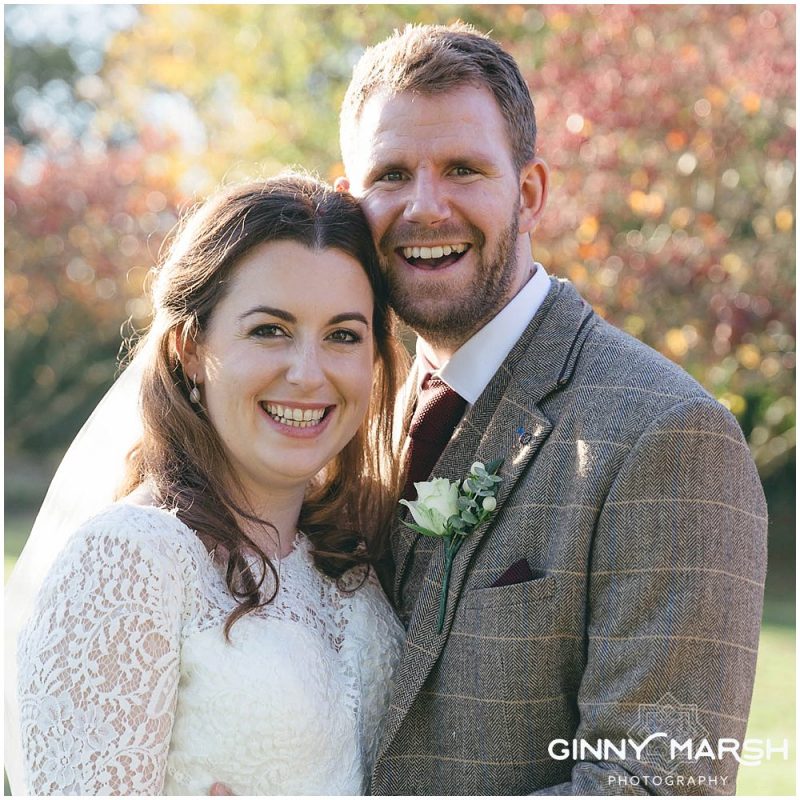 The happy couple!
Chloe and James met at Exeter University. James did Maths, Chloe did English. Their eyes met across a drunken dancefloor at Timepiece nightclub "top top" floor and that was it! James and Chloe had already been to Hatton Garden to choose sapphires (Chloe wanted a Kate Middleton ring!) so they both knew it was a possibility but James surprised Chloe in a shepherd's hut in the middle of nowhere near the Hambledon vineyard. He knelt down along the side of the bed one morning and woke her up with the ring in hand! Chloe's first reaction was "but I haven't cleaned my teeth"!
A church wedding followed by a reception at Frensham Heights…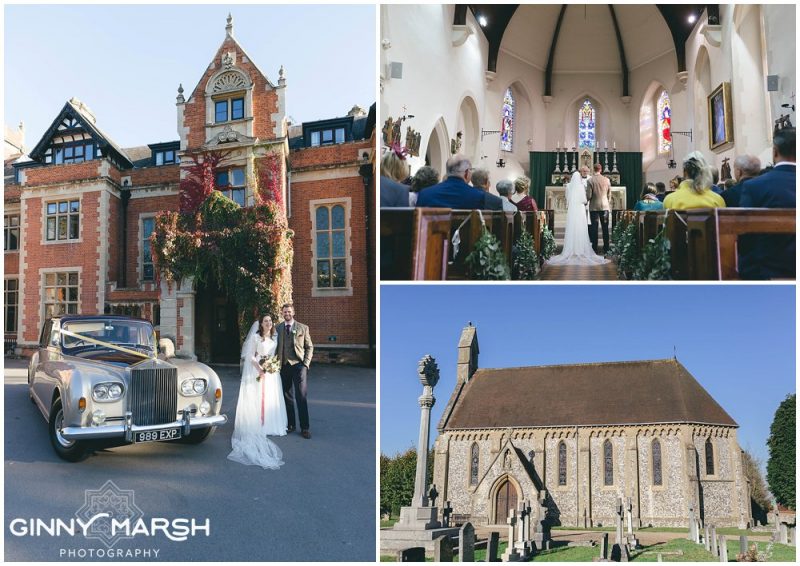 Wedding Style – blush pinks, maroons and tweed
Chloe and James tied the knot in October in St Edward the Confessor Church in Sutton Green. It was a very elegant and traditional wedding in many ways. Chloe wore a magnificent veil that was longer than her dress! The colour theme was beautiful blush pinks, maroons and tweed. The Bridesmaid dresses were a glittering maroon which complimented the pinks in the reception hall. James and his groomsmen wore maroon and tweed suits which also went perfectly.
Check out a list of their suppliers below 🙂

Chloe and James' reaction to their gorgeous photos
I thoroughly enjoyed when they came to view their images, seeing their reaction was amazing. They even made me an amazing thank you gift- a camera cake!! It tasted amazing!!
"We have just been to view our wedding album at Ginny's studio and it could not have been any better!! The pictures are gorgeous – we are delighted! She has captured every emotion of the day from start to finish. Neither of us likes having our photo taken, and not only has Ginny managed to snap the whole day perfectly, but she did so without feeling like the camera was constantly in your face or like you were being photographed all day. It was the perfect mix of portraits and natural snaps – just what we were after. We can't wait to give pictures for Christmas presents! Thanks so much for the lifelong memories Ginny xxoxxo" – Chloe & James
My best wishes go to Chloe's Dad, who I only just found out has been through a lot in the past year and almost didn't make it to the wedding. Thankfully he's almost made a full recovery 🙂
Life is so precious, and it just makes you realise how important these photos are.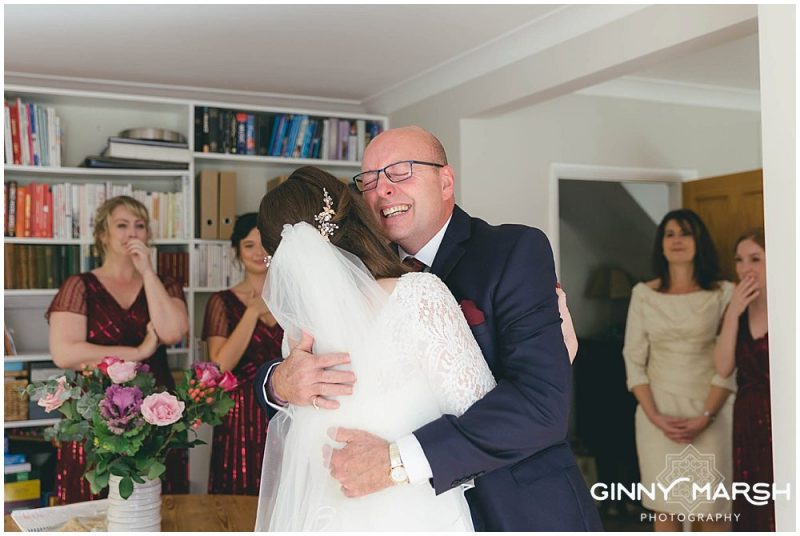 Surprise of the day
The wedding party, plus my second photographer Jade, travelled to Frensham Heights in an amazing double-decker vintage green bus (scroll down to see photos!) whilst Chloe and James had some lovely alone time in their own fancy car. There was just one hitch… the bus had to stop and do a million point turn when it couldn't fit under a bridge! It may have just started a small traffic jam… it was all fun and jokes for everyone on the bus though! As they were being entertained by the groomsmen!

Suppliers:
Photographer – Ginny Marsh Photography
Second Photographer – Jade Eleanor Photography
Venue ceremony – St. Edward the Confessor Church in Sutton Green
Venue Reception- Frensham Heights, Surrey
Florist – Helen from Lanehouse Flowers
Hair and Make-up – Gina Trinchese
Brass band- Jubilee Trio
Cheesecake – Cotswold Cheese Company
Stationery – Feel good invites
Suits – Hire5
Brides Dress – Belles in Woking
Bridesmaids Dresses – Joanna Hope Dresses
Evening band – The Blackbird function band
Thank you for looking at my Wedding photography! Are you in the middle of planning your wedding?
CLICK HERE to get in touch and see if I am the Photographer for you!
Or CLICK HERE to check out more of my wedding photography
Keep scrolling to see more of Chloe and James' beautiful Wedding day!