Jenny's Bridal Boudoir Shoot Surprise Wedding Gift

Meet Jenny
It was so lovely to meet Jenny at the Farnham Maltings wedding fair earlier this year! She wanted to do a boudoir shoot for her future husband as a wedding gift, and to surprise him on their wedding day. She certainly did that!!
Jenny needed a bit of a confidence boost, so having a boudoir shoot with me was perfect for that too. She also lost some weight for her wedding so it was about time she celebrated herself. I'm just in love with her beautiful red hair!
"Ever since we got engaged and we started to plan our wedding I secretly knew that I wanted to do a boudoir shoot as a wedding gift to him. My body confidence has always been fairly low and I knew I needed a boost before the wedding and thought this would be a perfect opportunity. It gave me a goal of trying to lose weight for my boudoir shoot and wedding all at the same time. To me, this was my pre-wedding gift to myself as well." – Jenny

Preparing for the shoot
Before the shoot, Jenny came into the studio to meet me, have a chat and plan the shoot. I always do this with all my clients who book a full shoot as it really helps prepare them as well as myself. We plan the shoot together, from deciding the style of images preferred to the different outfits/ accessories they will wear. Jenny really wanted some glamorous photos which I think we definitely achieved!
She borrowed a few accessories from my wardrobe, such as the wedding veil, slouchy jumper and black see-through cardigan. I always have a few accessories on hand to add to any look which my clients are more than welcome to use. I use Pinterest to help plan the shoot. It's great way to visually plan outfits, hair and make-up, photo and pose ideas. So I completely understand exactly what my clients want and make sure they get everything they want from the shoot and more!

Hair and make-up
Before Jenny's shoot, she had her hair and make-up done by the lovely Gemma. Here are Jenny's thoughts about her hair and make-up experience:
"Gemma was my hair and makeup artist on the day and she was fantastic; an absolute star. She was full of ideas on how to style my hair and how to do my makeup that I let her have free reign. As I trusted her completely even though I had only just met her….that's how much she puts you at ease."
I find it so important to have a good hair and makeup artist for every shoot as it really helps give you a big confidence boost ready for the shoot. It also helps you feel relaxed and pampered too! It's also important for the camera, as the camera can't see as much detail as the human eye. So make-up really helps with that – making your best features stand out so you can look the best version of yourself. My hair and make-up artist stays throughout the shoot to make sure you're always looking fabulous!

Jenny's thoughts about her experience…
"I was nervous about how my hair and make-up and photos were going to look and how to pose. But I needn't have worried as I loved having my photos taken. The experience was totally amazing and I would do it all again in a heartbeat. Ginny made me feel so at ease. Even though I had never done a photoshoot before let alone a boudoir shoot. Ginny's directions were very friendly yet professional at the same time. I must admit the music playing and the prosecco flowing helped too…lol.
I love my photos and can't stop looking at them. The photos look so seductive and totally blew me away when I first saw them. I will probably make a collage out of a few of the pictures and put them on my bedroom wall. The rest of the pictures will stay in the gorgeous box for us to have a peek at every now and then. My confidence can be fairly low at times but looking back at the pics always makes me feel 1000% more confident. They remind me that I can be that sexy vixen again and spur me on to do whatever I want to do."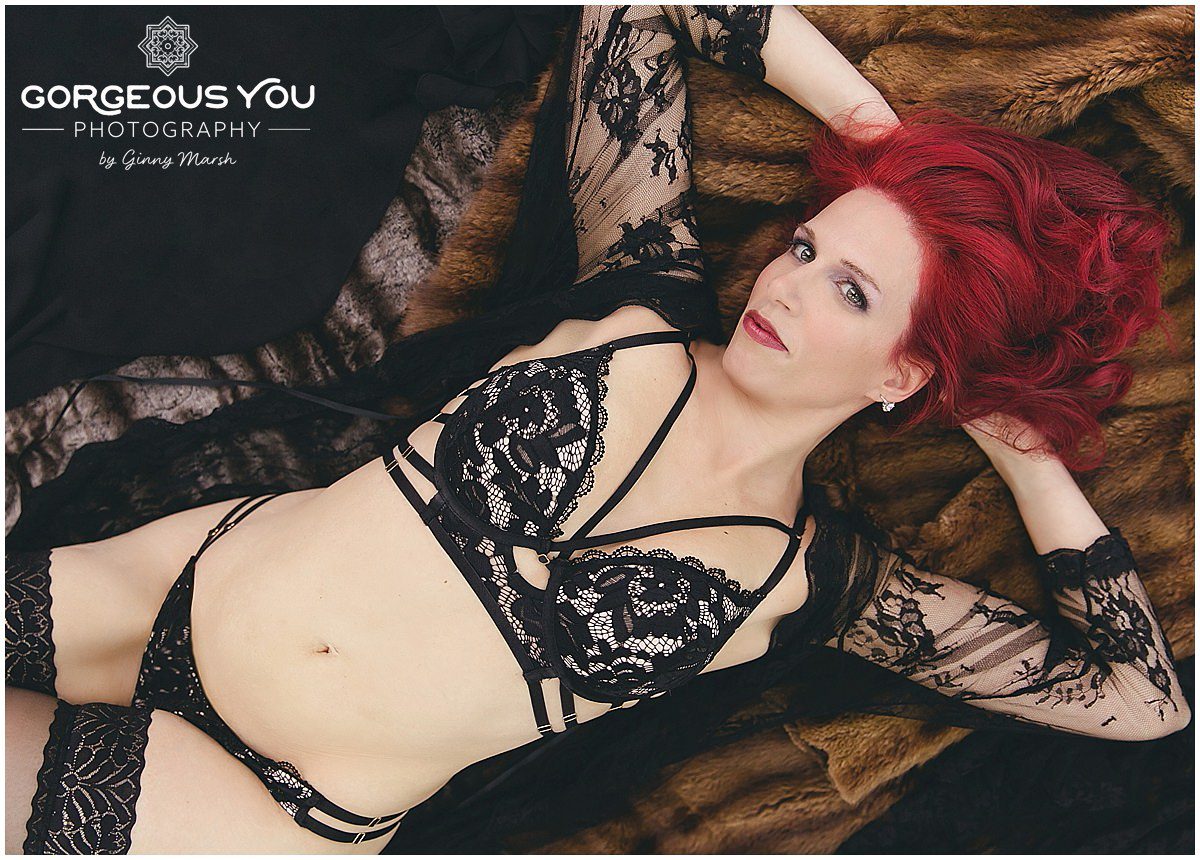 Jenny's husband's reaction…
"The photos were given to my husband as a surprise wedding gift on our wedding day. He was shocked that I had managed to keep the boudoir shoot a secret from him. When he opened the box and saw the pictures he loved them! He was so impressed by how amazing they were. Best of all I had my wedding photographer to capture the look on his face when he opened the gift. I also had a videographer, so now I can watch the look on his face over and over again.
I would one million percent recommend doing a boudoir photoshoot with Ginny. She is amazing and her eye for detail is just fantastic. I would say don't even think about not doing it…..just email or pick up the phone and book the boudoir shoot, you won't regret it!" – Jenny
Thanks so much, Jenny, I'm glad you enjoyed it as much as I did!
Photographer: Ginny marsh – Gorgeous You Photography
Hair and make-up: Gemma Louise Hair and Beauty
Ready to get your partner's heart racing!?
Contact me to find out more information about my shoots!
Thanks so much for reading
Ginny x