Jo & Andy's Colourful Wedding at the Sir Harold Hillier Gardens, Hampshire

The happy couple… Jo & Andy
I had the pleasure of photographing Jo and Andy's very colourful wedding at the Sir Harold Hillier Gardens in Hampshire.
Here's the story of how they met… (I love a good story!)
Jo and Andy met in 2010 during a rock climbing weekend to the Peak District with an outdoors group. Jo was quite a new member, excited to learn to rock climb, whereas Andy had been rock climbing for years. So he showed Jo how to climb (how romantic)!
When they became engaged, their son at the time was 3; he was very excited to get married too and said he would be wearing the dress! He is now six years old and made a cute page boy. Children are very important to Jo and Andy. They had many included in their wedding party, including Jo's niece who was a bridesmaid and her nephew who was page boy alongside their son. So it was very important to them to make their wedding relaxed and fun for everyone, which I thought was a great idea and worked really well! They chose to get married in the Sir Harold Hillier Gardens, Romsey, Hampshire, which is a beautiful location.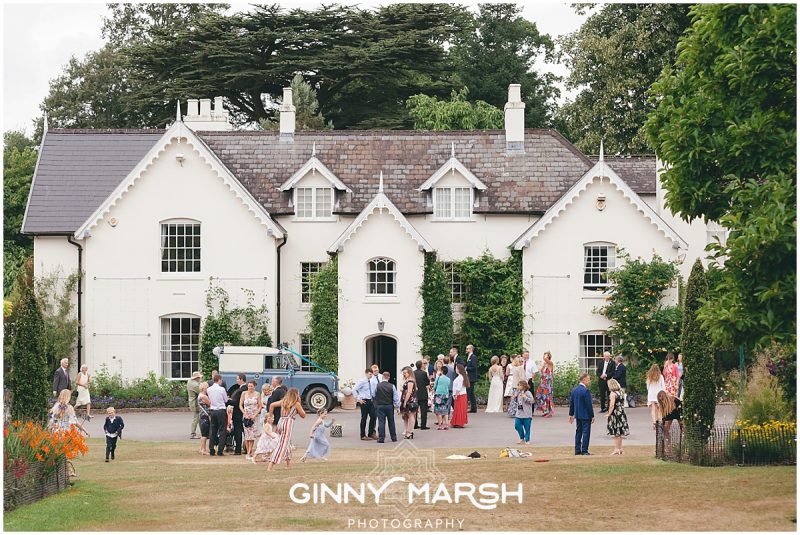 Wedding at Sir Harold Hillier Gardens, Romsey, Hampshire
The ceremony was held in a Georgian style house in Hillier's Garden, followed by the reception in the garden where they also had a large marquee set up. Jo and Andy have been to Hillier's Gardens many times before with their son, so they had already made many lovely memories there. Andy especially loves the outdoors and has some fond family memories from being in the garden. Therefore, the Sir Harold Hillier Gardens was a perfect choice for their wedding.
It was a lovely sunny day, perfect for a garden wedding! They had a big marquee in the gardens where everyone ate, but could still wander in and out of the building and gardens.

A fun, colourful, relaxed Wedding style
Jo and Andy had a lot of children in their wedding party, therefore it was really important that their wedding be kid-friendly. They definitely did this in many ways.
They had some great outdoor games from their friend Paul at Wessex Events. This included lego, egg and spoon races, giant connect four and space hoppers. They also had a craft room and plenty of Ceilidh dancing in the evening.
Their car of choice was an old Landrover, which was actually Jo's first ever car!!! It was decorated very nicely and made a great addition for some photos (see below)!
Their colour scheme continued the fun theme, as inside the marquee they had pom pom's of all colours, bunting, weddings wands, hand made place names and the table plan was made with lolly sticks! Each table was named after a place they have been. It was all very creative, fun and friendly.
The bouquets were a lovely mix of wildflowers, Lavender, Columbine, Pyramidal Orchid, Anthriscus Sylvestris and many more; a beautiful variety of colours; purples, pinks, yellows, blues and greens.
The wedding cake was also very fun with colourful flowers. The best part though was the cake topper, which was Jo, Andy and their little boy represented by Lego characters!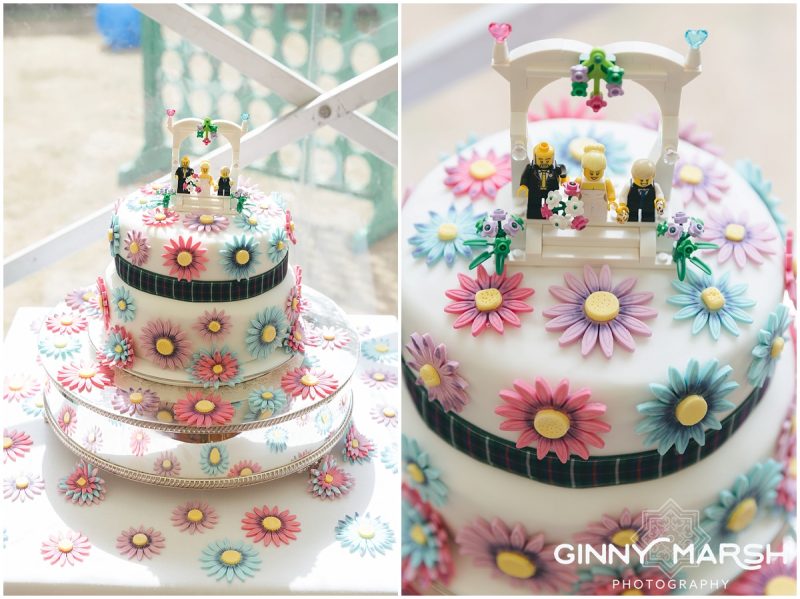 Jo and Andy's outfits
Jo wore a beautiful vintage style Jenny Packham dress. It was very detailed with embroidered flowers. It was elegant and pretty and went very well with the garden location.
Jason from Regent Tailoring made the wonderful suit that Andy was wearing. Andy felt very inspired to go for it! He wore it with a light yellow tie with blue polka dots. I thought that was also a nice fun touch.
Their flower girl wore a beautiful lilac flowy dress and the pageboys wore navy suits with blue tie's. The colours complimented each other very well for an English country garden wedding.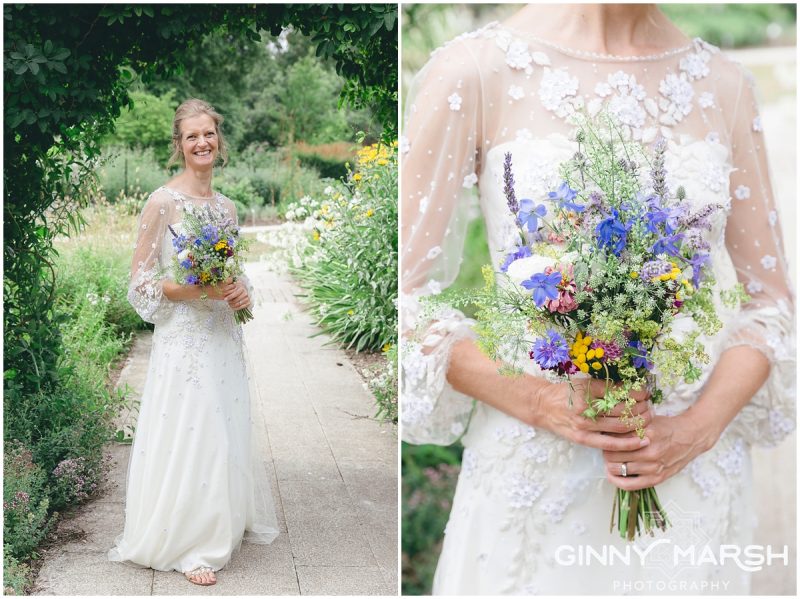 Jo & Andy's reaction to their photos…
"We are so pleased with our wedding photos. There is a really good mixture of posed group shots and totally natural shots. The story of our day has been taken really well with a great mixture of quiet moments to loud riotous dancing moments."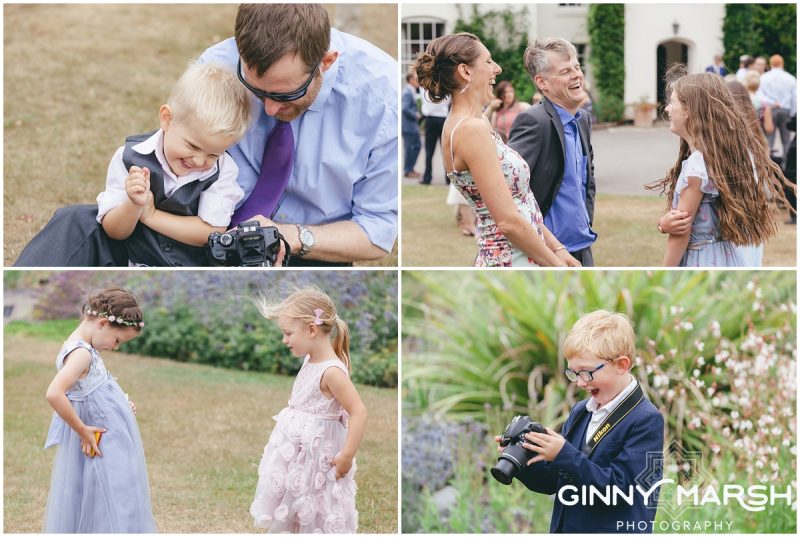 "I love the way Ginny takes pictures with many of her subjects completely unaware they are being photographed. She magically made us feel happy and relaxed and lots of our wedding guests told us how friendly Ginny is…"
It was such a joy photographing Jo and Andy's wedding, so it was lovely to hear such great feedback! I have just finished designing their wedding album too which I can't wait for them to see!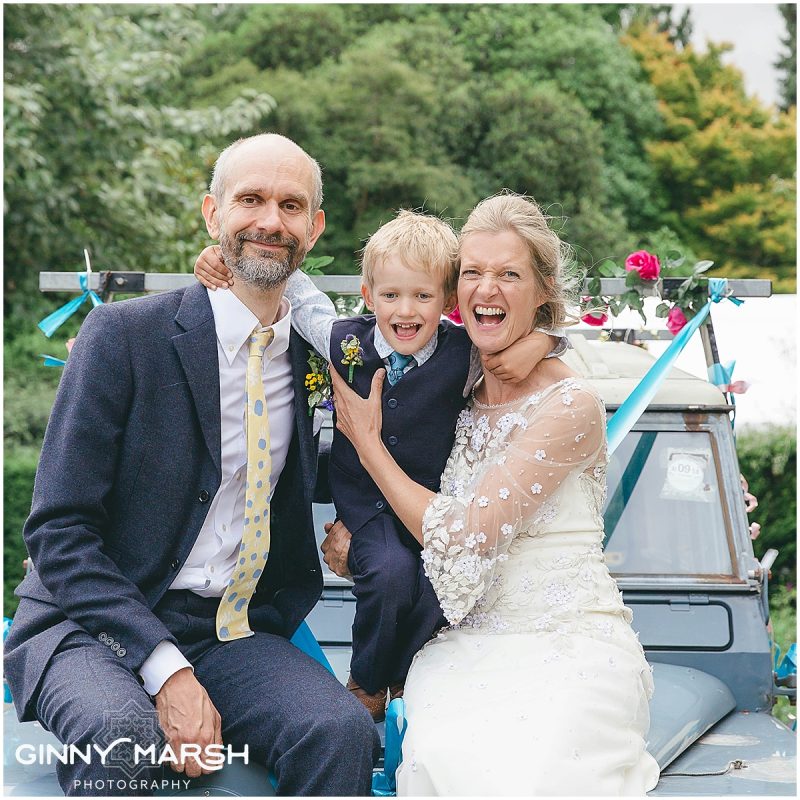 Wedding Suppliers:
Dress- Jenny Packham, Exquisite Bridal Couture
Suits -Regent Tailoring, Jason Regent
Hair and Makeup-Ema The Hair and Beauty Artist
Event Stylist- Wessex Events, Paul Foxley
GET IN CONTACT if you think I might be the photographer for you!
Or Click here to see more of my Wedding photography.
Keep scrolling to see more photos from Jo and Andy's colourful wedding!
Thanks,
Ginny x