Linda's Boudoir shoot – celebrating her 60th birthday, 40th wedding anniversary and her two stone weight loss!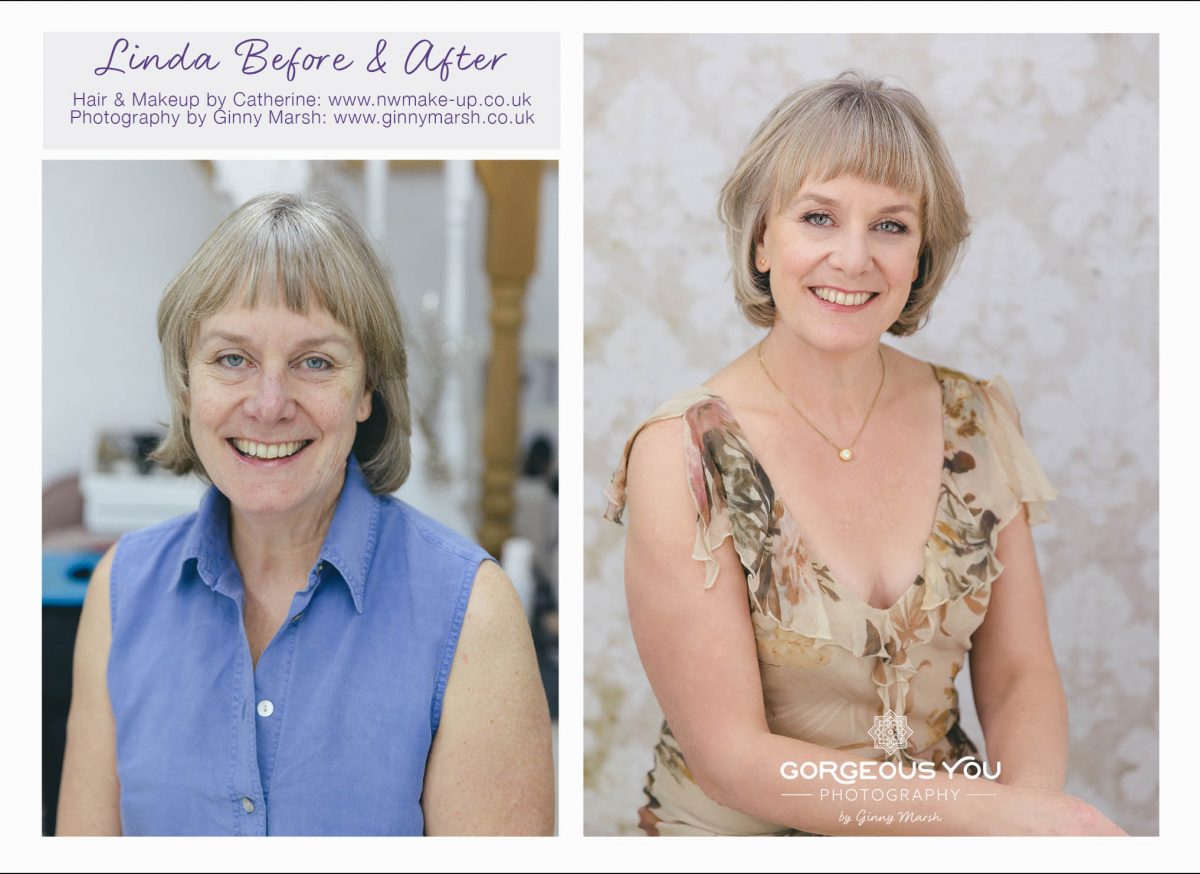 Meet Linda
Linda came for a boudoir shoot with me to celebrate her 60th birthday, 40th wedding anniversary AND for a present for her husband for Christmas! On top of all this Linda was also celebrating her new body confidence after an incredible two stone weight loss with Slimming World…
Linda: "I have been on a weight loss journey and achieved my target weight at the end of October 2019 with a two stone weight loss. Part of my drive was to do this before I reached my 60th birthday and I promised myself I would do something to celebrate my new body confidence in style."
I've photographed Linda many times before for her business. So it was lovely when she said she wanted to try something different this time and do a Boudoir shoot to celebrate.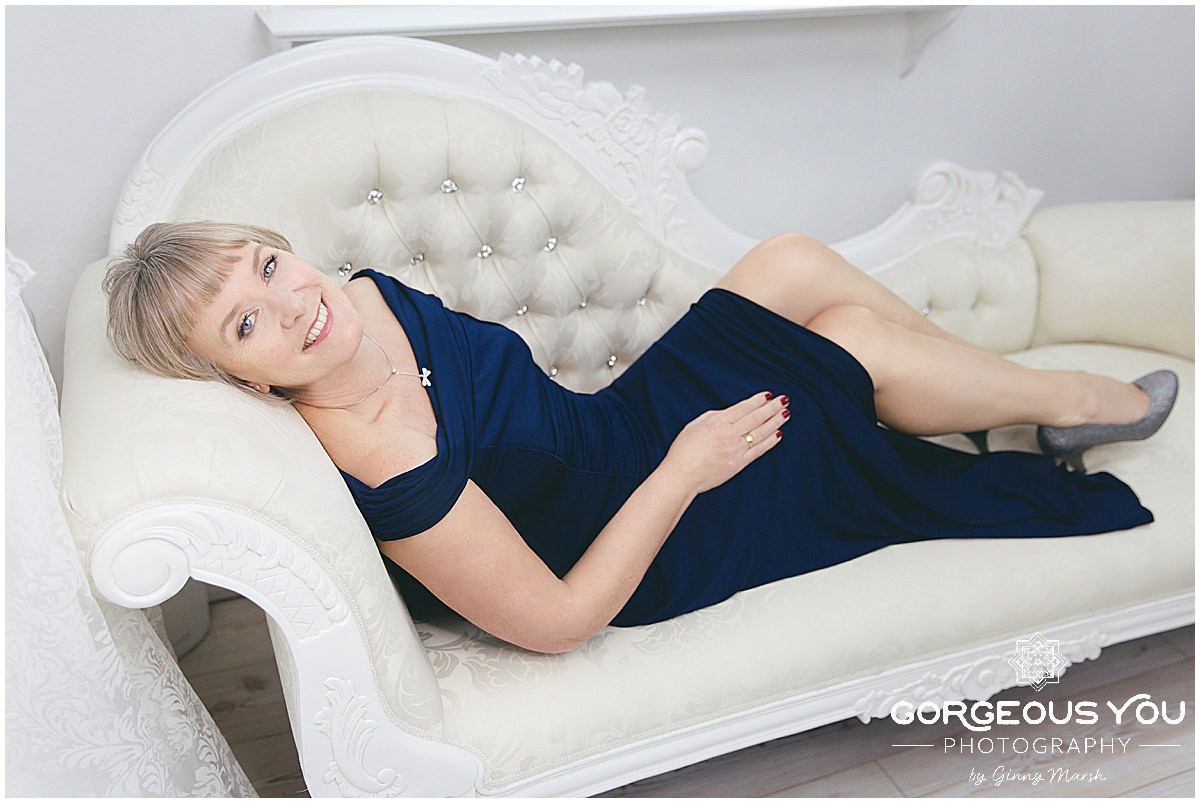 Why Linda chose me…
"I've known Ginny for several years and have had several business photoshoots with her previously, so I was comfortable with her style. Even more important to me was the need to feel comfortable in a boudoir shoot and that the results would look classy, sophisticated and elegant. I needed someone I could totally trust. That is why I chose Ginny"
Before the shoot
Before Linda's Boudoir shoot, she came into the studio so we could plan her shoot together. We discussed outfit and accessory ideas, hair and make-up and the style of photos Linda prefers. We then created a Pinterest board showing this. I do this for all my clients to create a plan, matching their different outfits to different poses and image styles.
I also talked Linda through what she should expect during her 60th birthday Boudoir shoot. I find this meeting so important for myself and my client. It means we are both fully prepared for the shoot mentally as well as physically. Usually, my pre-shoot meetings are a great way to break the ice before the Boudoir shoot. Although in this case, I have already photographed Linda so we were fairly comfortable with each other already.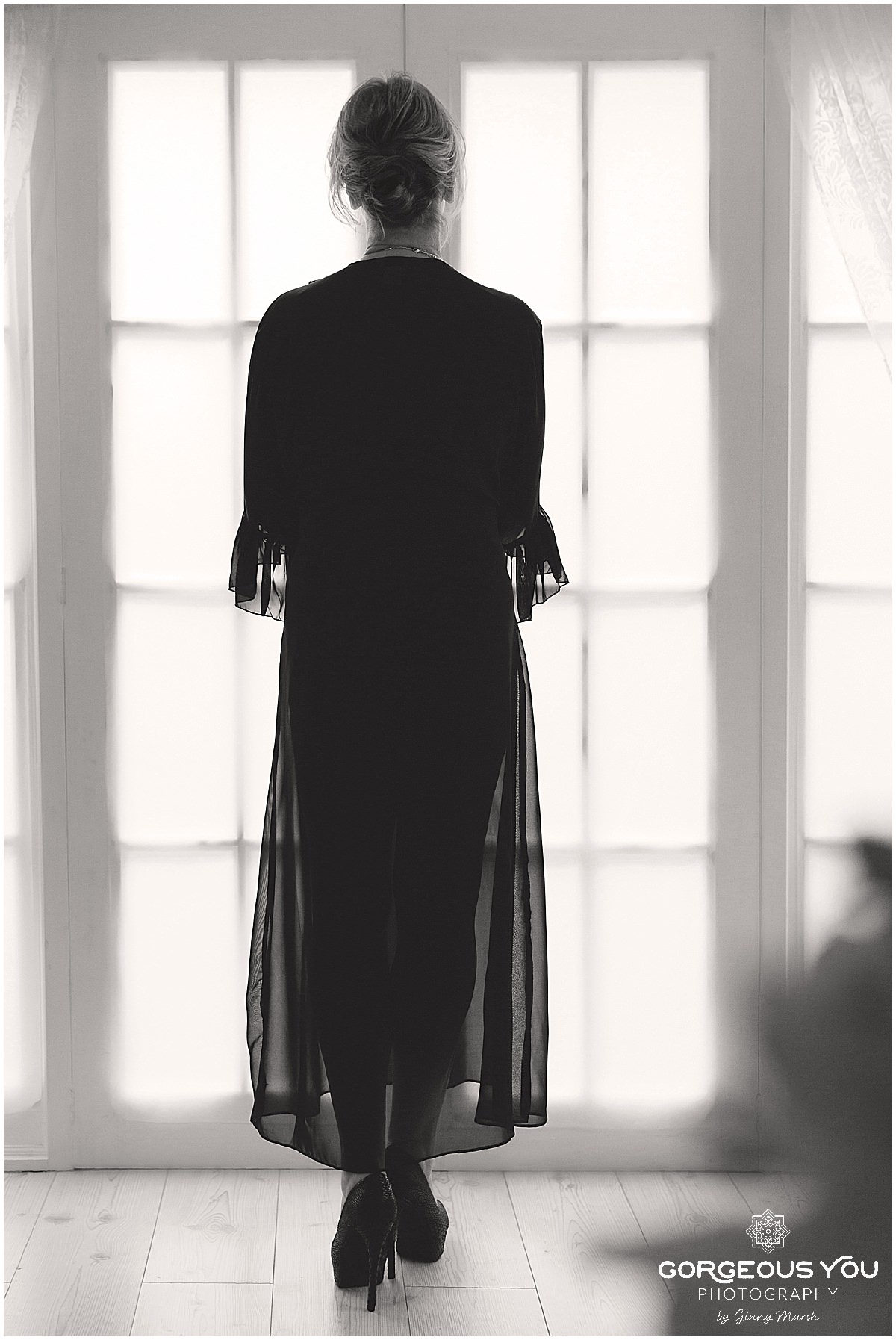 Hair and make-up
On the day of Linda's boudoir shoot, she had her hair and make-up done by one of my talented make-up artists, Catherine, from NW Makeup. Catherine came along and pampered Linda to make her feel really special before the shoot had even begun. She styled Linda's hair and did her make-up how Linda liked it. Catherine also changed Linda's hairstyle halfway through so she was able to get two different looks, which was fab! Having my client's hair and make-up done before their shoot is great for their confidence so they can feel the best version of themselves. It's also important as the camera can't see as much detail as the human eye. So I make sure my client's amazing features are shown off with a bit of make-up.
Linda:"I was so pleased with the hair and make-up. This was probably the part that I felt most worried about as I had not met the make-up artist before, but she really 'got me' and the make-up was just how I wanted it to be – very natural. I loved how she stayed throughout the session and made little adjustments throughout."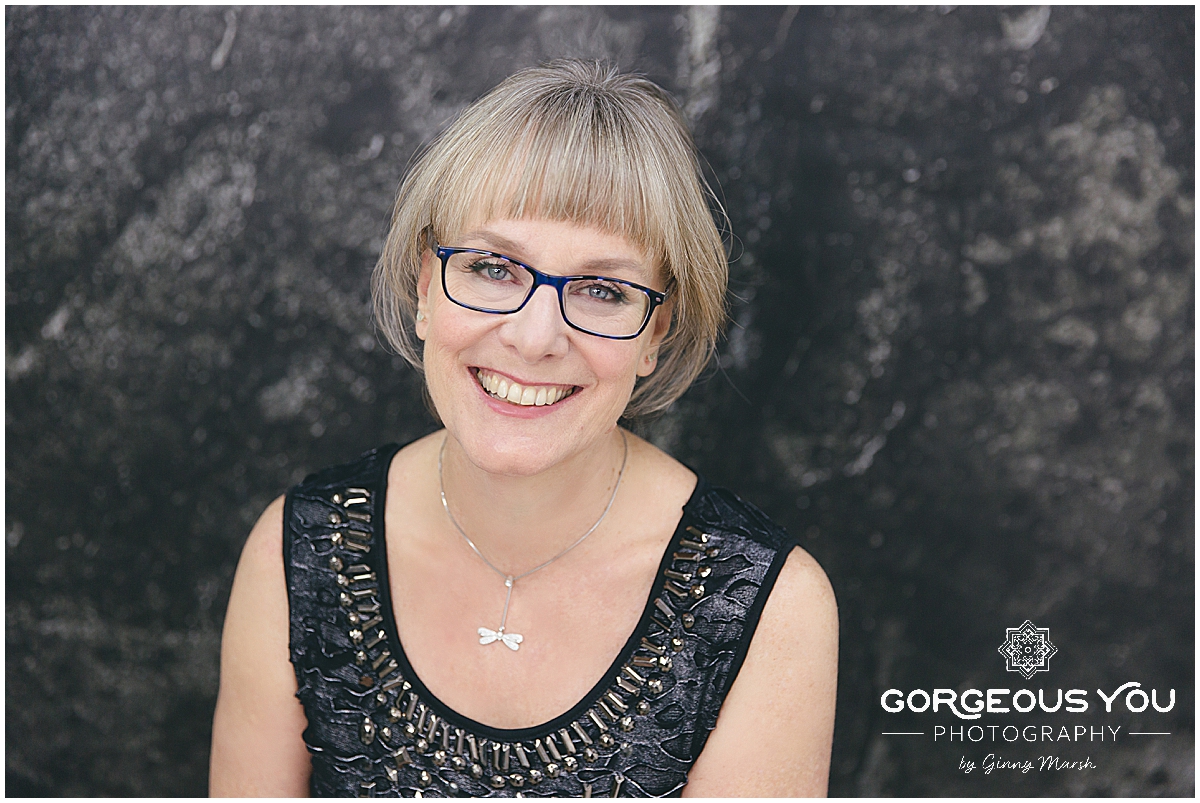 Celebrating Linda's 60th birthday, 40th wedding anniversary and two stone weight loss!
I really enjoyed photographing Linda again and helping her celebrate! She definitely deserved to celebrate. Linda brought in a good mixture of outfits to show the different sides of her personality. Glamorous, fun and calm.
Linda:"I was most nervous about being 'too old' for a boudoir shoot. And whether the clothing I chose to wear would look silly on an almost 60-year-old. But I don't think there is anything I would want to change. I was very happy with the photoshoot – the whole process was uplifting for me personally.
Initially, I think I might have been a bit stiff in posture, but you put me at my ease very quickly. You were incredibly warm and supportive all the way through. Adjusting my posture and telling me what you were doing at every step. There was no rushing about which helped me to relax as the session progressed. I loved the dressing up in glamorous clothing! I actually felt very special throughout the experience and could have carried on all day actually!"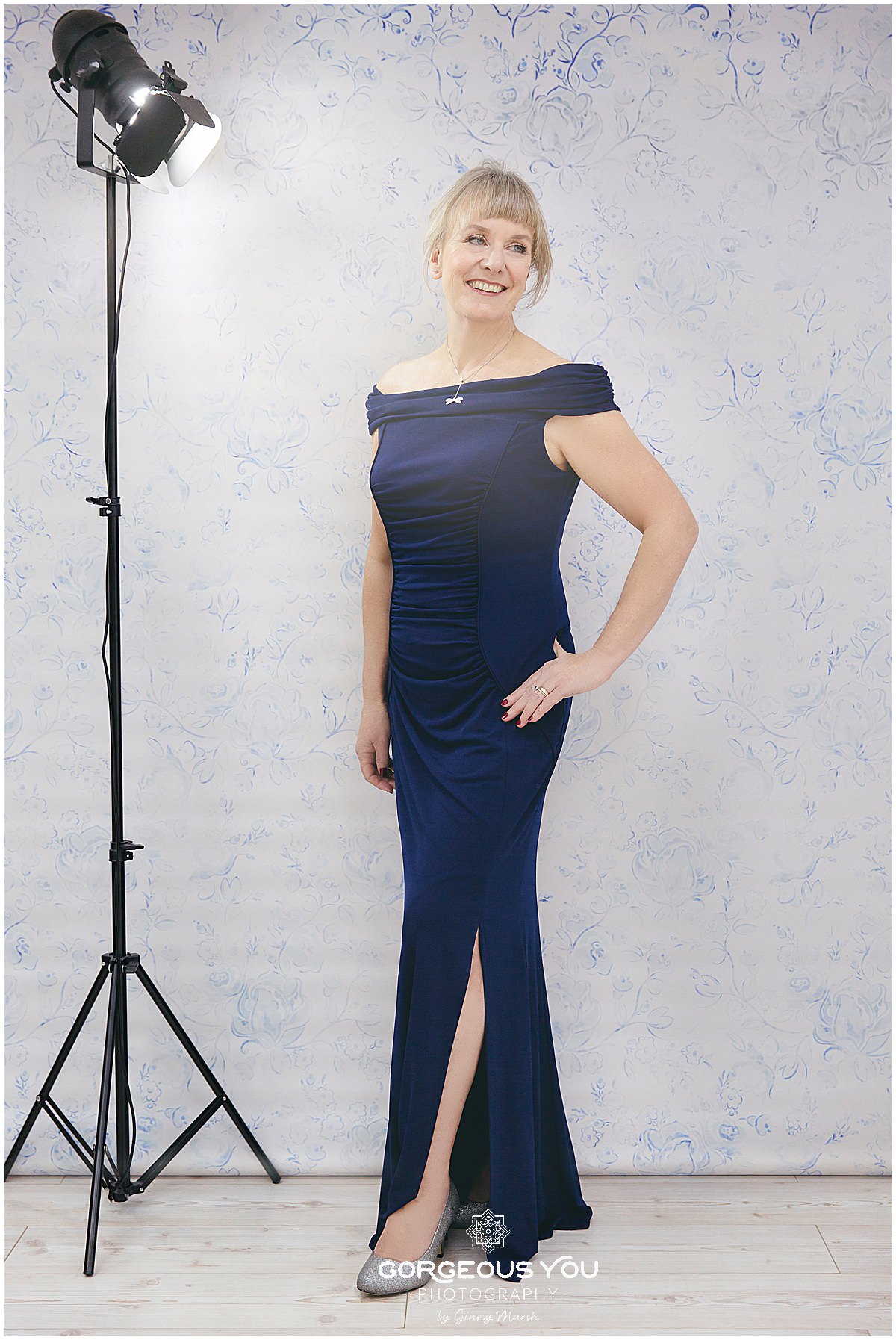 Linda and her husband's thoughts about her Boudoir photos:
"Oh my word, they are just stunning. I am so happy with the photos, they gave me a unique gift too – one I shall always remember and look back on in years to come. I have used one of them in my social media channels and the comments have been such a boost.
My husband's reaction was absolutely brilliant – he was totally overwhelmed, he had no idea I was doing this. On Christmas Day he opened his Cracker with the first clue. A little treasure hunt led him to the hidden photo. Unknown to him, it had been hidden behind a picture on the wall of our bedroom for a few days. I shall always remember his reaction – it made my day.
I would definitely recommend doing this. Especially to older women who may be more reluctant to do a boudoir photoshoot. Boudoir doesn't mean you have to wear skimpy or revealing clothing, it is an experience in itself. Dressing in clothing that makes you feel good is the best way to approach it so that your confidence is boosted. Ginny takes loads of photos in different outfits and in different poses. One of my favourites was of me sitting in a lovely floaty summer dress on a couch – it exudes elegance and that is what I wanted from my own photoshoot."
I am so pleased I could help Linda really celebrate herself and give her husband such a wonderful gift!
Photographer: Ginny from Gorgeous You Photography
Hair and make-up: Catherine from Natasha Wiggins make-up
Are you ready to celebrate yourself?
Let's have a chat and let me see how I can help you do just that…
Or keep scrolling to see more gorgeous photos from Linda's boudoir photoshoot.
Thanks,
Ginny x