Lisa's empowering boudoir photoshoot

Meet Lisa
I recently had the pleasure of doing an empowering boudoir photoshoot for Lisa Johnson, who's a brilliant business coach and "passive income queen". I first discovered Lisa a few years ago and got to know her properly in 2018 when I went on one of her coaching retreats in Malta (which was so good I've booked onto another one!).
Now Lisa is a woman after my own heart. She wanted to do a Boudoir shoot to inspire her followers and show that it doesn't matter what age, shape or size you are – you're beautiful and unique. Lisa is a curvy size 16, 40+ year old woman who feels comfortable with her size – and she looks amazing!!

Lisa's empowering Instagram post:
Lisa posted a few of her gorgeous images on her Instagram page @lisajohnsoncoaching just after I sent them over. Here's what she said:
"I hear way too much from my clients about how they don't feel good about themselves. They decide not to love themselves because they feel too big, too old, too grey, too thin, they have blemishes, they have scars, they don't look like they used to, they don't look like the other people they see on Instagram. Those perfect people. 😢

It's all bullshit. 💩

It doesn't matter about any of those things and I know I say that a lot but I wanted to do something to prove it.🤜 
I love who I am. I'm a curvy size 16 over 40 year old woman. I've had twins so yes I have stretch marks. And no I don't look like I did. And that's ok.👌
We can own what we look like, love who we are no matter what, value ourselves and our sexuality. Decide that actually we are enough. It's all in our own hands. 😊
And I choose to think that. I am enough. And if you're not feeling enough and you're not loving yourself right now I invite you to decide that you're enough too. You are beautiful. You are unique. I promise you that you can feel good about yourself if you choose to. 😍

At the end of the day how you feel about you is all in your head. You just need to fucking own it…"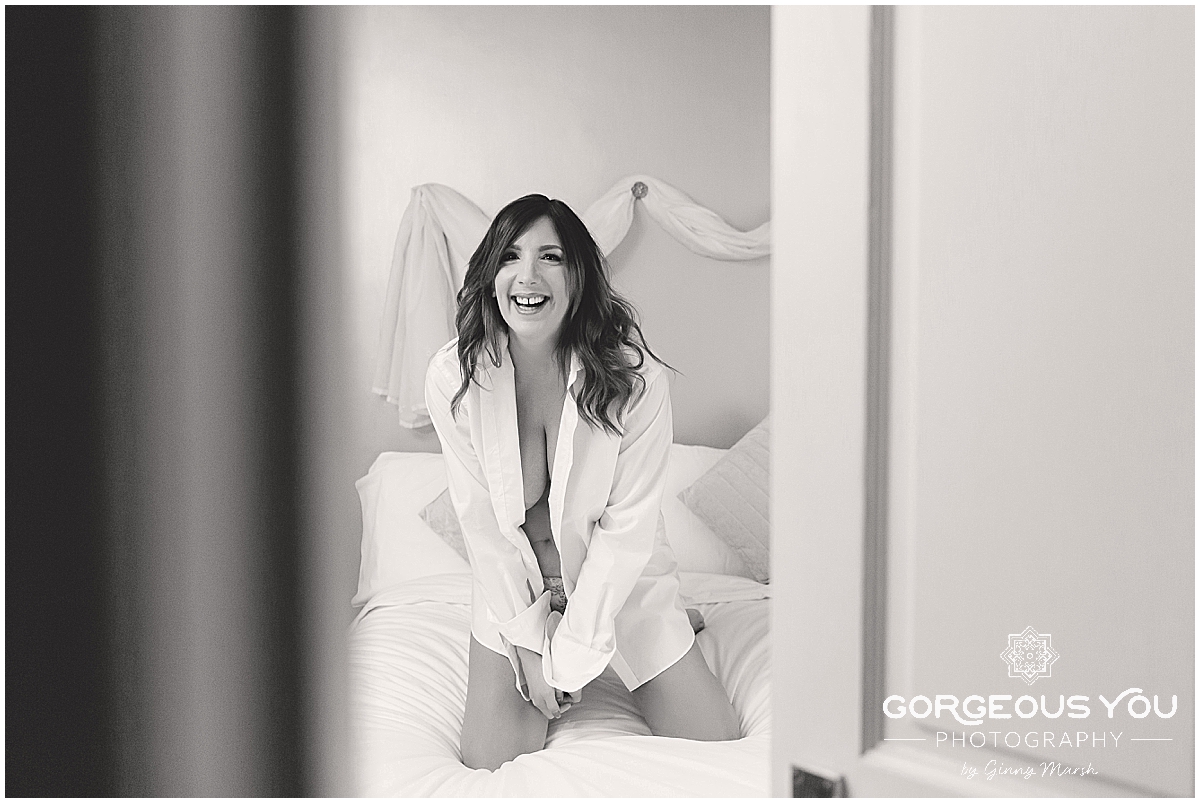 Before Lisa's Boudoir Photoshoot
Before Lisa's empowering boudoir photoshoot we had a zoom video consultation. As she lives quite far from the studio she wasn't able to come in person. I usually have consultations at my studio so my clients can see the studio. However, I do often have clients travelling for my photoshoots, so in this case, I'm happy to do a video call so we can still see each other and plan outfits and images etc.
Having a consultation before the shoot is so important as it helps my clients get in the right frame of mind for their shoot. It also helps them feel comfortable with me and more prepared to know exactly what they want. At the consultation, we also discuss the style of photos preferred, the outfits they are bringing and any accessories. We then plan the shoot together using Pinterest for their outfits, hairstyles, poses and photo styles. I also send a pre-shoot checklist before the shoot which talks you through everything hair and beauty-wise you need to do to get ready!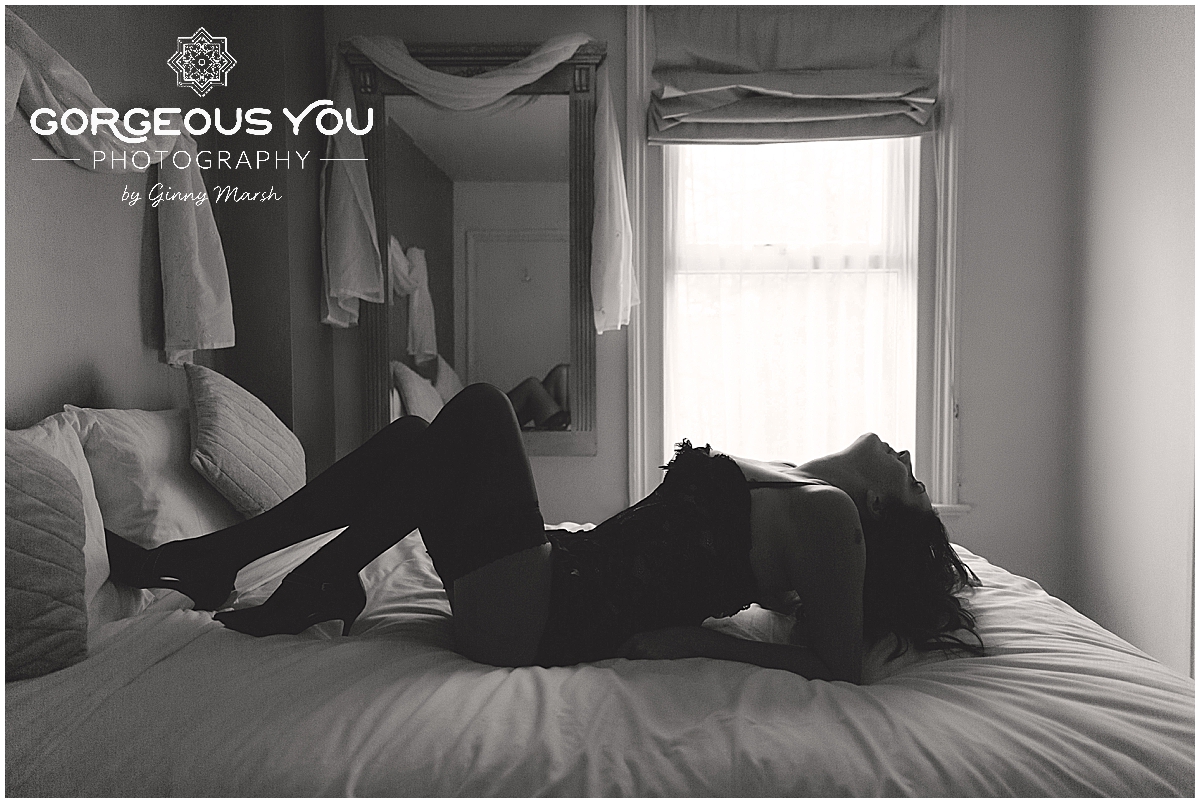 Hair and make-up
"[Catherine was] a really nice makeup artist who worked with the look I had hoped would work!" – Lisa Johnson
Lisa had her hair and make-up styled by one of my lovely hair and make-up artists – Catherine from Natasha Wiggins Hair and make-up. It's important to have your hair and make-up done professionally for a photoshoot as the camera doesn't see as much as the human eye. Also, it's important to make sure your facial features stand out. Having your hair and make-up done professionally also helps make you feel relaxed and confident ready for your shoot. You will look like the best version of you! Catherine stayed throughout the shoot to help make sure Lisa was looking her best throughout.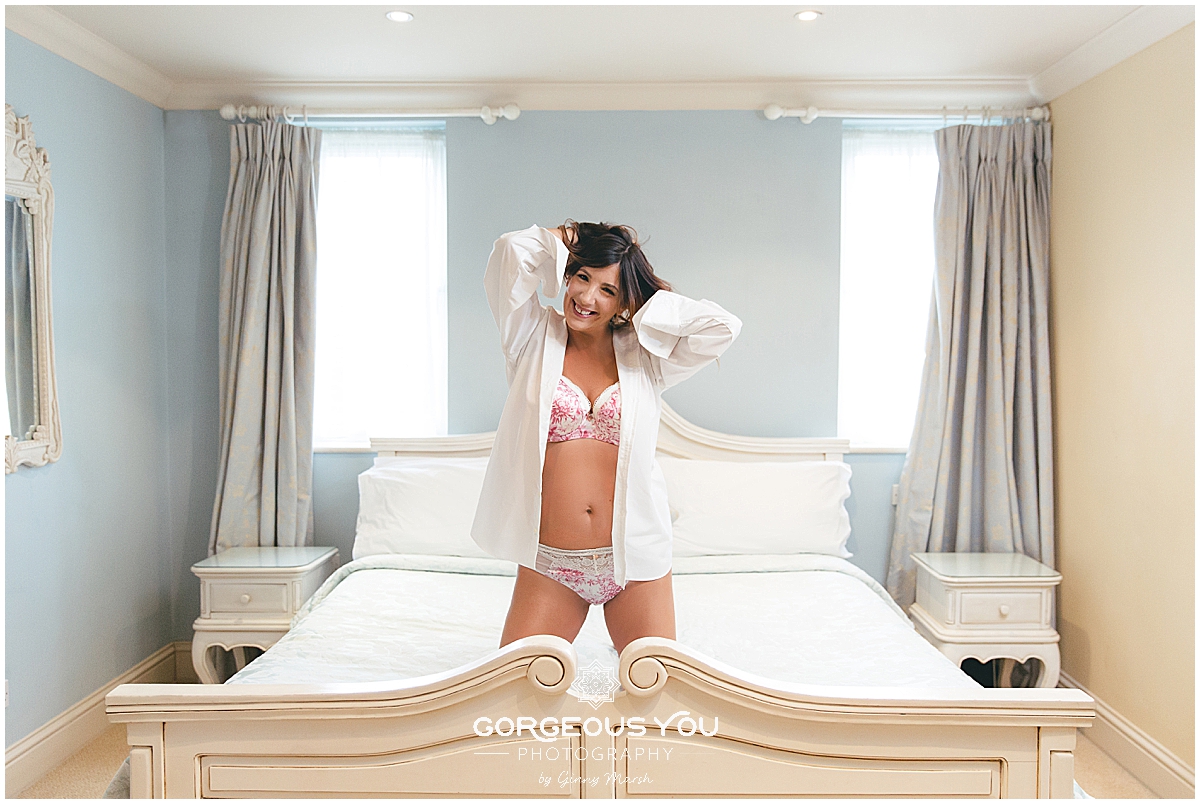 Lisa's empowering Boudoir Photoshoot – in her own words
"With hindsight, there's nothing I would have done differently! I loved it. Ginny made it so much fun and like it was a special experience. Ginny covered anything I would have been nervous about and knew what would make the shot look better so it was easy to trust her! I really liked the location as it had all the different rooms and it was secluded." – Lisa Johnson
I did Lisa's shoot at Hotel de Vie in Farnham, which is a great little boutique hotel. Each room is decorated differently so we had lots of choice! We used three different rooms and achieved quite a few different looks. Some fun and cute; some more sexy and seductive! It was great to show the different sides of Lisa's personality.
She brought a few different outfits, a shirt, dress, basque, and different underwear sets. Boudoir doesn't have to be just underwear, it can be anything you feel sexy and confident in, which is just as empowering!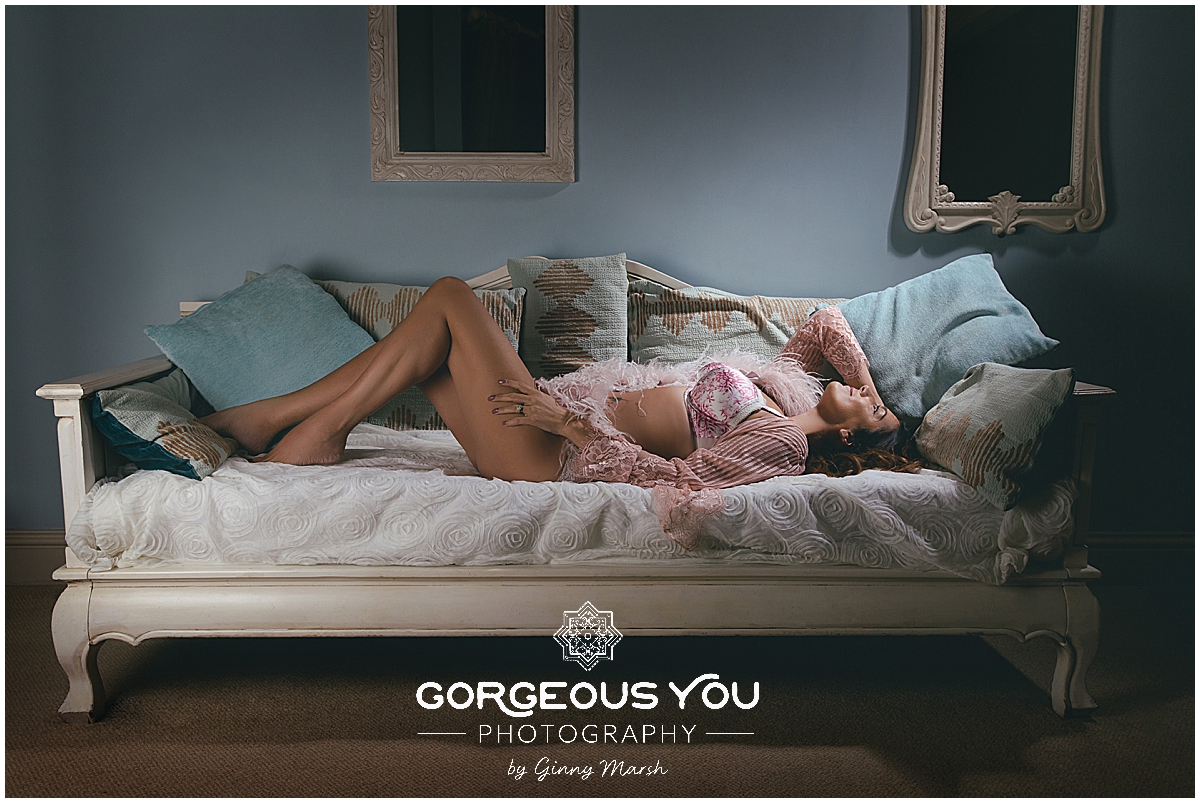 More of Lisa's thoughts…
"I coach hundreds of women at all stages of life and I wanted to empower them to know that they can love themselves whatever they look like – age, size, body shape – we are all unique and beautiful. The photos are so empowering, which is exactly what I wanted. I love them and so do my audience. My plan for these photos is to use on Social media to inspire others.
My favourite is the one of me laughing in the shirt as it shows a softer side to me than I would usually show. Since having this photoshoot I've inspired more people, which was what I wanted. I would definitely recommend doing this type of photoshoot to other women. It's so empowering!" – Lisa Johnson
I love meeting people that have the same goals and passions as myself. I'm glad I could help Lisa prove to herself that she is enough and inspire her followers to feel the same.
Photographer: Ginny from Gorgeous You Photography
Hair and Make-up: Catherine from Natasha Wiggins Hair and make-up.
It's time to love yourself the way you are!!
Contact me here and let me see how I can help…