Lucy and James' Relaxed Beach Wedding at Tunnels Beaches, Devon
The Happy Couple…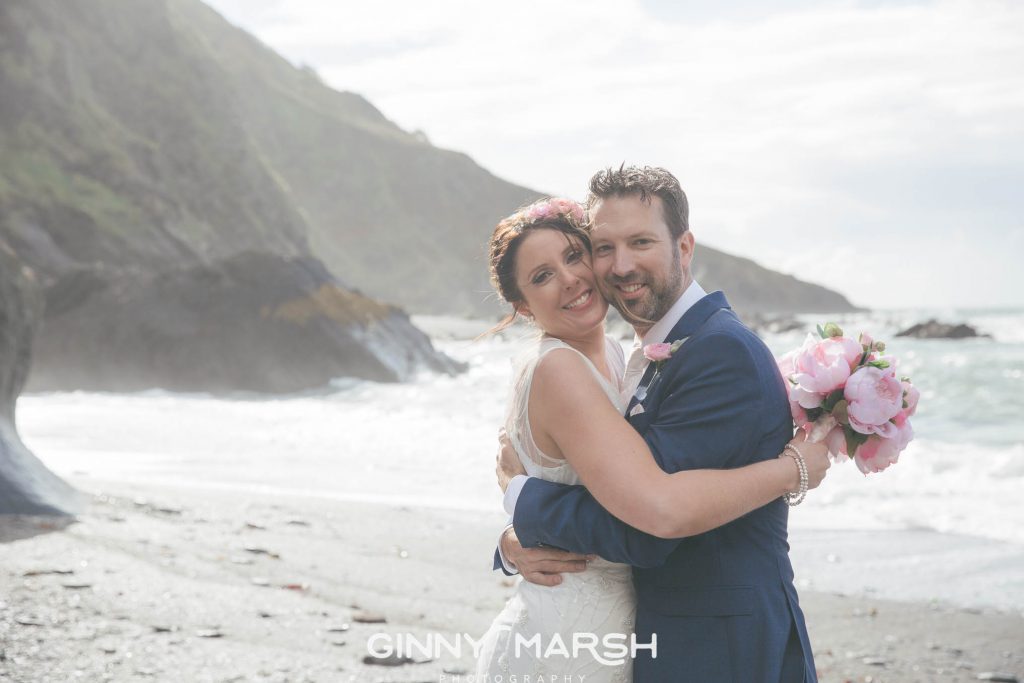 Lucy and James are so lovely and compliment each other perfectly! They both love surfing and spending time with their friends as well as going to a good cosy pub night.
James proposed in Fuerteventura, on a group surfing holiday away with friends. He proposed on the beach in the sand dunes and they had an ice lolly to celebrate!
The Venue… Tunnels Beaches, Ilfracombe, Devon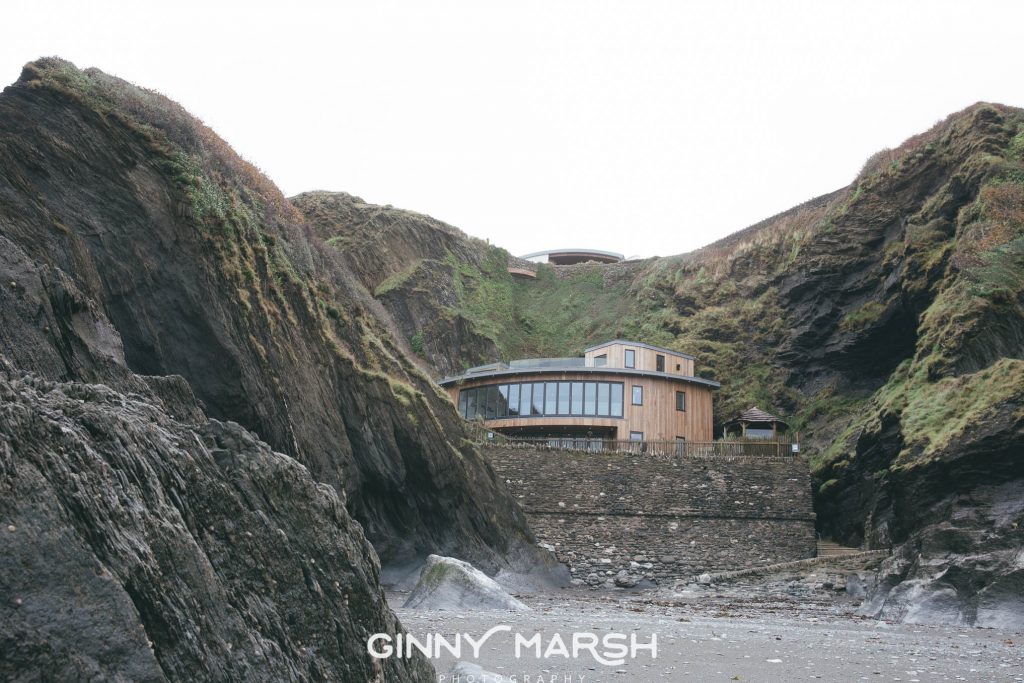 Lucy and James had their beautiful romantic September wedding at Tunnels Beaches in Ilfracombe. The history of it is really interesting – the venue was originally hand carved in the 1820's, and has two tunnels leading to two separate gorgeous beaches. You can read extensive history information throughout the site – including hilarious guides to Victorian etiquette for boys and girls, and for when boating with ladies!
Tunnels Beaches weddings are great for everyone invited as you can learn how local entrepreneurs developed the tunnels and pools, as well as how they transformed Ilfracombe from a small fishing village into a popular seaside tourist resort. Whilst Lucy and James were able to sit back and admire the lovely rugged scenery, the kids played safely in the tidal pool and explored the fantastic rock pools.
Tunnels Beaches has its own private beach; it's a unique and stunning Devon location and a perfect venue for a relaxed, informal beach wedding. The rugged coastline makes for a dramatic backdrop and awesome photos…, especially with an amazing sunset!
Wedding Style… A beach theme, with minimal decor and sticks of rock as wedding favours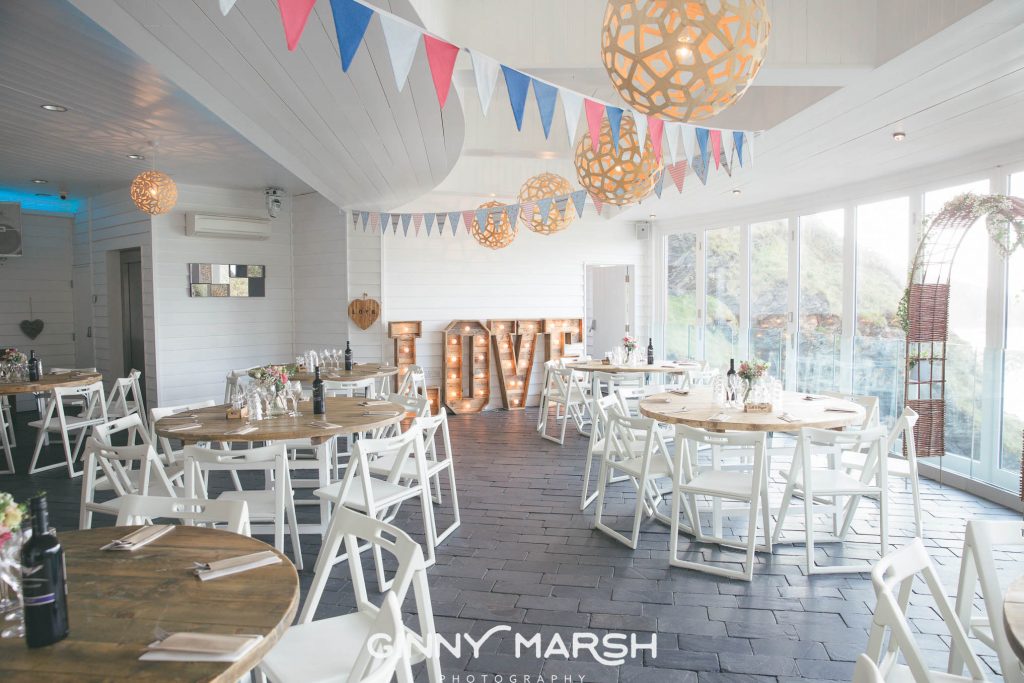 Lucy and James wanted an intimate, relaxed wedding with a party feel. The venue is built into the cliffs in Ilfracombe and looks out to the sea, which is very romantic and calming. They chose to have minimal decorations as the views for their Tunnels Beaches wedding were so dramatic they didn't want to take away from this incredible aspect of this amazing venue.
Lucy's dress was vintage style and her bridesmaids wore beautiful light pink floor length dresses that suited the theme perfectly. Lucy and the bridesmaids' bouquets were bunches of pink peonies to match Lucy's floral headdress. However the big shock came when I realised that they were fake, but they looked so real I was very impressed.
The venue was decorated with simplistic but elegant beach themed decorations. They even had a surfboard which everyone used as a signing 'board' throughout the day leaving lovely messages for them both. There was also handmade bunting made by Lucy's mum! As well as bouquets in mason jars on each table, and sticks of rock as wedding favours. Their cake was decorated with delicate flowers and topped with MR & MRS GB.
Highlight of the Day…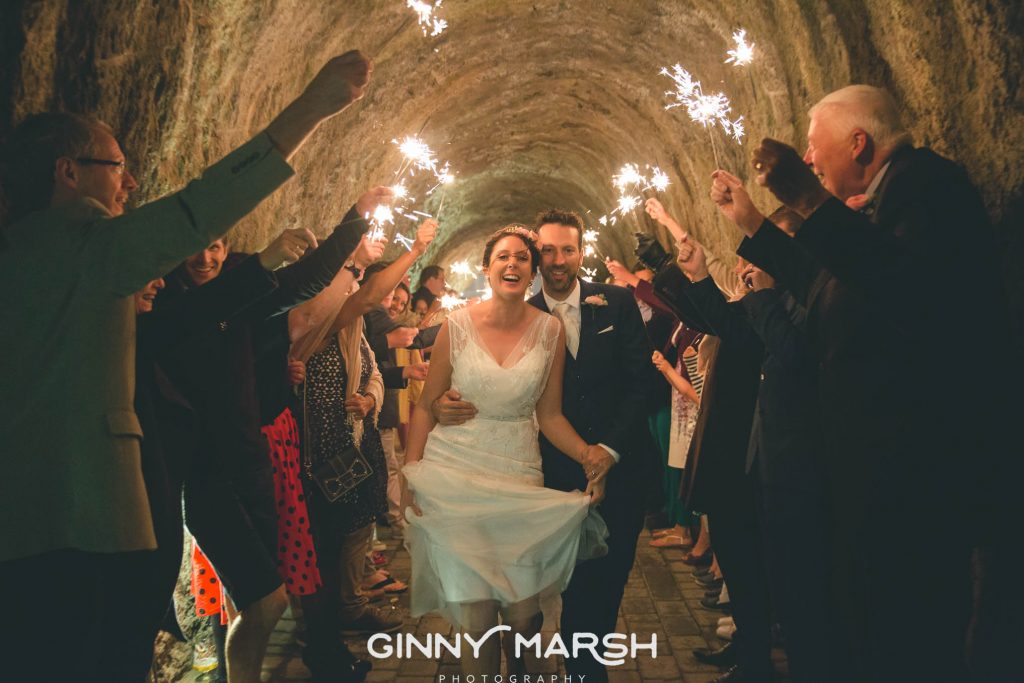 SO MANY HIGHLIGHTS!
Lucy and James have some talented musical friends, one of whom played the Spanish Guitar after the ceremony, and Lucy's best friend (and Bridesmaid) played her flute while they signed the register.
Lucy and James bought some sparklers, as they'd previously seen some of my pictures from another wedding I'd photographed at Tunnels Beaches with some sparkler shots, which were so much fun! I got everyone to form two lines in one of the tunnels, so Lucy and James could run through. It was pretty cold and windy at that point though!
As I was staying just next door to the wedding venue at the Carlton Hotel, I stayed a little longer after first dance than I would normally, because there was some very entertaining dancing going on! I LOVE a good dance and the band were brilliant!
Check the bottom of this blog for details of their suppliers 🙂
Here are some more gorgeous images to tell the story of their day…

Wedding Suppliers…
Venue – Tunnels Beaches, Ilfracombe
Wedding Hair – Teri Ingram
DJ – Paul Armstrong
Many thanks for checking out my wedding photography! Are you planning on getting married at Tunnels Beaches, or having a Beach Wedding? Please Contact Me for a quote and to check my availability before it's too late!
Alternatively, you can see some more of my lovely weddings HERE
Thanks so much for taking the time to read this Blog.
Ginny x