2018 Spring Wedding Inspiration
Having a Spring Wedding and Struggling with those finer details?
Spring is, without a doubt, such a beautiful time of year to tie the knot! All the flowers come in to bloom, the sun is beginning to shine again, plus the days are starting to get longer.
If you're planning a spring wedding, you may be thinking about how you can bring out the highlights in this gorgeous season in your planning. Take a look at my top tips to help you and your day stand out from the rest…
Go Bright With Your Bouquet!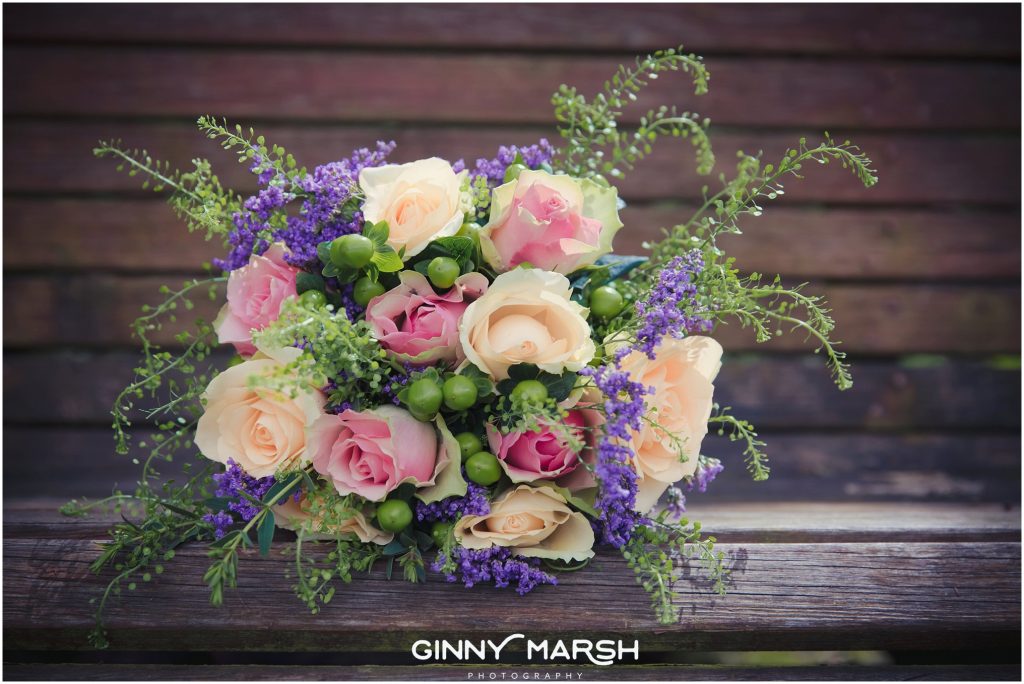 Spring lasts from March until May, so if your wedding is during this time then you're lucky! You'll be spoilt for choice when it comes to choosing your spring wedding bouquet, as there are countless varieties of flowers available in every colour of the rainbow to make your bouquet pop!
Match Your Flower Crown to Your Bouquet

As we know all about the fabulous spring flowers, it makes sense to put them on your head too! Whether you make your own flower crown or ask your florist to create one for you, matching your crown to your bouquet is a wonderful spring wedding idea.
Step Outside of the Box and Wear a Floral Dress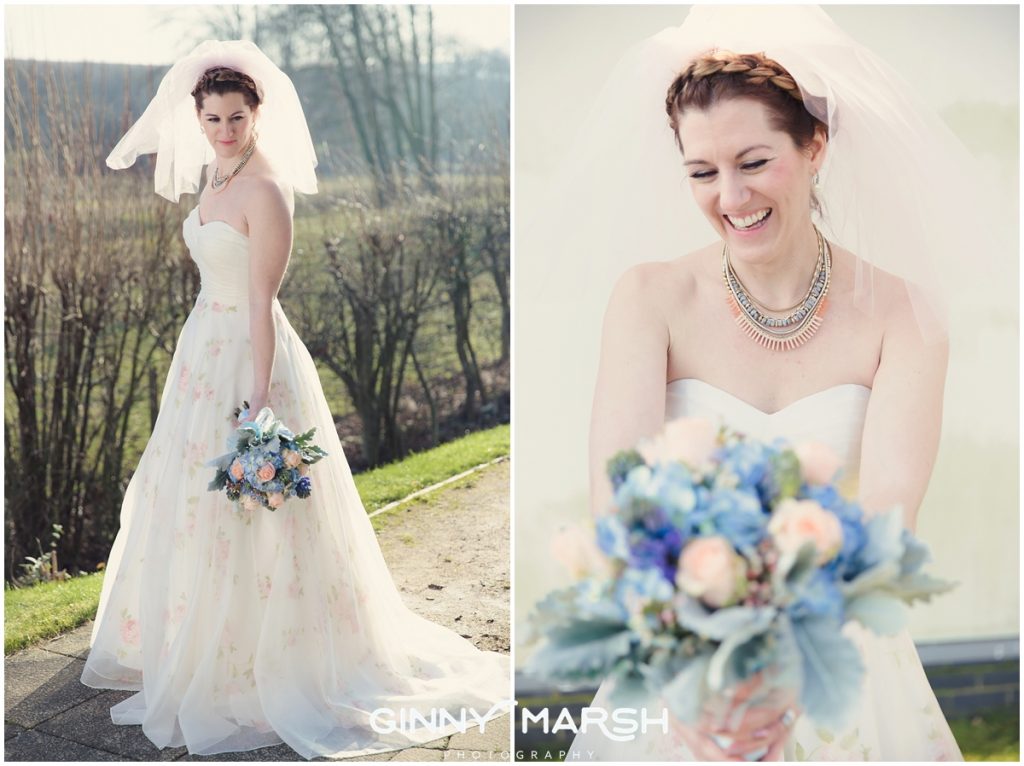 If you think floral decorations are a bit too predictable for a spring wedding, why not put your own unique spin on it and wear a floral wedding dress instead? Take a look at this incredible wedding dress collection. Helen's dress and pink veil was teamed with a collection of Stella and Dot jewellery, which really gave an edgier feel to a gorgeous, pretty dress.
Dress, veils, headpieces: Twirl Bridal Boutique
Flowers: Bows and Bouquets
Channel Your Inner Boho Goddess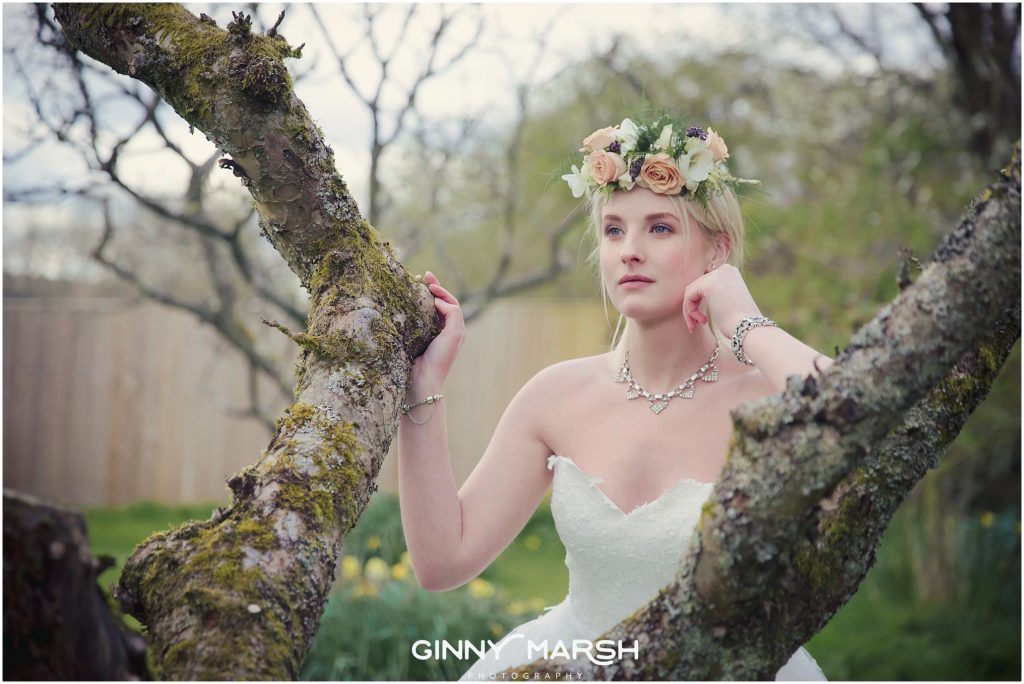 If you're wondering how else to incorporate spring wedding ideas and themes into your bridal look, consider a gorgeous boho inspired wedding dress.
Edgy Jewellery: Stella & Dot
Hair and make-up: Mazz Hannah MUA
Floral Headband – Judith Searles Flowers
Bridal Dress – Sass and Grace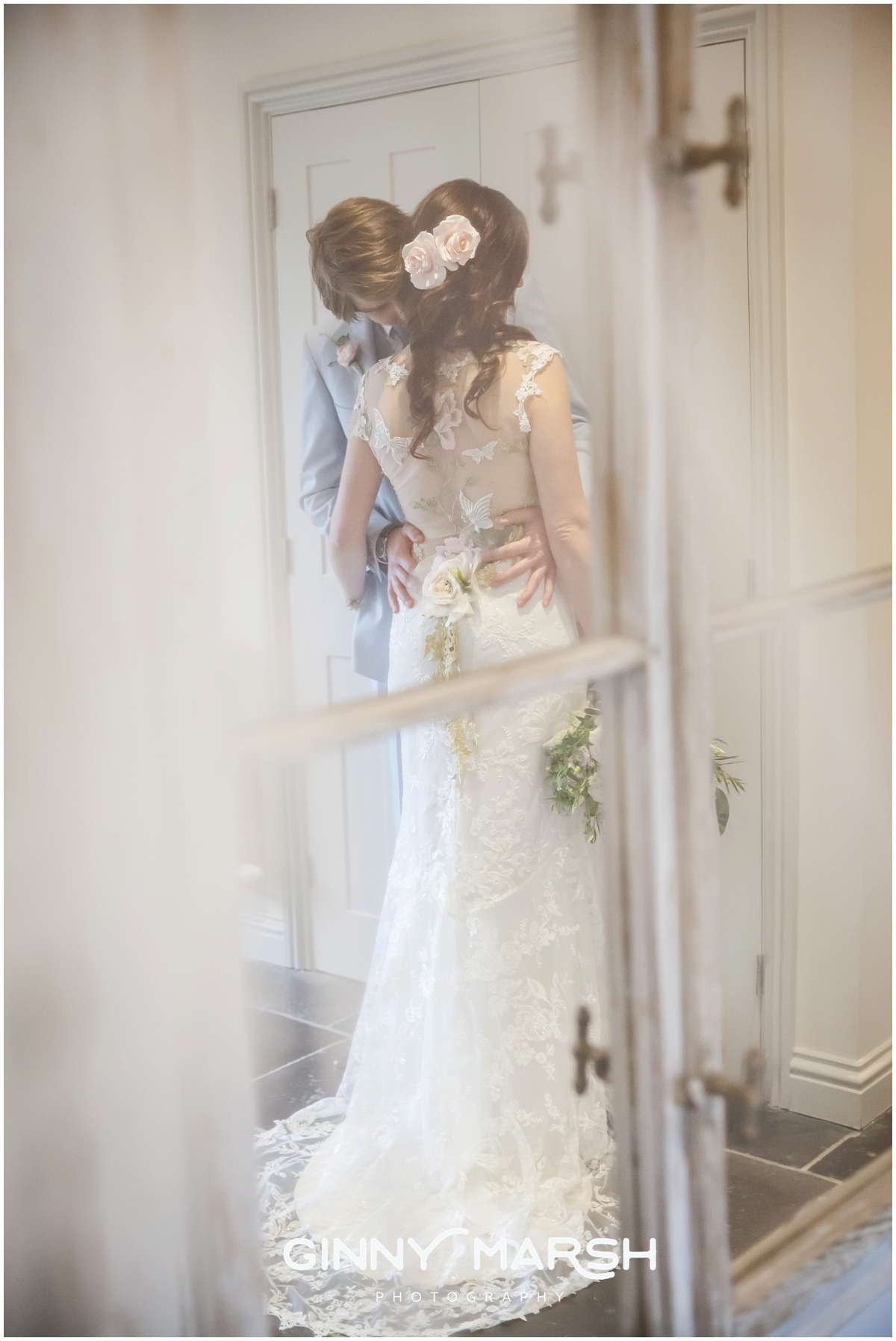 The head to toe lace detailing can give such a pretty, and laidback look that is fitting for the season.
Brides Dress ~ Claire Pettibone 'Papillion' from Exquisite Brides
Colourful Groomswear is a must!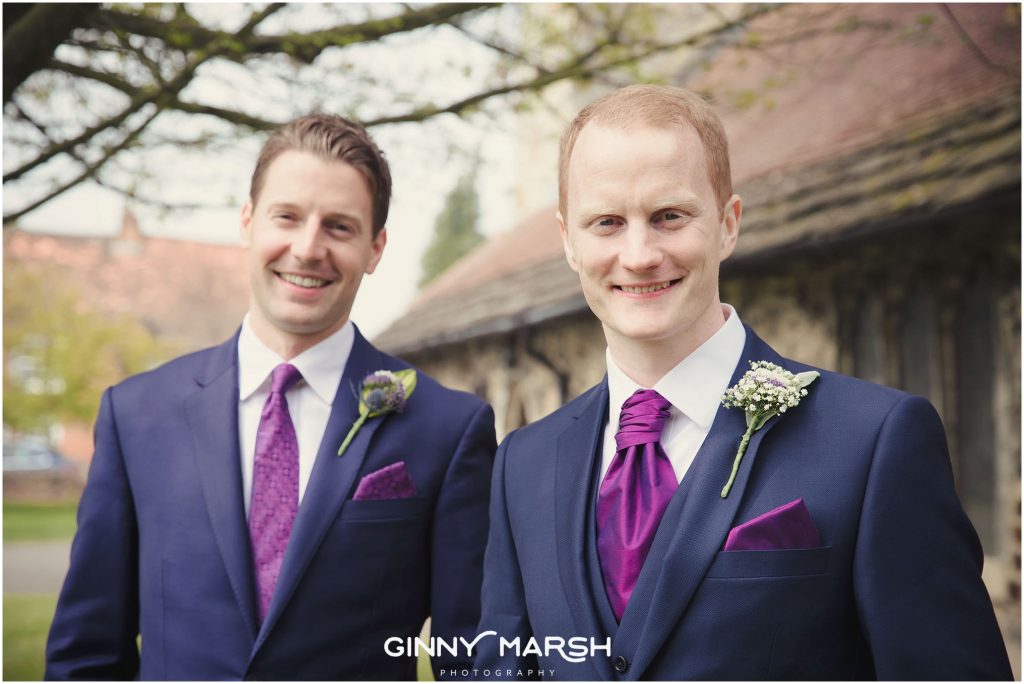 Spring is the perfect time to experiment with colour, and this isn't just for the bridesmaids! This extends to the groomswear as well.
You can do this with colourful buttonholes, printed ties and suits in bold shades of blue would all look handsome for your spring wedding.
Alternatively, adding a rustic style with country checks and tweed would work fabulously with the season, especially if you're getting married in the countryside or at a barn for example.
Pale blue suit ~ Room Ten
Choose a Spring Inspired Wedding Cake
Floral wedding cakes are all the rage for spring weddings, and nowadays it's just as much about the look and design as it is the taste.
Cake ~ Debs Makes Cakes
Event styling & planning ~ Lily-Marie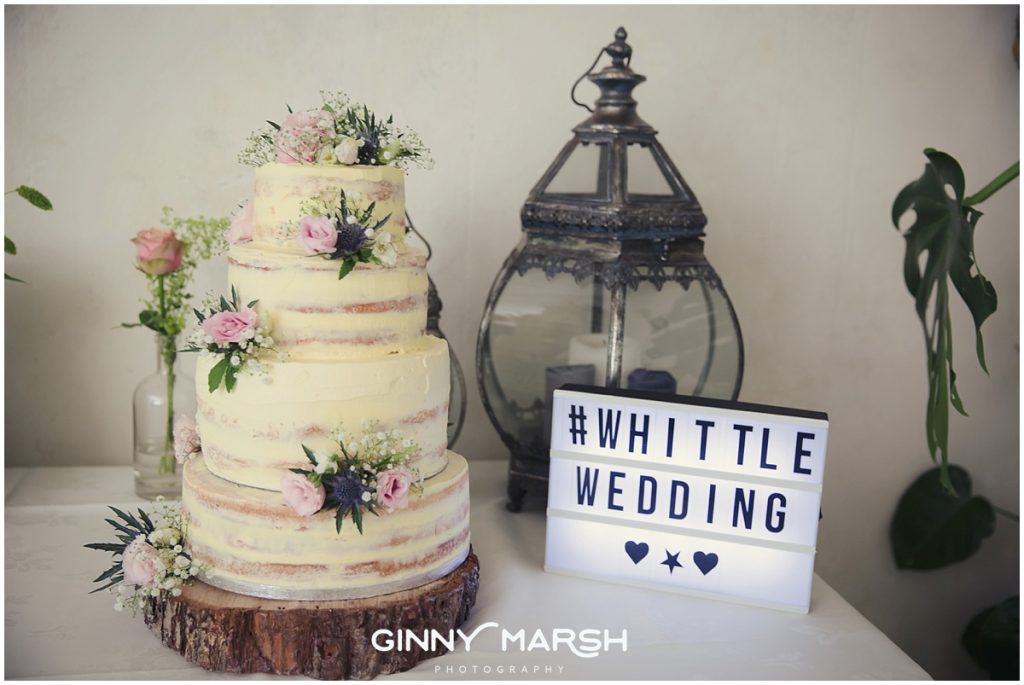 Alternatively, have you thought about going naked (With Your Cake!)? We're big fans of buttercream wedding cakes. The decoration of either fresh fruit or flowers can give your cake a fresh, spring-appropriate look.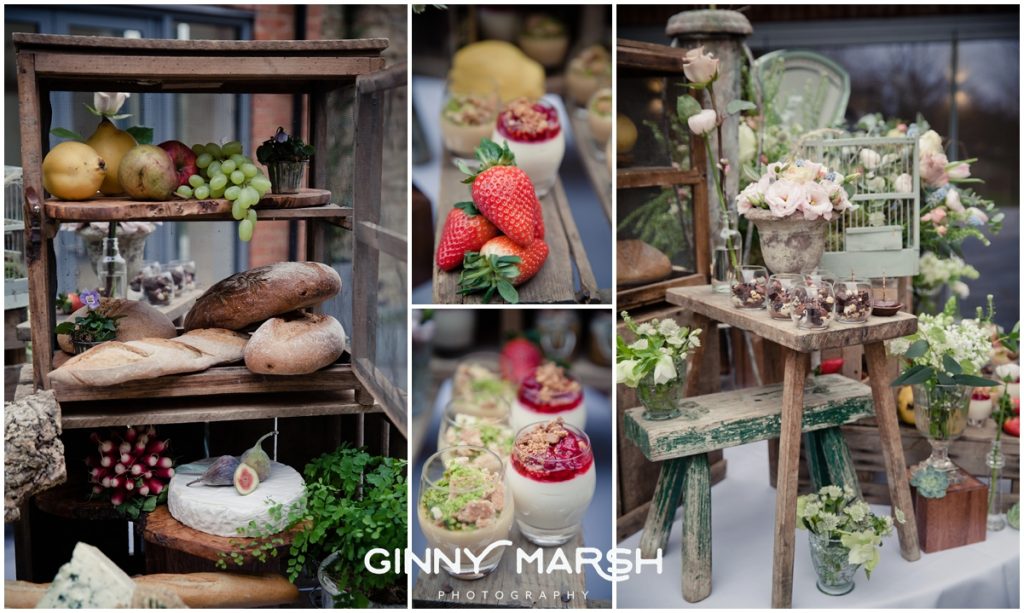 Have you thought about a dessert station?! Kalm Kitchen at Millbridge Court do an amazing array of desserts and cheeses to finish off your wedding breakfast… It always looks and tastes absolutely stunning.
Catering ~ Kalm Kitchen
Florist ~ Hannah Berry Flowers
Create Simple Yet Elegant Centrepieces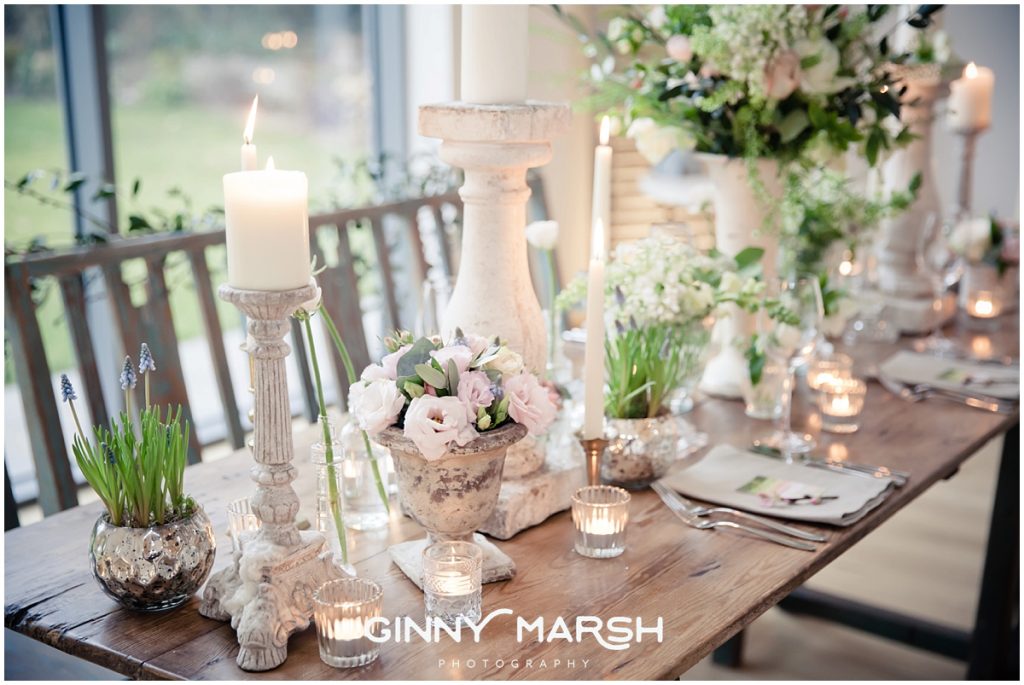 If you're all about clean, minimalistic decorations when it comes to planning your reception, you don't want to go all out and crowd your venues with 1000's of flowers.
Spring Stationery Inspiration…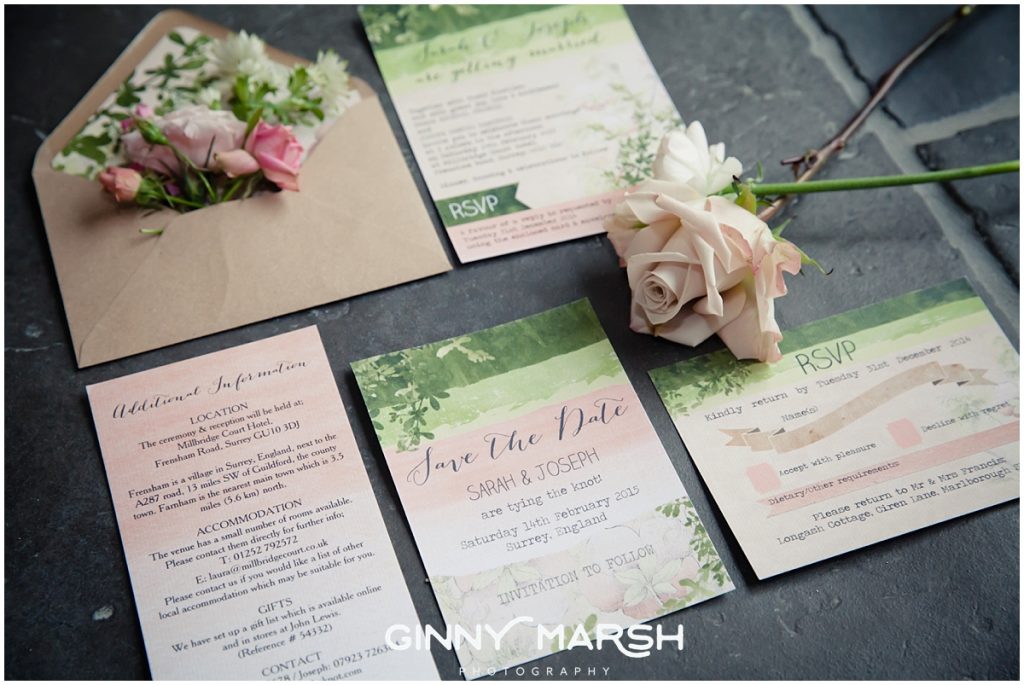 This stationery from Hip Hip Hooray gives a fabulous Spring feel with the pink and green colours and woodland feel.
Stationery ~ Hip Hip Hooray
Add Pastel Details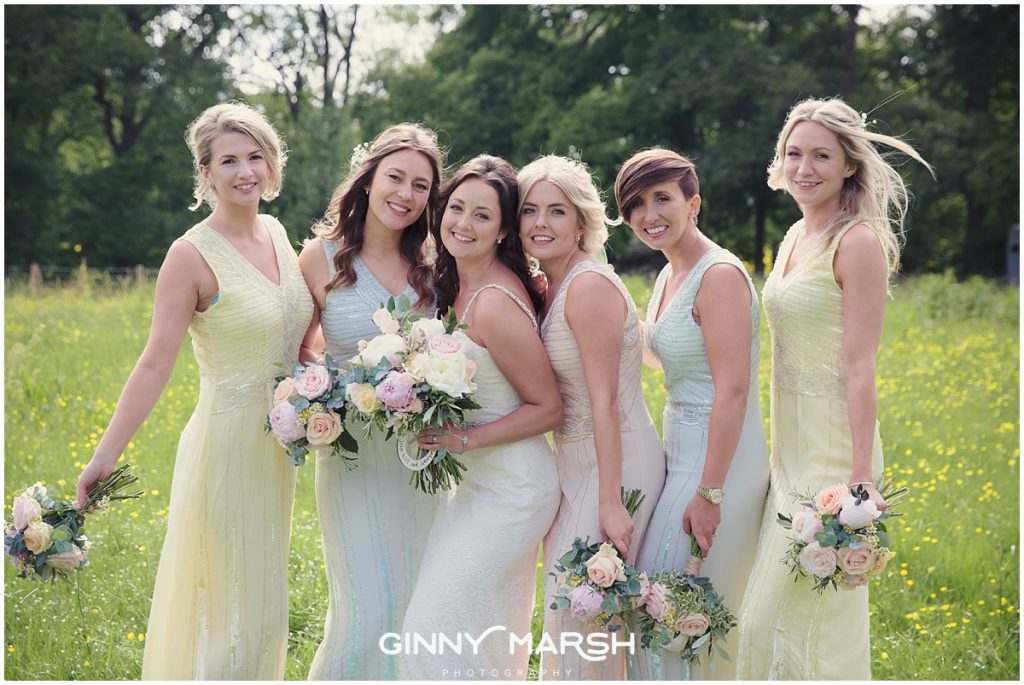 A soft colour palette of pastels works a treat at a spring wedding. Weave accents of your chosen shades throughout your wedding either in your bouquet or bridesmaids outfits.
Or you can use it by having neutral reception decorations to add contrasting pops of colour. Think about using pastel napkins and table runners over crisp white tablecloths.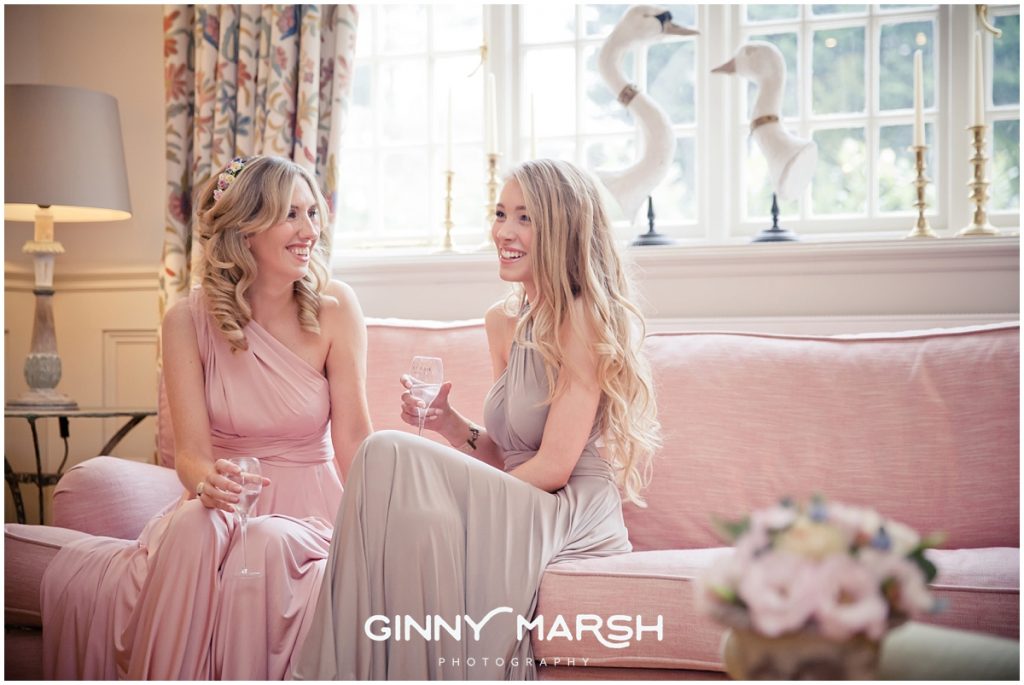 Bridesmaid Dresses ~ Twobirds from Exquisite Brides
Get Creative With the Table Plan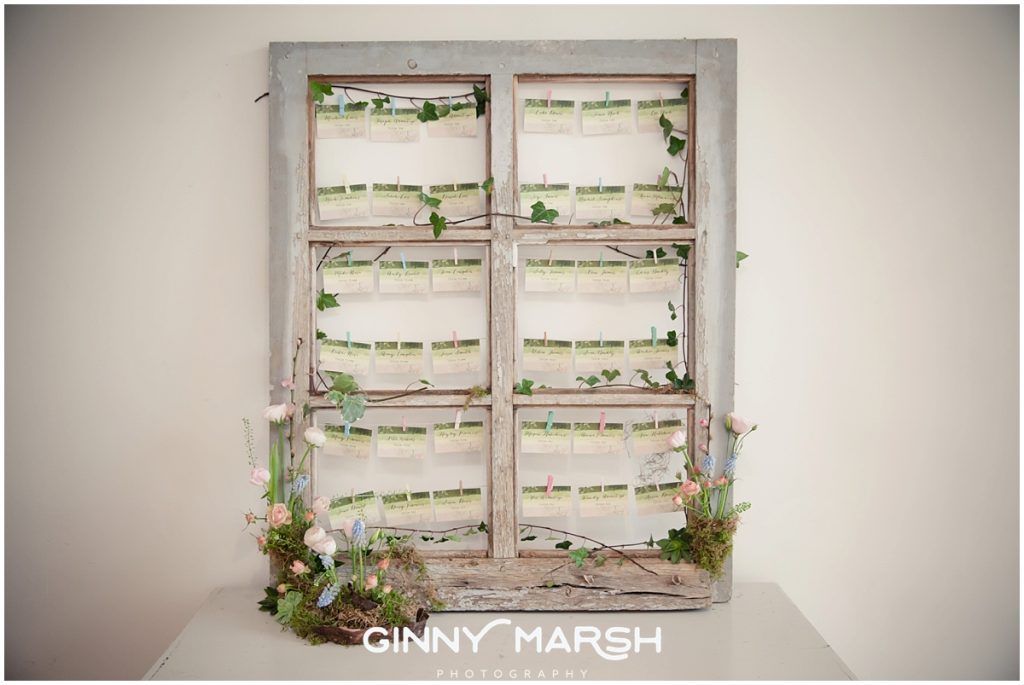 Inject your spring wedding reception with a little creativity by displaying your table plan in an unusual and quirky way. Or how about wrapping your plan in a gorgeous frame of delicate flowers for spring? There's no way your guests will be able to miss it then!
Stationery & styling ~ Hip Hip Hooray
Embrace Nature in Your Photos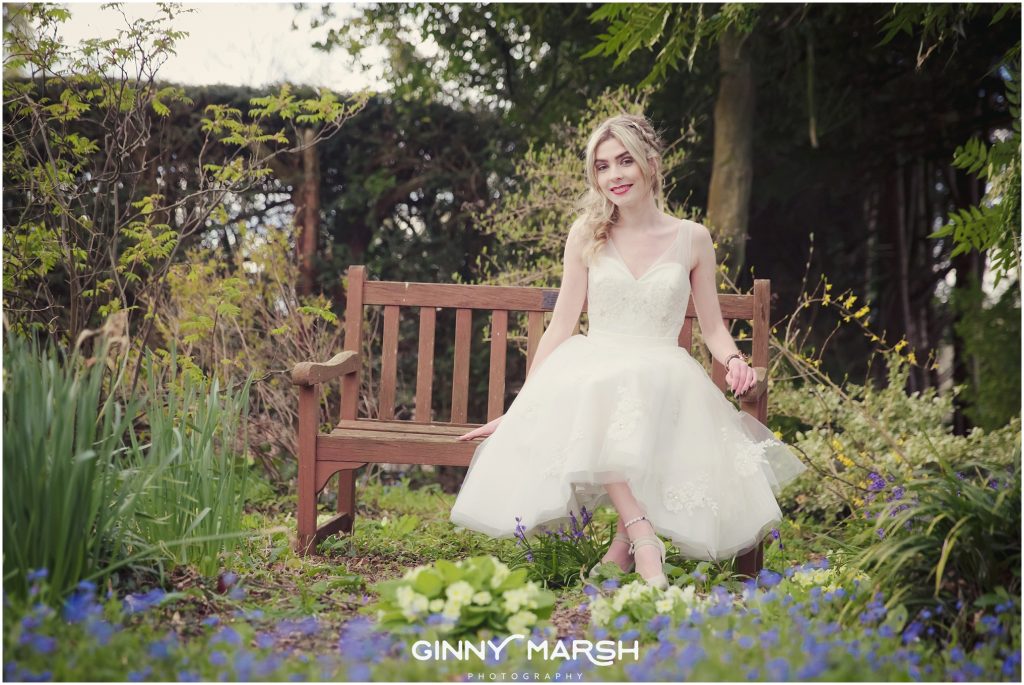 If your spring venue has beautiful grounds or gardens, make sure that you get your photographer to snap some outdoor photos. The trees and plants will be in bloom, making for some wonderful picture opportunities.
Bridal Dresses – Sass and Grace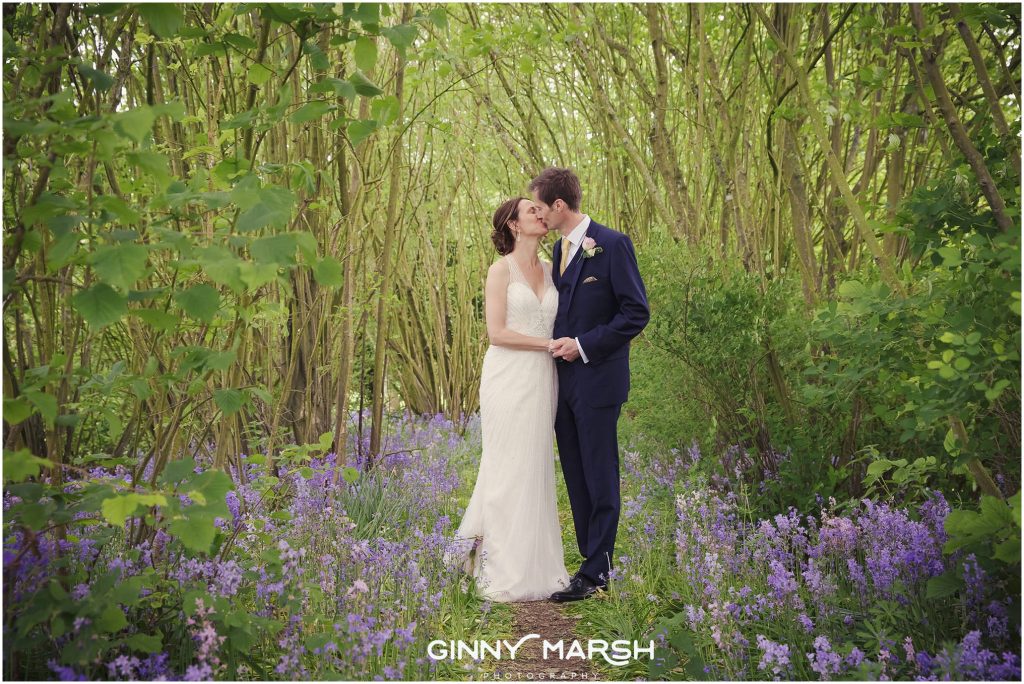 Alternatively, if the typically rainy Spring English weather isn't great, incorporate some gorgeous Spring flowers indoors to still give the Spring feel.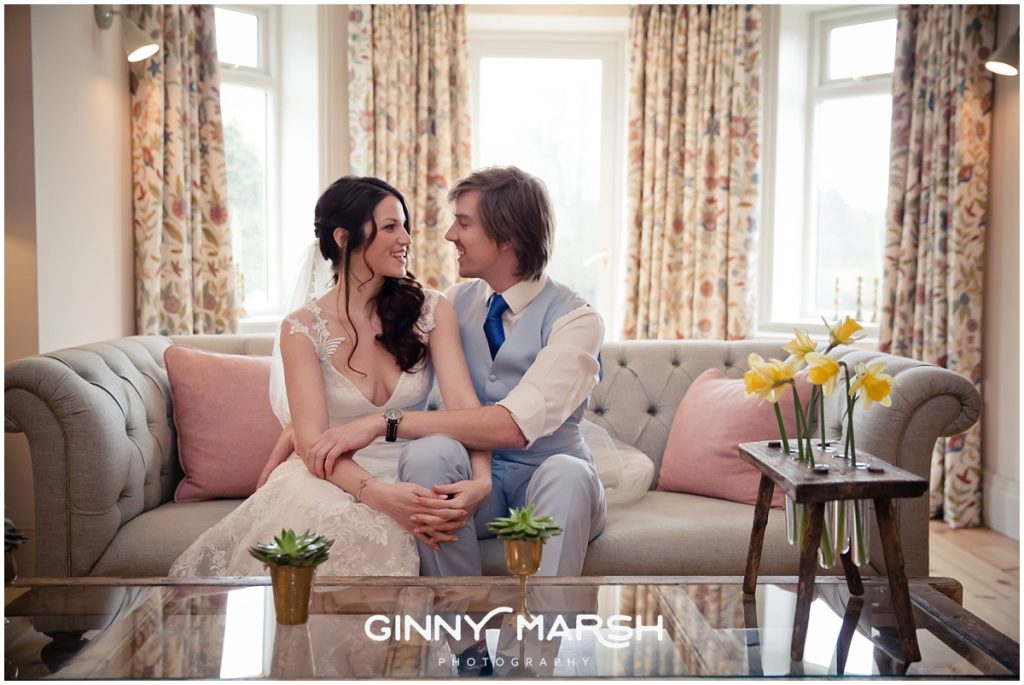 Many thanks for checking out my 2018 spring wedding inspiration with some great top tips! Are you planning on getting married this year/next year? Are you having an unusual theme or colour scheme? Then I want to hear from you!
Please Contact Me for more information about my wedding photography packages and to check my availability before it's too late!
Alternatively, you can see some more of my lovely weddings HERE
Thanks so much for taking the time to read this Blog.
Ginny x