A transformative photoshoot for a fabulous crossdresser

Meet J
I had the pleasure of photographing the lovely J recently – a fabulous crossdresser with a great sense of humour. We had a lot of fun in this transformative photoshoot. He was born in the 50's and started cross-dressing when he was just a teenager. J has a love of the 50's pin-up style; he finds it much more glamorous and feminine than the fashion today (which I totally agree with!).
He is happily married with two kids, and will be celebrating his ruby wedding anniversary next year – congratulations J 🙂
I was really interested in J's background and how long he's been dressing…
"I can't give an answer other than I like it. I don't want to transition. I have no desire to become a woman, I enjoy wearing the clothes and the transformation. I dress for my pleasure, it is not to attract men and I have no interest in men. I do enjoy the comments from men about my appearance though, some of whom think I am actually a woman."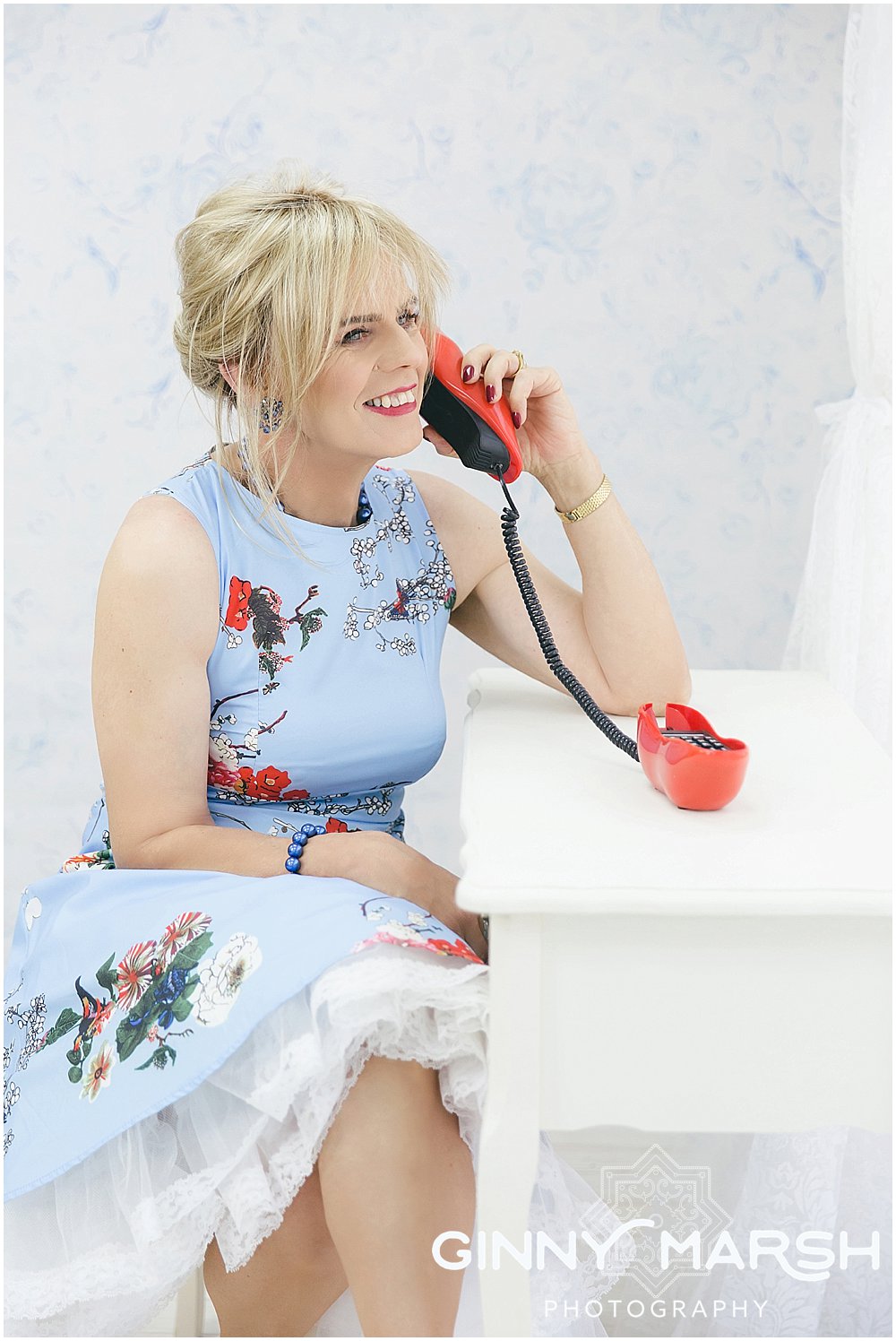 Preparing for the shoot
Before the shoot, I invited J to have a chat about what he would wear for his transformative photoshoot and get a better idea of the style of photos he likes. I always recommend using Pinterest to really see the style and look my client wants. This is really helpful for myself and my clients as it helps us both prepare for the shoot and narrow down the options. Our meeting before the shoot is very important. Not only does it help to plan the shoot, but it also helps make my clients feel at ease with me and helps us build trust. This seemed to help J as well:
"My main issue before the shoot was my lack of confidence, I always see the worst in a situation and tend to fear the worst. I always think I look like a man in a dress. Ginny was very pleasant at the pre-meeting, put me at ease and left me feeling confident I had made a good choice."
A week before J's transformative photoshoot I sent him a pre-shoot checklist, which has lots of helpful tips to fully prepare for our shoot. When J came in for his shoot he was pampered by one of my lovely hair and make-up artist's, Collette. She helped prepare J's wig, nails and make-up. J loves seeing his transformation so we unveiled his new look in the full-length mirror once he was fully dressed and ready. I really enjoyed his reaction, it was amazing:
"Only one word. Wow. Is that really me?!"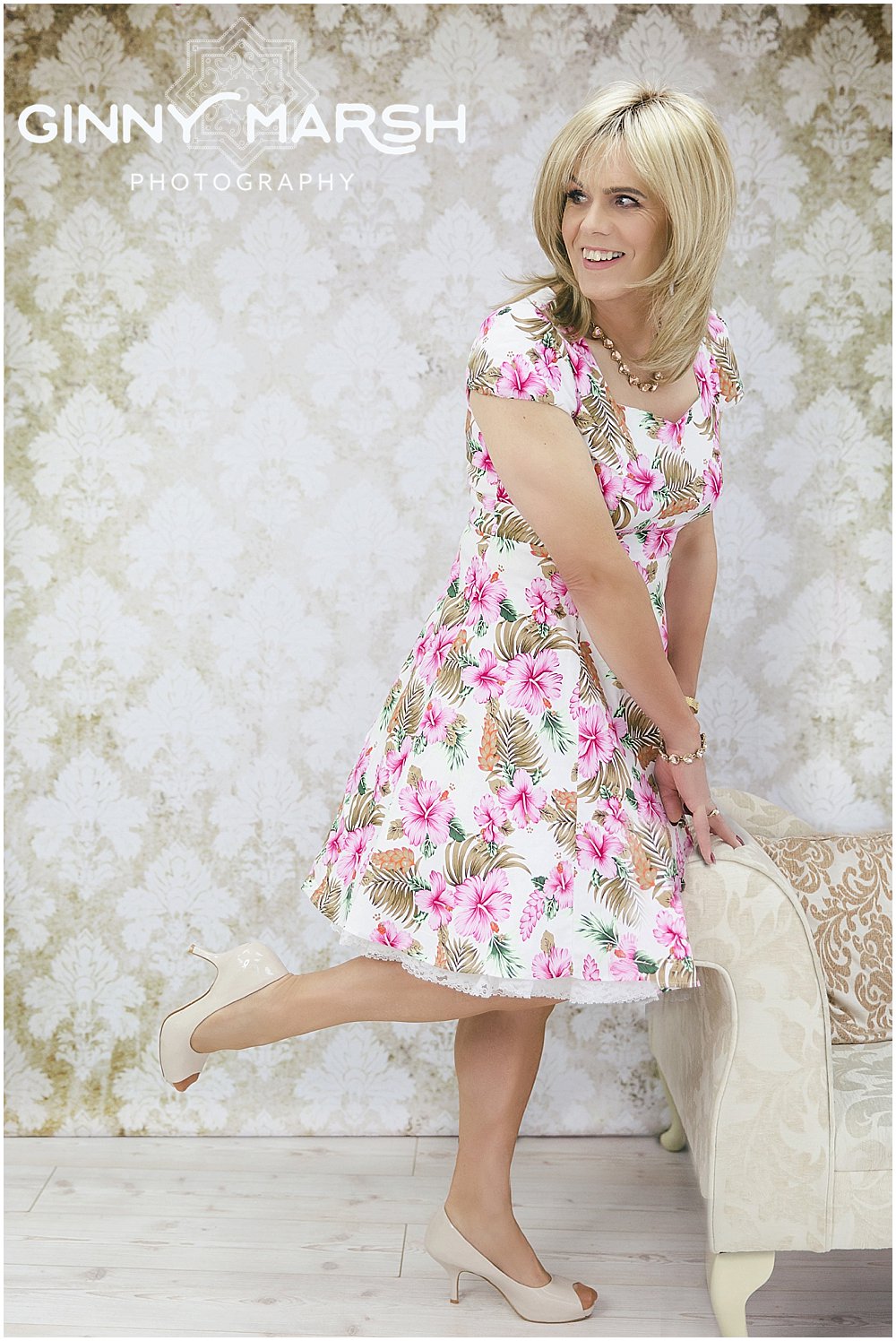 The Photoshoot experience
I had great fun photographing J. During the shoot I posed him to suit the 50's style and look he was after. Some poses were more challenging than others, but I made sure they were all flattering. I used some great props to achieve the 50's look, which included a telephone in the shape of lips, a variety of vintage suitcases. I had Collette, my make-up artist on hand to touch up J's make-up and hair whenever necessary. I find this is really important for the photos, but it also makes my clients feel completely pampered and looked after.
J gave me some lovely feedback about the shoot experience:
"We spent the time laughing and joking, I felt wonderful and so relaxed, it was a really enjoyable time. I felt at ease all the time, the girls were all so helpful, nothing was too much trouble for them"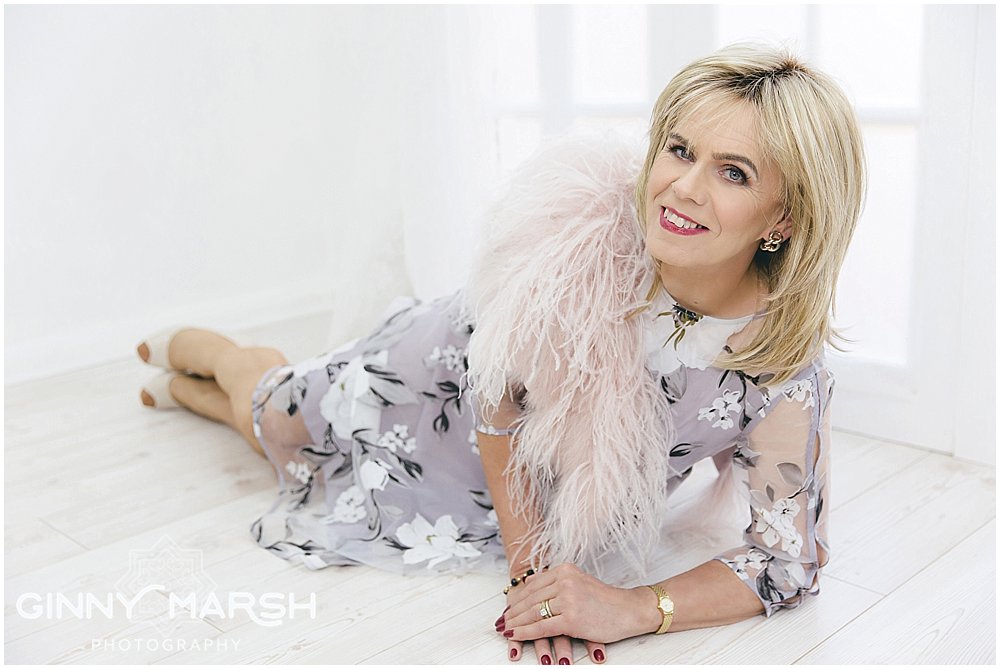 J's thoughts about his photos
"The first image appeared… WOW is all I could say… It was a most enjoyable experience and the results are fantastic."
Thank you, J for the lovely feedback!
I love giving people a confidence boost and making them feel their very best! My transformative photoshoots aren't just about making you look good, but they are about making you feel amazing in your own skin too.
Photographer: Ginny Marsh Photography
Hair and make-up: Collete from CJ Beauty
Wig from Femesque
Keep on scrolling to see more of J's photos from his fabulous transformative photoshoot…
Are you ready to be brave and celebrate who you are with a transformative photoshoot?
Get in contact here and let me see how I can help you!
Thanks,
Ginny
x