Personal Branding shoot for Yoga Teacher, Ruth | My Yoga Club

Meet Ruth from My Yoga Club
Ruth runs My Yoga Club as a yoga instructor. Ruth came to me to have a personal branding shoot for her business; My Yoga Club. She needed some images for her new website (designed by This is Eloise!). Before the shoot, she had her hair and make-up done by our lovely Ema who kept it very nice and natural. Check out her before and after photo below.
Having your hair and make-up done before a photo shoot is so important for confidence but it also helps your facial features stand out more for the camera. We had the shoot at Ruth's house to help show her personality more in her brand, I find this definitely helps make her seem more relatable to her clients.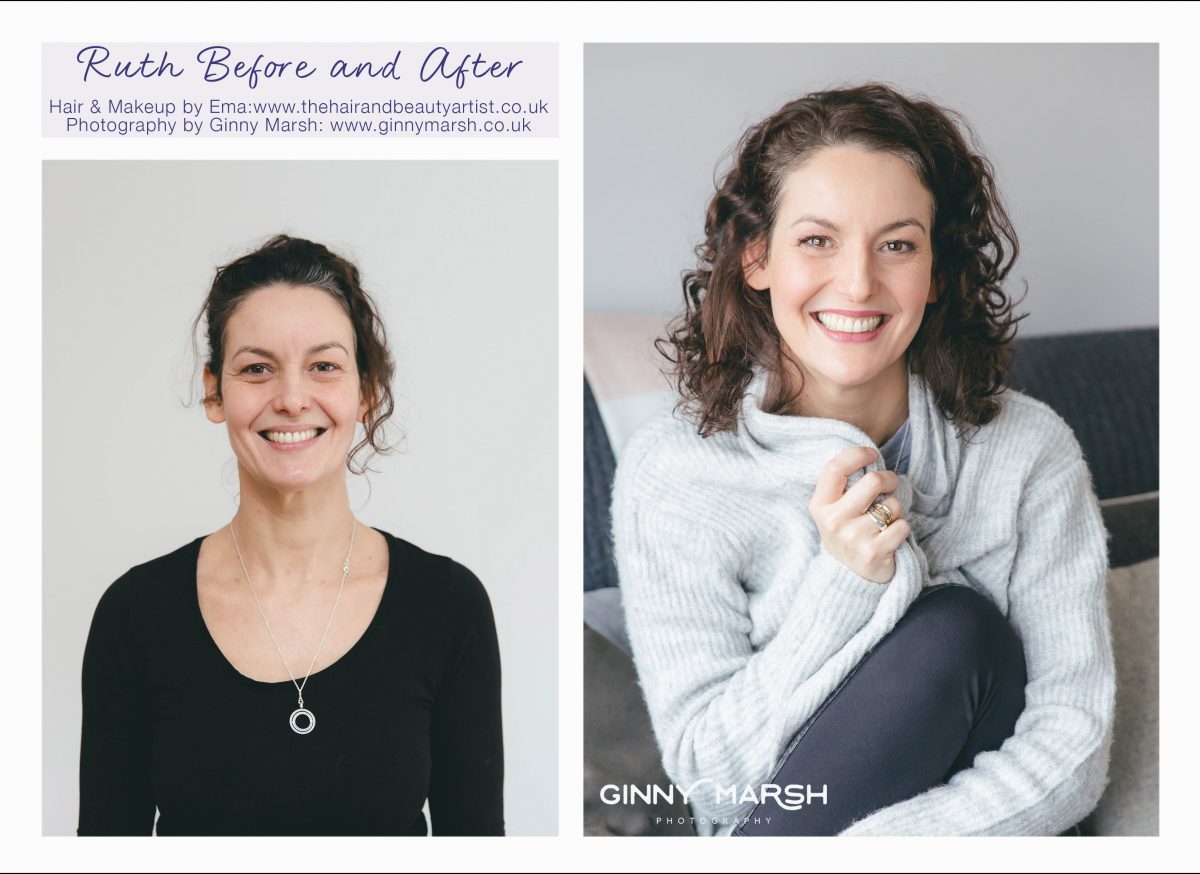 Planning Ruth's Personal Branding shoot
Ruth is a yoga instructor, however, she didn't want to appear too "Yoga-y", because she's not a "typical" yoga teacher. She's not one of the yoga-type people you tend to see on Instagram who are vegan, posing in some really challenging yoga position on a beach.
She just wanted to show that she was like everyone else; she likes snuggling on the sofa and eating chocolate, but is passionate about fitting yoga into everyday life, no matter how flexible (or not) you are. Ruth makes people feel relaxed and able to do yoga no matter who they are. So she found it difficult imagining what she wanted her images to look like.
We had a thorough chat about her brand and her personality, and I even got to experience one of her lovely yoga classes to see how she worked. All of this helped me plan My Yoga Club's personal branding shoot especially for Ruth and her brand's needs.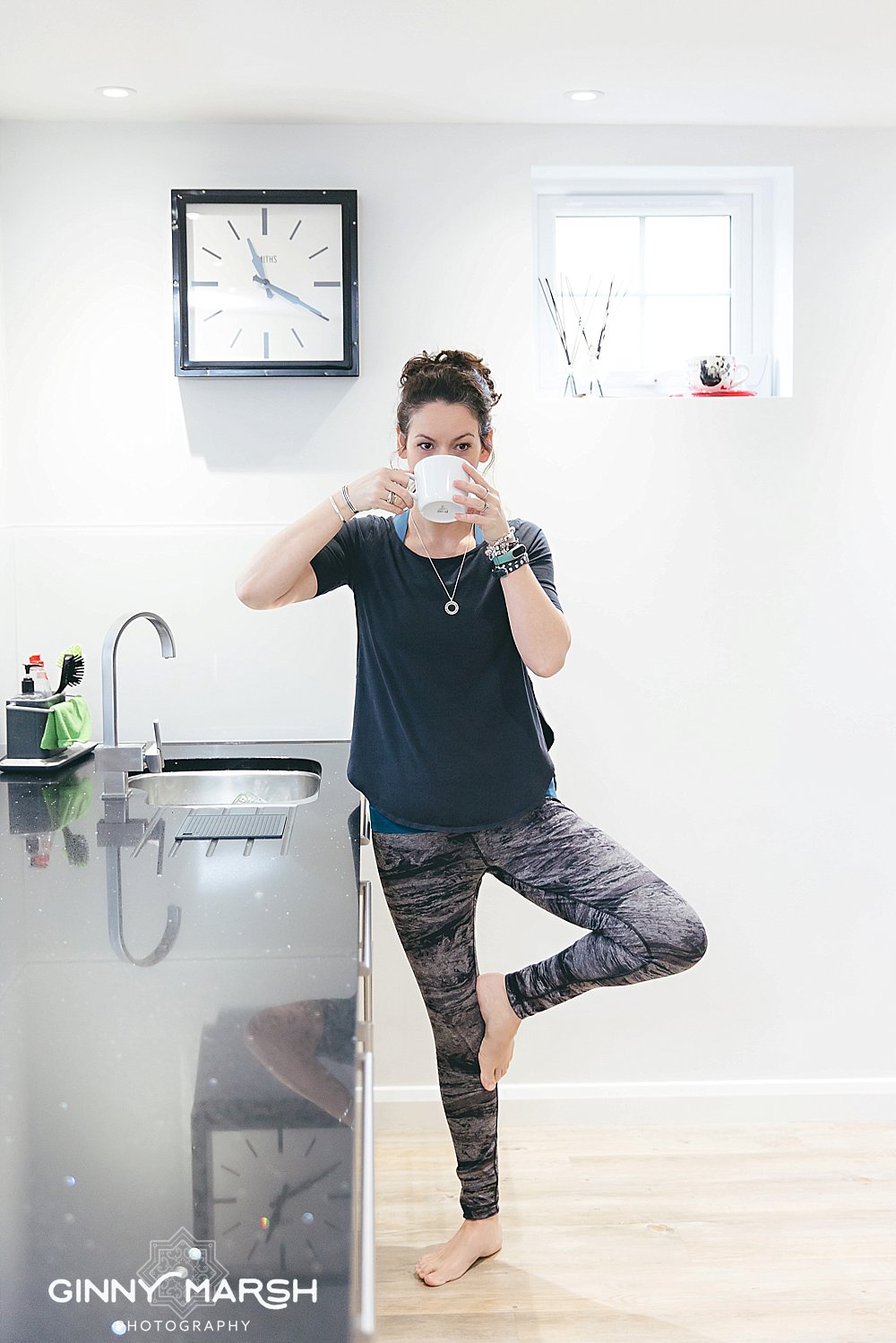 The end result
We had SO MUCH FUN! The end result was some unique quirky images that show Ruth being Ruth in her house, and included yoga in mundane everyday situations… we even had wine and cake! I really enjoyed photographing Ruth and her brand, I feel like her photos show her as fun, friendly and down to earth, which she is! When clients can relate to you and your business, you are winning!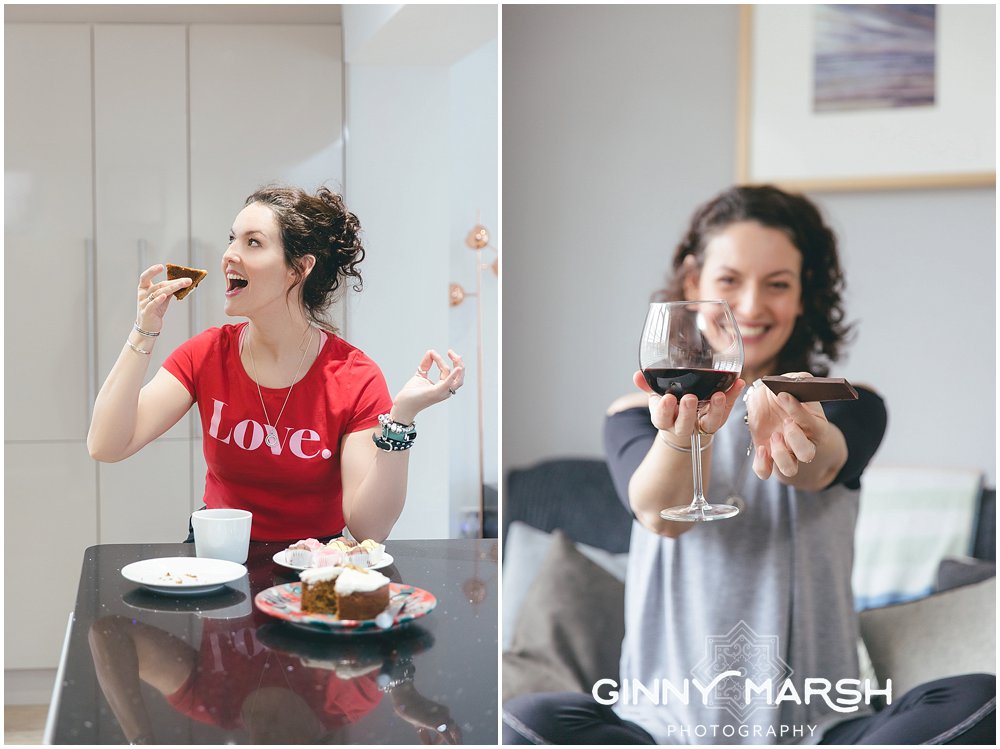 Ruths thoughts about her experience
"The shoot experience was a lot more relaxing than I thought it would be – Ginny was absolutely fabulous. She put my mind at ease, 
made me feel relaxed and gave me some great photos…
Ema did a great job on my makeup – 
she made me feel very glamorous without the feeling of a face full of makeup. 
I achieved the natural look I was after and am really pleased with the results.
I love my images, I think they have captured me and definitely will help to solidify the brand"
Thank you so much for the lovely feedback Ruth! It was great fun photographing you.
I'm pleased to announce her website is now LIVE! Check it out, and if you're local to Farnham, I totally recommend going to one of her classes…  
Check out what Ruth has done with some of her images on her website in the image below.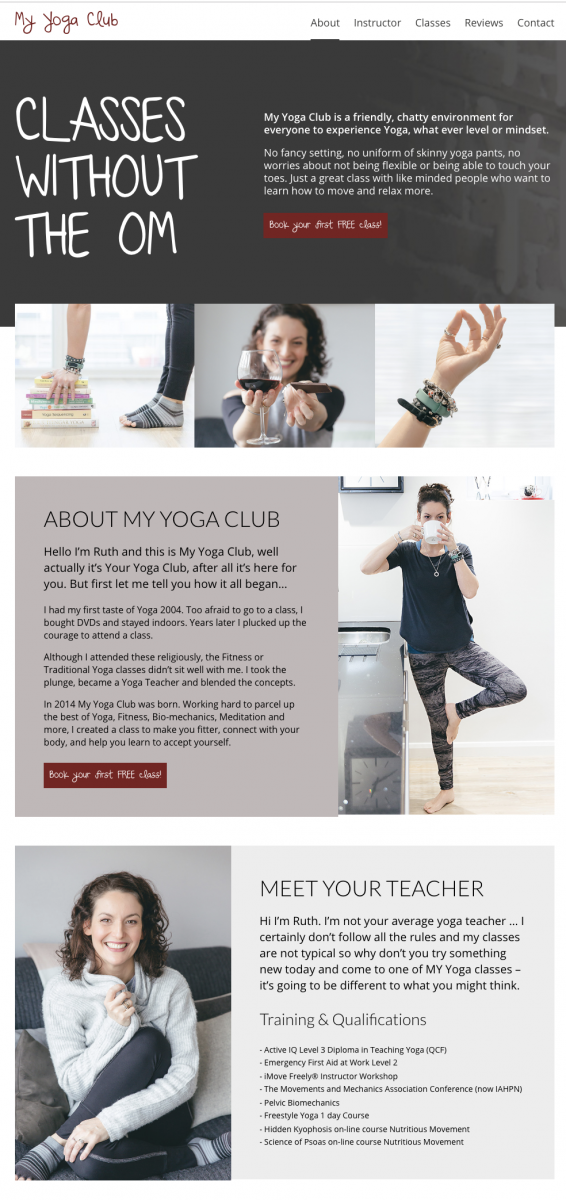 Is your business in need of some refreshing photos? Or are you just beginning your business journey?
Get in contact and we can discuss how I can help your business with an amazing personal branding shoot!
Or keep scrolling to see more from Ruth's My Yoga Club Personal Branding shoot.
Suppliers:
Photographer- Ginny Marsh Photography
Website designer- This is Eloise
Thanks for reading 🙂
Ginny x