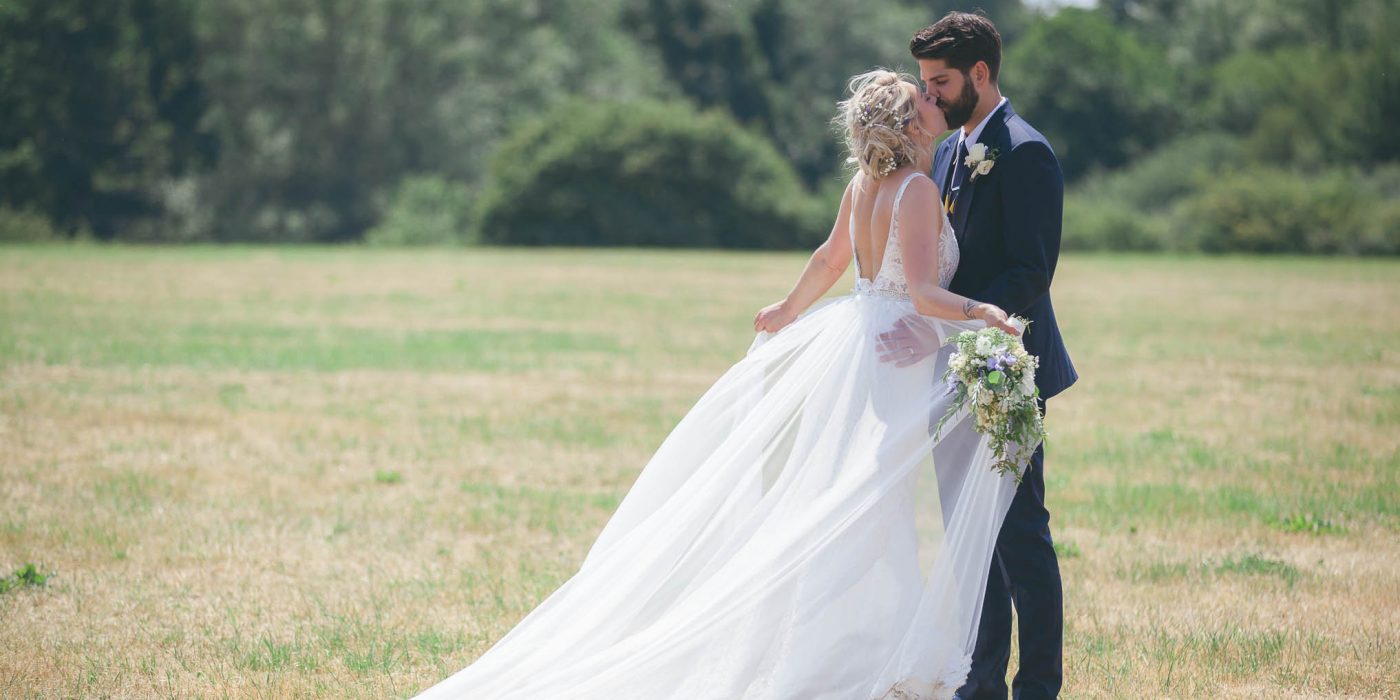 Becky and Craig's Boho Country Style wedding at Groomes | Farnham, Surrey
I had such fun photographing Becky and Craig's wedding at Groomes wedding venue near Farnham! 
It was a rather hot day, to say the least, but everyone had so much fun and I could tell how much effort had gone into making the decorations and table centrepieces with a beautiful boho country vibe. 
They even had friends helping out with hair and makeup, and doing the DJing (it does help to know talented people!). I even had a boogie on the dance floor, myself!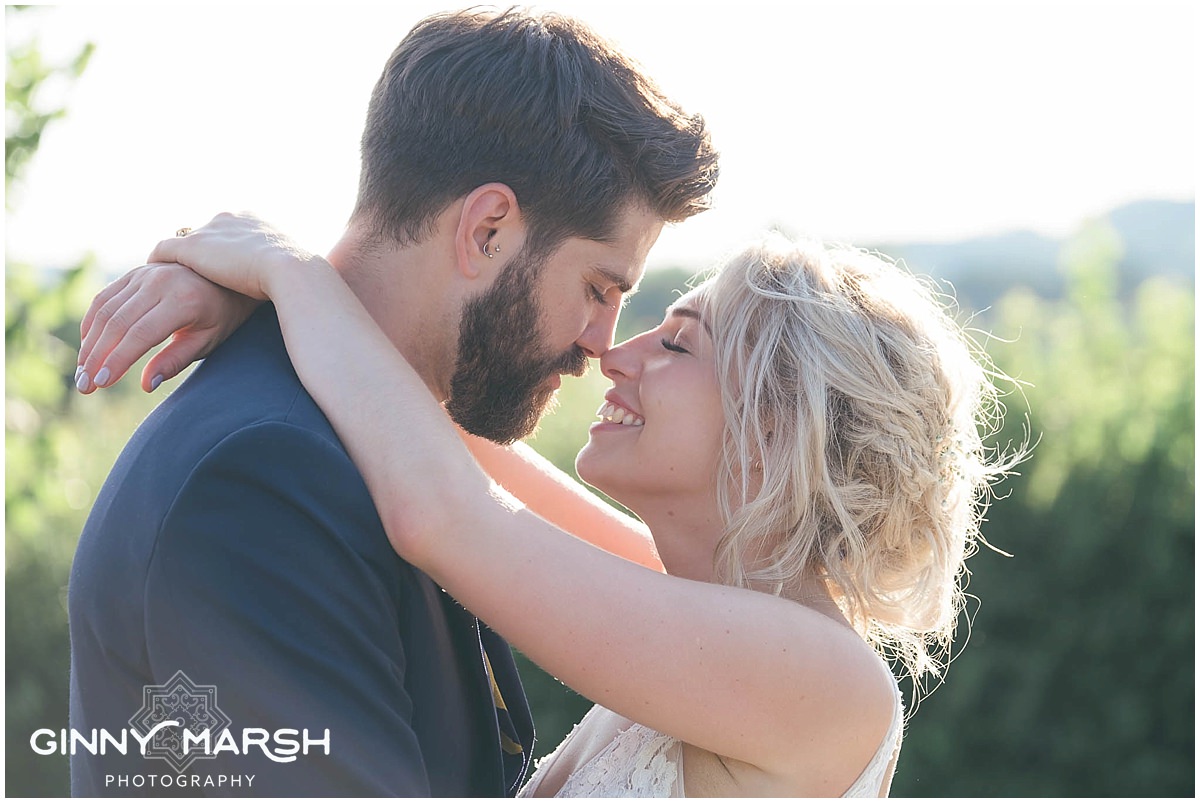 The Happy Couple
Becky and Craig are such a lovely couple, and so easy to get on with. According to Becky, she met Craig one drunken night out on a girls holiday in Cornwall. She thought she'd never see him again because he lives in Bristol, but she thought why the hell not, and asked for his number. Then after a year of driving back and forth up the M4 from Surrey, she decided to quit her job and move to Bristol to live with him! Aww
Becky tells me the lovely story of how they got engaged…
"Craig proposed to me. It was Christmas Eve eve and he popped the question at home in the kitchen. Don't think I've ever been more shocked. When he suddenly dropped to one knee and got that bloody beautiful ring out. I was not expecting it one bit. I was 100% not prepared in my head, I had always imagined my proposal somewhere beautiful, with my hair all done and some amazing outfit on. But no, in reality, I had wet hair because I hadn't long got out of the shower. No makeup on, my nails didn't even have a lick of polish on. And I was wearing my pjs. But honestly it was perfect and I wouldn't have changed it one bit. After losing my Grandmother 2 years ago I'd always said to Craig when hinting when we did get engaged I'd like a ring like my grandmothers ring, not thinking he was taking any of this stuff in. So the fact that Craig had a flower ring handmade especially for me makes it even more amazing! Also on the day, I will be having my grandmothers wedding band as they had nearly 50 years of happy marriage. So it's very special to me. And hopefully, Craig and I will be as happy as them."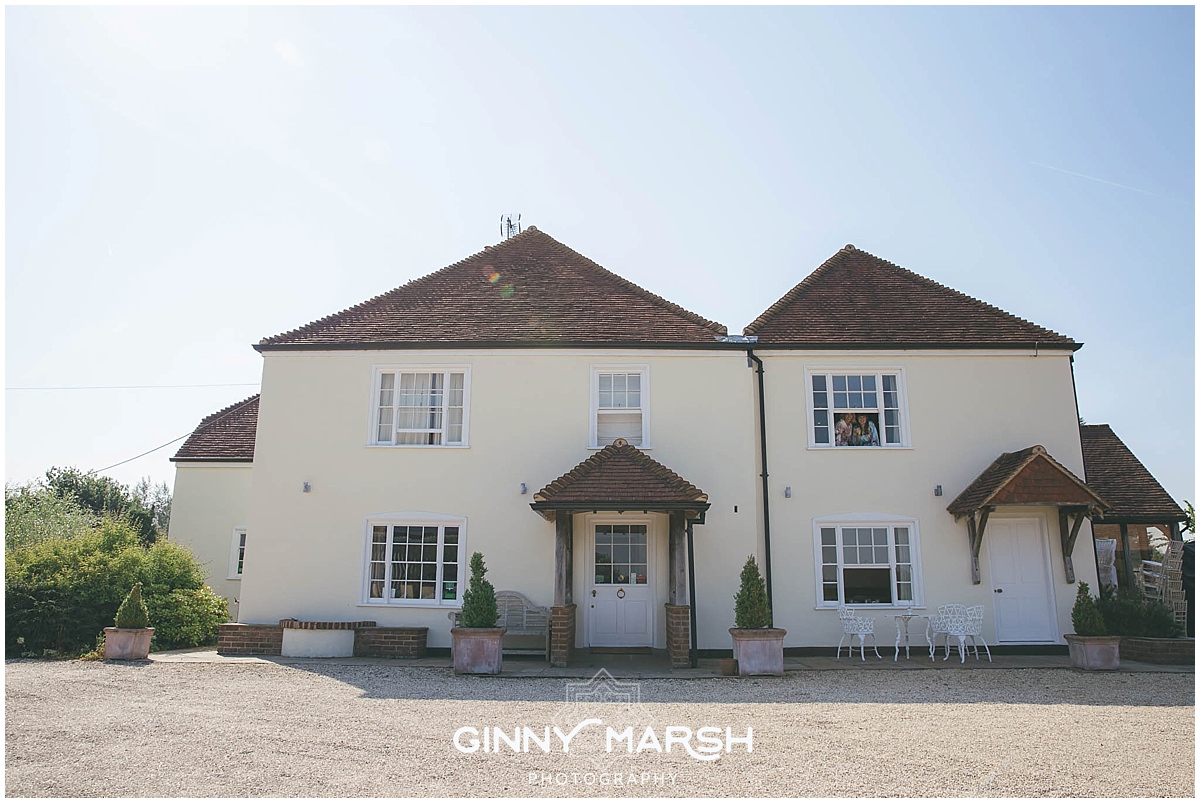 Country Wedding Venue – Groomes (between Farnham and Bordon), Surrey
Becky's stepfather, Pete, and her Mum, Jane, own the wedding venue, Groomes, so it was an obvious choice because it's very personal to them. They got married outside in the sunshine and had a marquee in the garden for their reception.
I've photographed weddings at Groomes on a few occasions, and I love how homely it is – because it's a home! It's a lovely country house on a farm, with a couple of different ceremony locations inside and out. It also has plenty of fields, barns and interesting backdrops for fab photos.
Pete and Jane are really welcoming and helpful, allowing couples to really design their wedding how they want with loads of options, or just a blank canvas.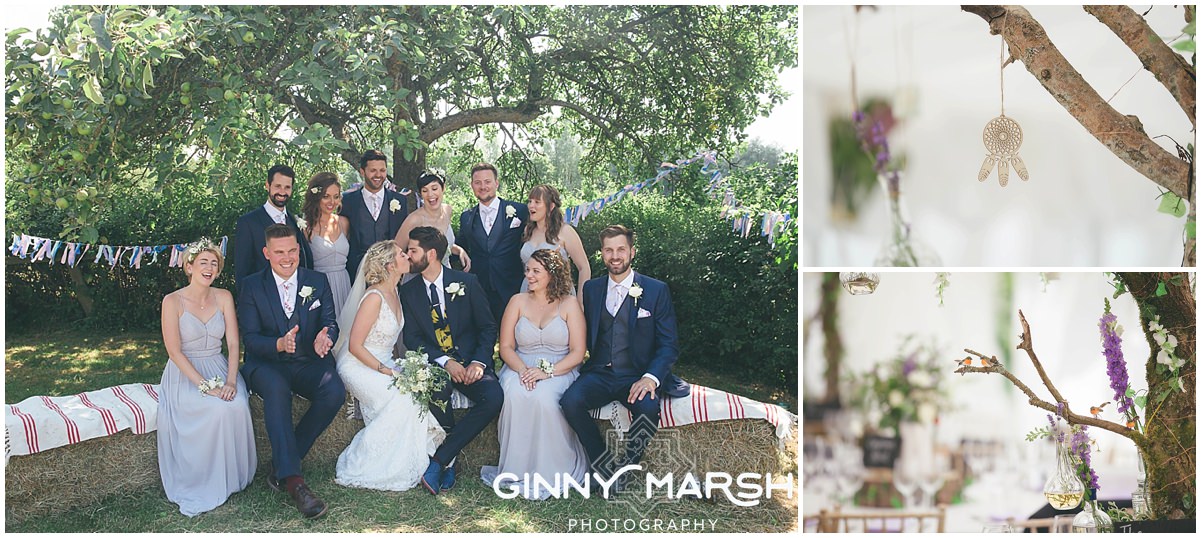 Wedding Style – Country Boho DIY with actual trees as table centre pieces!
Becky wore a beautifully unique wedding dress that she part designed herself – it had a long delicate train attached to the back of the dress. At first glance, it looked like it was part of the veil! The dress itself had a lot of lace, and was designed for the summer heat, with a low back and front. The bridesmaids were in long powder blue dresses. Craig wore a blue Vivienne Westwood suit, with a striking yellow waistcoat and his groomsmen, wore blue waistcoats with floral ties.
Becky and Craig styled their day using a natural look with lots of cream and green. They had a marquee in the garden for that country garden look, with hints of blue throughout. The table decorations consisted of beautiful natural floral arrangements with small hand crafted robins sitting on tree branches, creating a truly natural feel.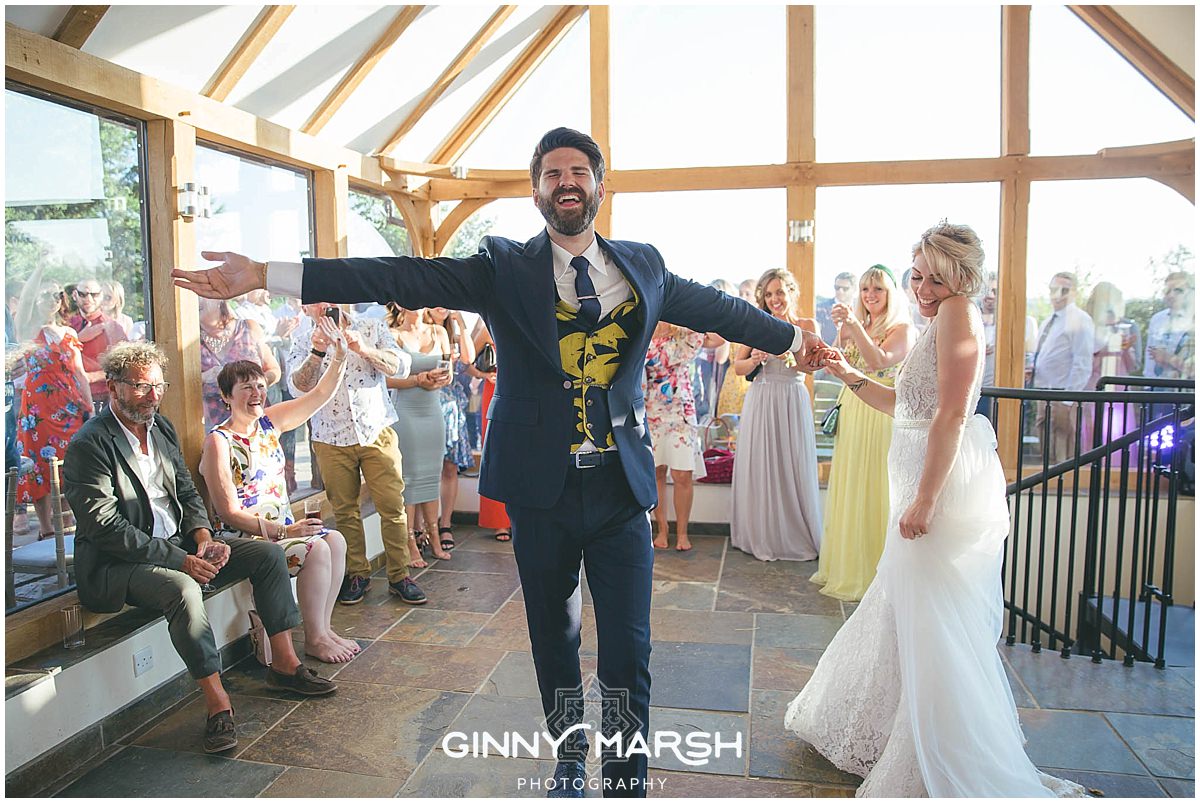 Suppliers
Dress – Farnham Boutique
Craig's Suit – Vivienne Westwood
Groomsmen hired suits from Dyfed Menswear
2nd Photographer – Chris Mann
Wedding venue – Groomes
Many thanks for checking out my wedding photography! In addition, are you planning on getting married at at Groomes Farnham, Surrey or having a Spring wedding? Please Contact Me for a quote and to check my availability before it's too late!
Alternatively, you can see some more of my lovely weddings HERE
Thanks so much for taking the time to read this Blog.
Ginny x
Here are some more gorgeous images to tell the story of their day…