Charlotte and Jamie's Country Themed Pre-Wedding Photoshoot, Surrey
I'm so excited to share my images of Charlotte and Jamie's pre-wedding shoot in February, earlier this year! Make sure you check back for the blog about their wedding at The Long Barn, Newton Valence, which will follow soon! They decided to do a Pre-Wedding photoshoot to help relax them in front of the camera and so that we could get to know each other a little bit more.
We went for a walk in the country, to match the theme of their rustic country wedding.
We started off at the Bride's parents house in Four Marks and then we took the dogs to a place where Charlotte and Jamie enjoy and feel familiar with. It was a dry day, but the ground was very boggy, so we luckily came prepared with welly boots! Charlotte's mum, a registrar, came along too as she was a little camera shy and she did superbly.
After a lovely walk, the family were heading off to meet a few other family members for lunch at The Anchor, Lower Froyle, so I took the opportunity to join them prior to the lunch to get a few more shots of the couple and Charlotte's family. The extra bonus was that I got a glass of champagne, which was very well received!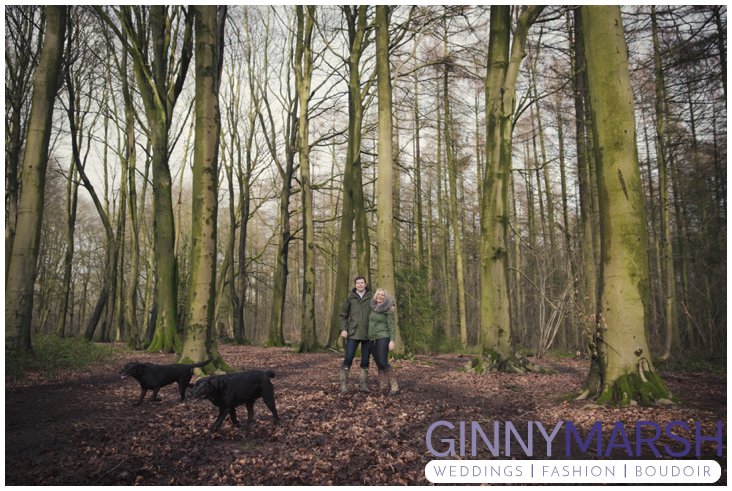 Pre-Wedding photo shoots are now one of my most popular services
They are so beneficial for many reasons, such as getting more comfortable in front of my camera, getting to know me better if I'm photographing your wedding, using the prints for signing frames, books or even wedding invitations.
Sometimes, we do the shoot at the wedding venue, which is always fun too! This is useful as it gives the bride and groom a chance to pinpoint locations that they may want to have particular shots at their wedding taken. If I haven't visited the venue before it gives me a chance to become familiar with it, and also sometimes, there are certain areas at the venue, which may not be practical to have photos taken in full Wedding attire!! Check out my Pre-Wedding blog for some more information.
Many thanks for checking out my engagement photography! If you or anyone you know is getting married, then please Contact Me for a full price list and availability.
Alternatively you can see some more of my lovely weddings HERE
Ginny x