Jackie's 25th wedding anniversary & birthday portrait shoot
Jackie had a photoshoot to celebrate her 60th birthday and her 25th wedding anniversary. She also needed some photos for her business…

Meet Jackie…
I recently had the pleasure of photographing Jackie. She decided she wanted to come for a shoot with me for a few reasons: Jackie needed some photos for her coaching business; Rainford Coaching and Training. She also had a lot to celebrate… It was a treat for her 60th birthday because she had never had a professional photoshoot (since her wedding). Jackie and her husband also had their 25th wedding anniversary coming up – so she knew the photos would make a great present to surprise her husband with too.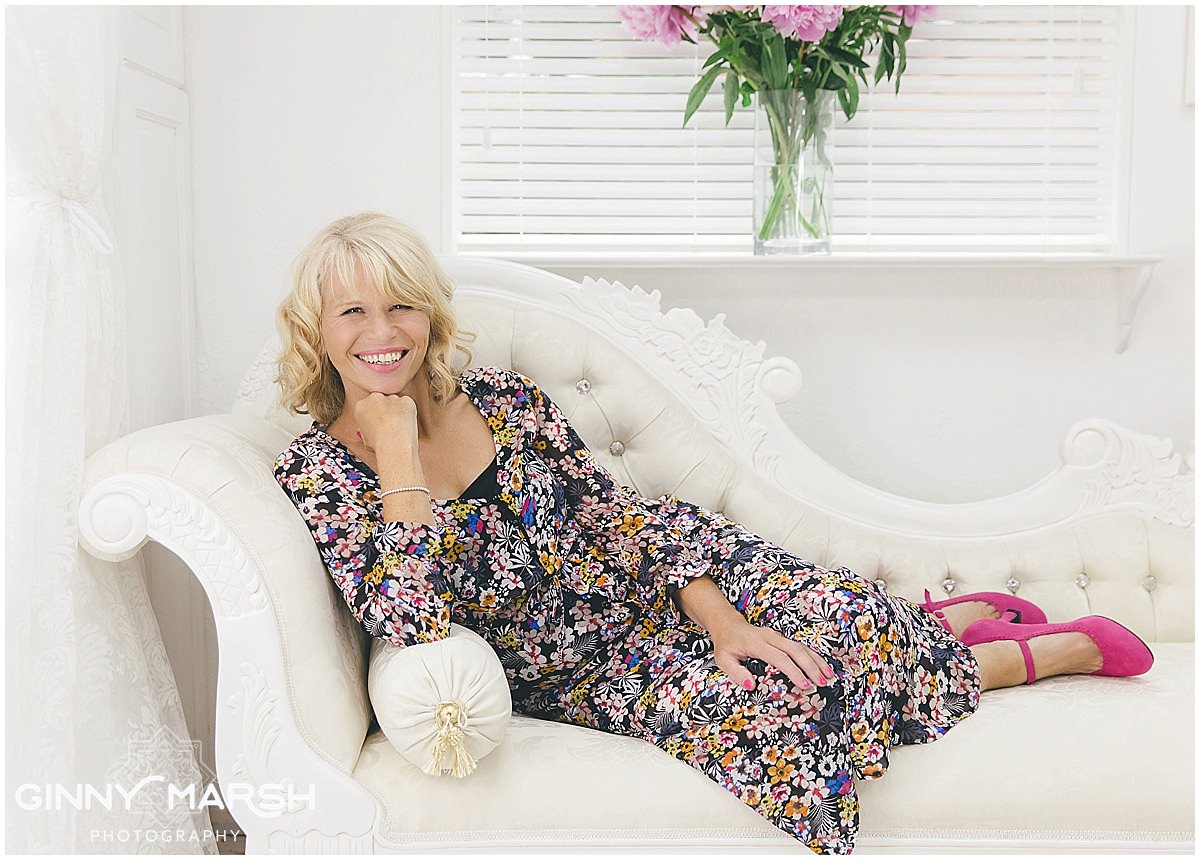 Before the shoot
Before the shoot I always have a consultation with my clients, to see how confident they are feeling and discuss the different styles of photos they might like. I love to create Pinterest boards in our meetings so we can really nail the look my clients want and work out what outfits would go with different backgrounds and poses. We discussed the different outfits Jackie would bring to her shoot. I always recommend bringing outfits that you feel amazing and confident in. It is also a good chance to be a little more daring with your outfit choices and buy something new if you want! As well as this, Jackie had to keep in mind what she would wear for her headshots.
I find meeting before the shoot helps my clients feel more relaxed on the day of the shoot. As we have already met, my clients then feel much more comfortable with me and they know exactly what to expect as we have planned the shoot together.

Hair and make-up
On the day of the shoot, Jackie came in and her hair and make-up was done by one of my lovely hair and make-up artists – Ema The Hair & Beauty Artist. Ema is great at making my clients feel pampered and relaxed before their shoot. I always offer hair and make-up for my shoots as I want my clients to look like the best version of themselves. As well as this it is better to wear slightly more make-up when on camera so your features stand out. As cameras can't see as much detail as our eyes. Having professional hair and make-up also gives you that confidence boost you need ready for your shoot.
Here's what Jackie thought about her hair and make-up:
"Ema (the hair and make-up artist) was welcoming, interesting and I think did a great job very quickly. A real talent. My husband and son both liked the curls, my son noticed all the details of the makeup as well! :)"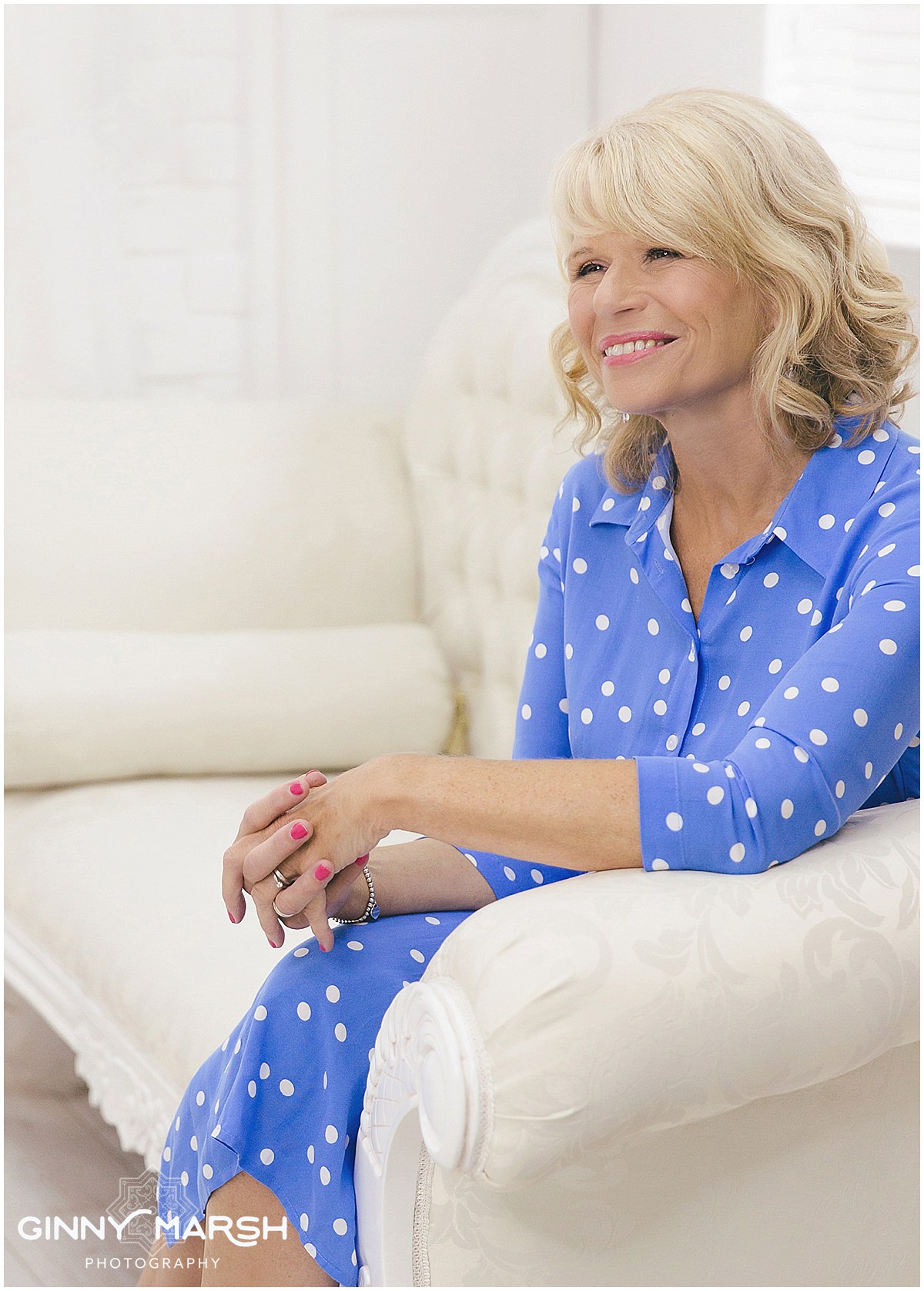 Jackie's shoot
Rainford Coaching and Training is Jackie's business. She helps other businesses improve with different strategies, she does public speaking and runs courses. So for this, she needed photos that show her as approachable and friendly but also professional and helpful.
Jackie told us why she wanted photos for her business:
"I was going to be 60 and keen to carry on working, but aware that business photos on social media are your first introduction; So I really just wanted to get some good photos done. But it was important that they were age-appropriate, natural and professional."
She considered the colours of her outfits, as it was important her photo went well with her website colours too- blue and white. We got some headshots as well as more natural ones where it looks like she is talking to a client. The mixture Jackie chose will work really well for social media.
As well as Jackie's work photos, we also had the chance to get more fun ones for her anniversary! Jackie brought a few lovely outfits with her, dresses and a smart top. I could pose her in a much more relaxed and glamorous way for this.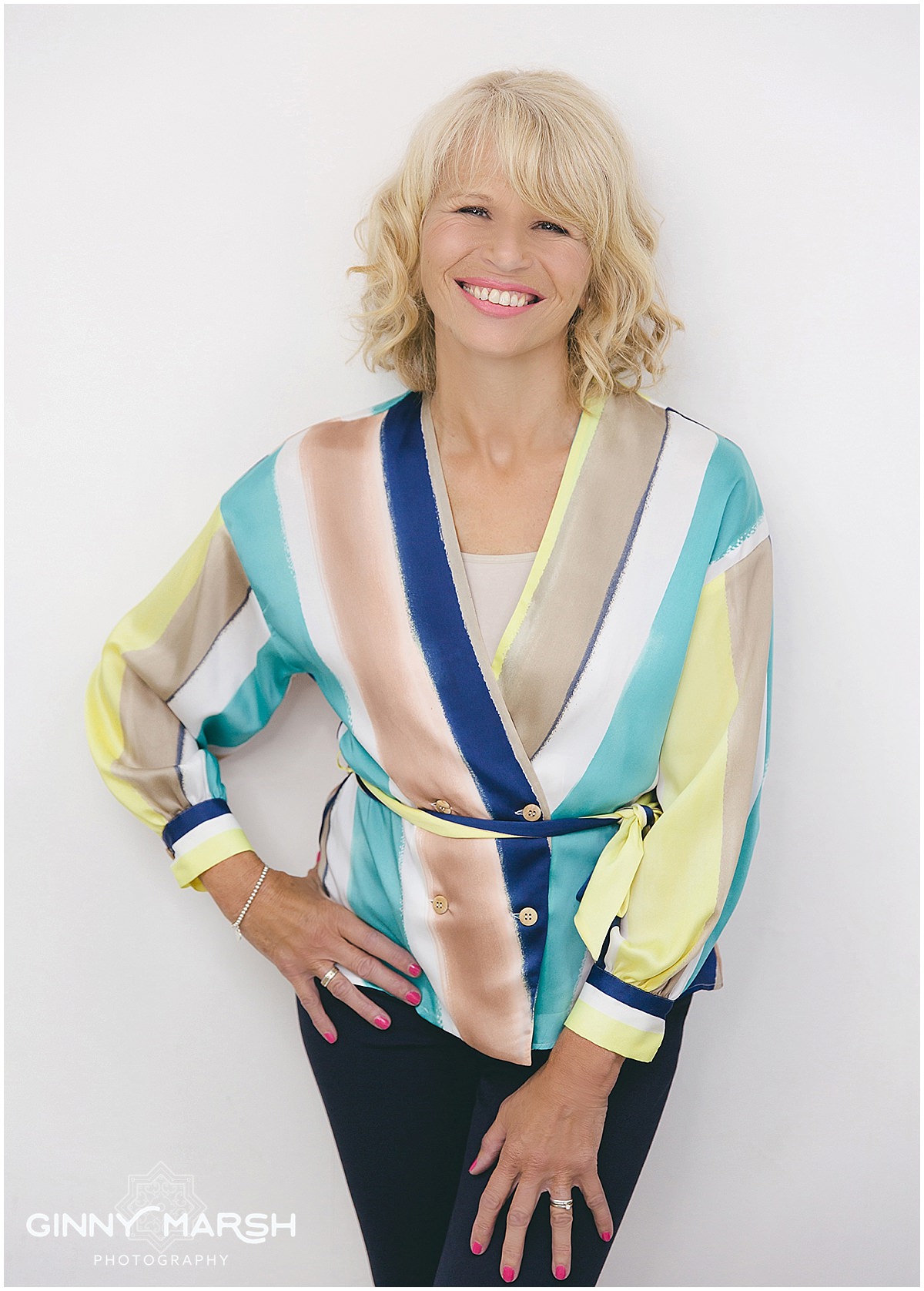 Jackie's review of her experience
"The images were for a 25th-anniversary gift and business, so I think the balance was just right. Ginny gave me the confidence to choose more glamorous outfits than I had originally selected and it certainly made me think about the image I wanted to portray.
Thank you both so much for a lovely afternoon. I felt relaxed, empowered and importantly cared for!  Your working partnership means that everything was seamless. I don't think I would change anything about the shoot.
I felt very comfortable during the shoot. I was a little reticent and self-conscious beforehand, but the afternoon was lovely. The photos are beautifully crafted and I was surprised how relaxed I looked. I certainly have what I expected."
It was a lot of fun photographing Jackie so I'm so pleased she enjoyed her shoot and loved her photos. She certainly deserved to treat herself!
Photographer – Ginny Marsh Photography
Hair and make-up – Ema Doherty