Margaret's Birthday & Anniversary gift – a Beautiful Vintage Style Boudoir Shoot!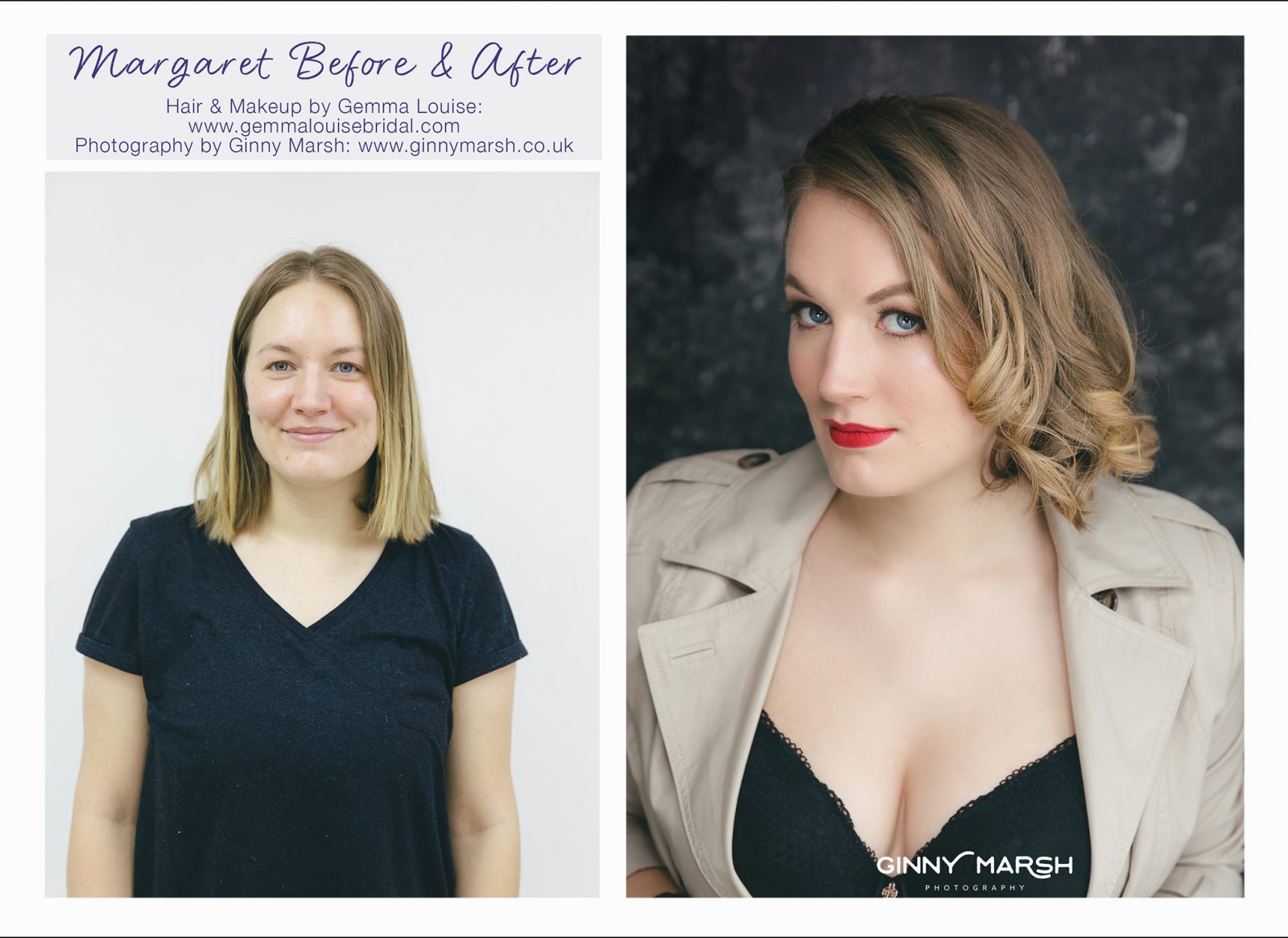 An extra special Birthday & Anniversary Gift…
Margaret booked an extra special early Anniversary gift and birthday present to herself… a Boudoir shoot at my studio!
I had the pleasure of photographing Margaret's wedding last year, so it was so exciting to see her come back for a beautiful boudoir shoot! Margaret decided to come in for a boudoir shoot as a present to her husband on their first year wedding anniversary. It was also an early 30th birthday present to herself. Margaret also said she wasn't feeling her best self and needed a bit of a confidence boost so this was a great chance to get that.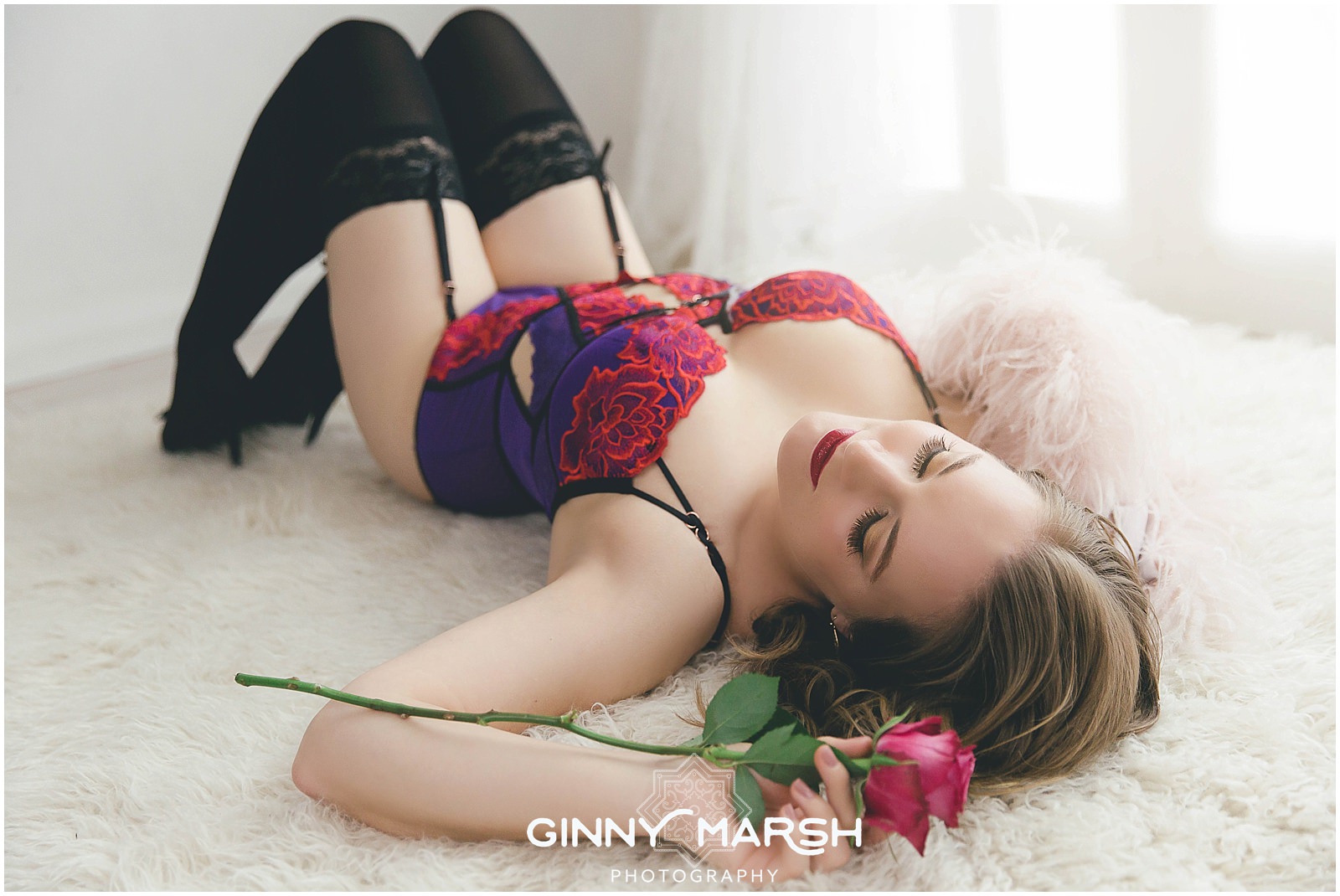 Pre-shoot meeting
Before the shoot, Margaret came into my studio in Farnham and we had a good catch up. We discussed the type of images she would like and the outfits she was considering wearing at the shoot. This is so important and something I do for all my clients. It helps me plan their shoot and means I will definitely create images my clients will LOVE. Having a boudoir shoot can seem like a bit of a scary idea to some people, which is why having a planning consultation beforehand is so helpful. The consultation helps prepare my clients so they know exactly what to expect, and know they don't need to be nervous 🙂

Hair and make-up
On the day of your boudoir shoot we tell our clients to come in with no make-up on whatsoever… (eek!) This is because we have one of our lovely hair and make-up artists to do it for you. I always have a hair and make-up artist on hand before and during my Boudoir shoots. This helps make my clients look absolutely amazing. It also gives them a little confidence boost, makes them feel super special and gets them camera ready. So they look like the best version of themselves! My hair and make-up artists always stay throughout the shoot to make sure you look your best throughout.
Gemma was ready to do Margaret's hair and make-up and make her feel properly pampered!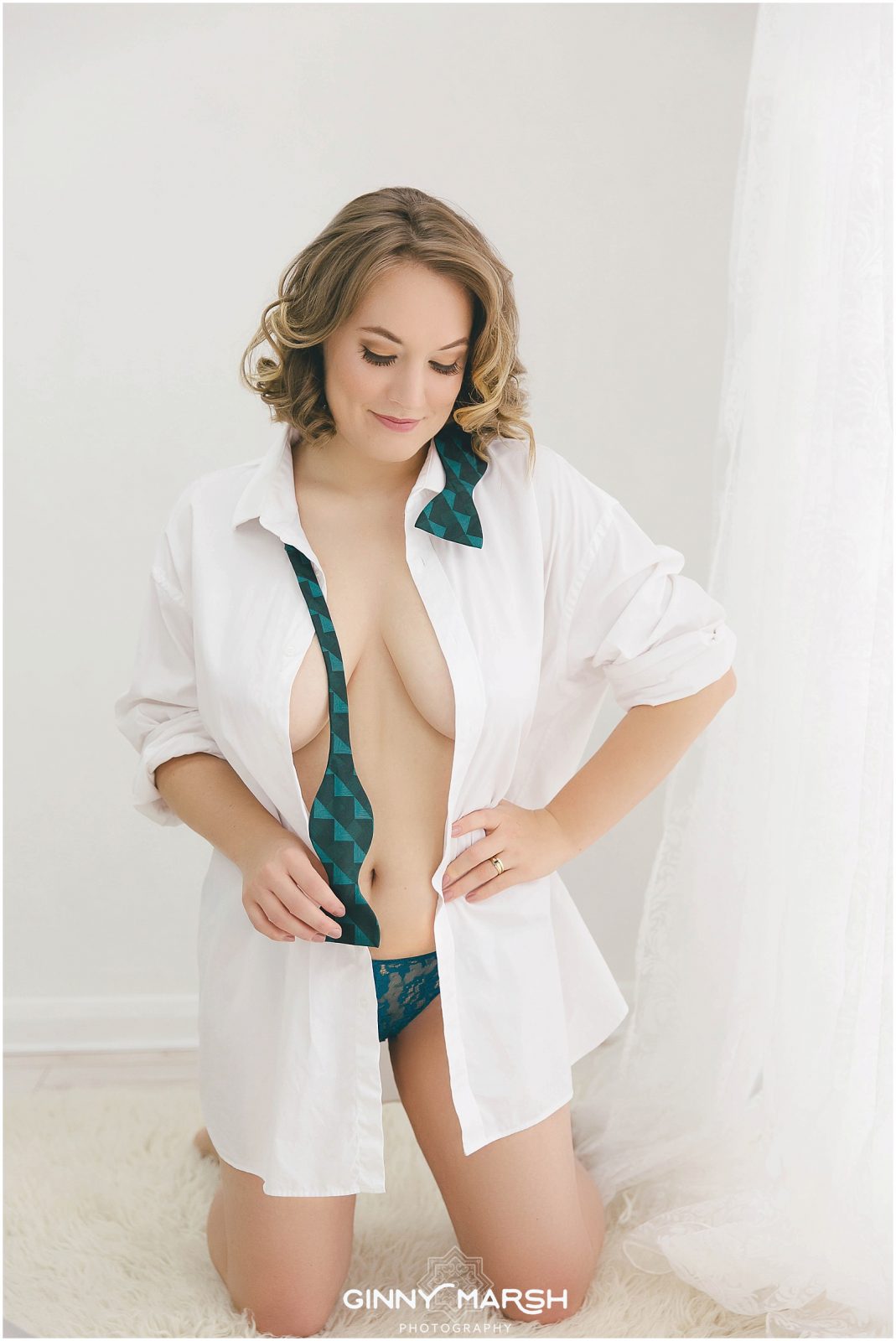 On the day of Margaret's beautiful boudoir shoot
After Margaret had her hair and make-up done she was ready for her beautiful boudoir shoot! She brought quite a few different outfit choices which we planned to go with different accessories and backgrounds. I love the variety of outfits she brought in, from more colourful lingerie to a fun and sexy shirt and the 1940's trench coat look. Margaret also borrowed a few accessories from me, such as the large feather boa fan and the pink fluffy shrug. Adding little accessories like these can really help add to the overall look. The black and white feather boa photo is one of Margaret's favourites. It's so artistic, she can put it on her wall and no-one will even know it's her! What an extra special birthday & anniversary gift to have as a reminder on the wall…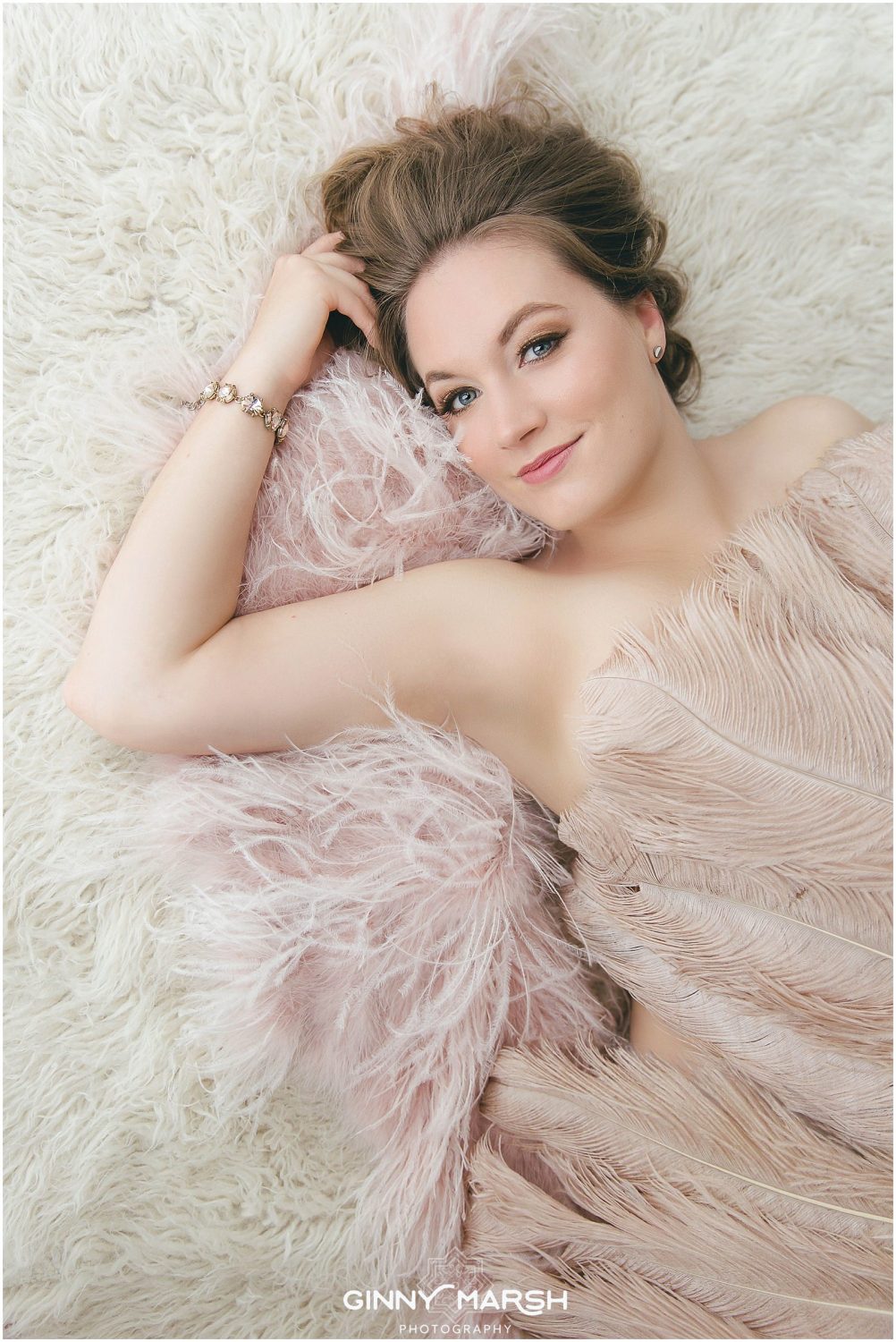 Margaret's thoughts about her experience…
I asked Margaret a few questions about her shoot experience and this is what she said…
"I was most nervous about Ginny seeing me without any clothes on, I also didn't know what to do in terms of where to put my hands, how to sit etc. But Ginny and Gemma helped guide me! It was such a relaxed morning with tea, prosecco and girly tunes. Ginny and Gemma made me feel so at ease and any nerves I had disappeared after the first few clicks of the camera. I'm sure the prosecco helped but Ginny and Gemma made the atmosphere fun and were so reassuring about how I looked. I soon felt totally comfortable. Ginny's studio is lovely and warm (great for getting naked!) and comfortable. Gemma was fantastic and I instantly felt at ease with her doing my hair and makeup. I loved having her there for the whole shoot as a little extra confidence boost!
It was a great day and a really good confidence boost. Stress relieving and a way to escape real life for a day! I now love my body a whole lot more just the way it is."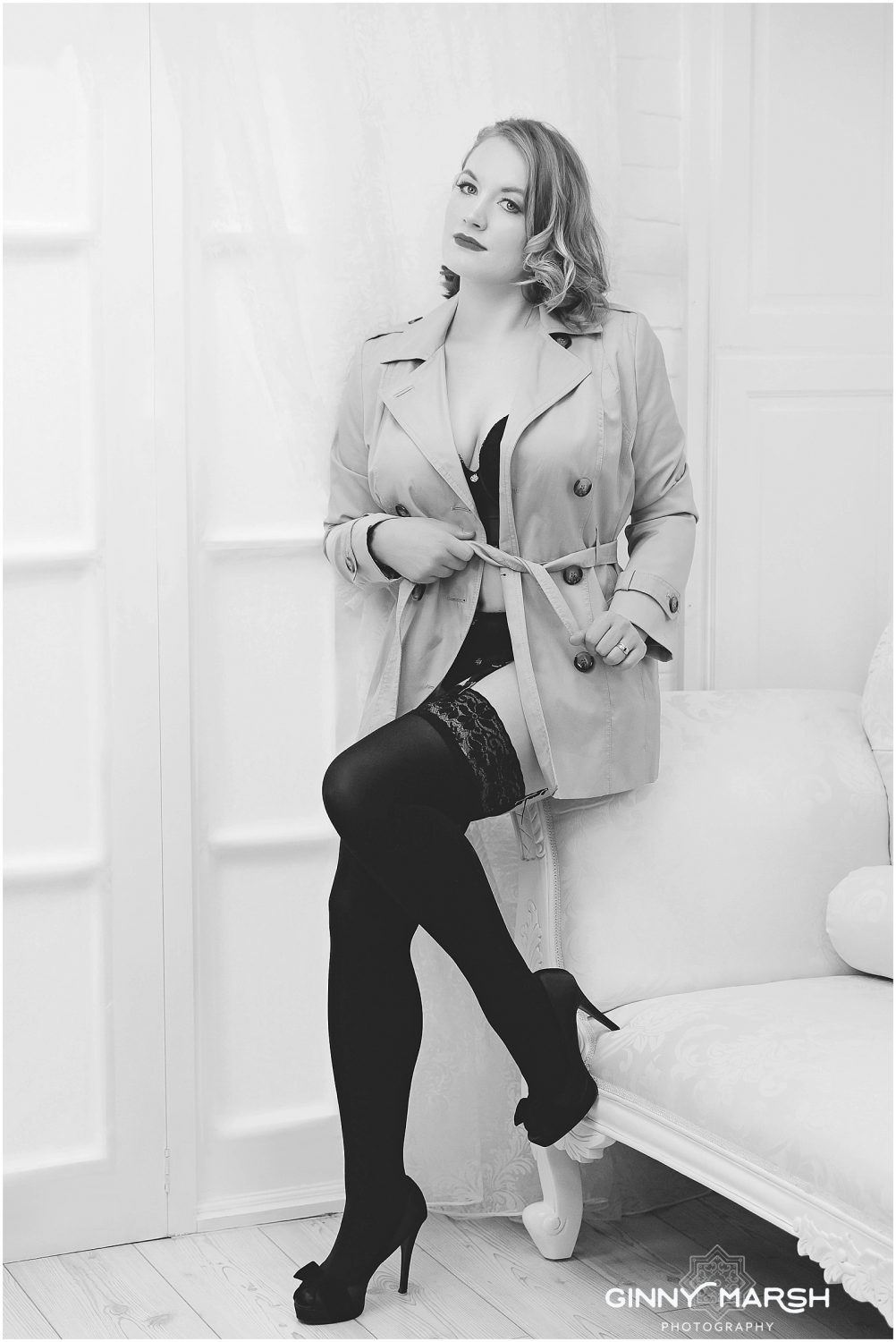 Margarets Photos and how they have helped her!
"My photos are amazing! I love all of them – I can't believe some of them are me! If I'm having a down day or not feeling my best, I look at the print we now have in our room and instantly feel better! I planned these to be our 1st anniversary gift but couldn't keep the secret until September! So instead, the day before my Reveal & Ordering appointment, I told my husband we had somewhere to be at 2pm and that it was a secret! I think he had an inkling when we got to Ginny's studio, but when he saw the video Ginny had made he was in total shock!
I cannot recommend treating yourself like this enough, I was stressed at work and not feeling my best self and had definitely put on the weight I lost before our wedding! I've never done anything like this before but had wanted to since before the wedding. I'm so proud of myself for actually booking it. If anything, it was too short – not because we didn't get the photos I wanted but because I was gutted when I had to go home and back to real life!"
"I wanted to remind myself of my confident side, which has been bumped a bit in the last few years. This shoot definitely reminded me I am beautiful and confident when I want to be!"
Photographer: Ginny Marsh Photography
Hair and make-up:  Gemma Louise Bridal
Feel like its time you treated yourself to a beautiful boudoir shoot?
Want to see more of my Boudoir Photography?
Click here to see the Gorgeous You portfolio!