Lindsay's Pregnancy Boudoir Shoot – 1st shoot after lockdown!
I'm so excited to share with you a gorgeous Pregnancy boudoir shoot for my little sister, Lindsay. It's her first baby, and it's an absolute pleasure to be able to document this journey for her at such a special time in her life. It was also so good to get back into my studio and be creative! The Coronavirus lockdown stopped me from working in the usual way taking photos and seeing clients face-to-face.
Lindsay came in literally the week before her due date (although I recommend giving it a bit more time just in case your little one comes early!). The optimum time for a pregnancy shoot is usually around 30-35 weeks, but each pregnancy is different. It depends on when you feel is the right time. Apart from the lockdown being an issue for taking photos any earlier, Lindsay's bump was quite small, so she wanted to leave it to the last moment!
Keep reading for Lindsay's account of why it was so important to her and what she thought of the whole experience (as well as her gorgeous photos!).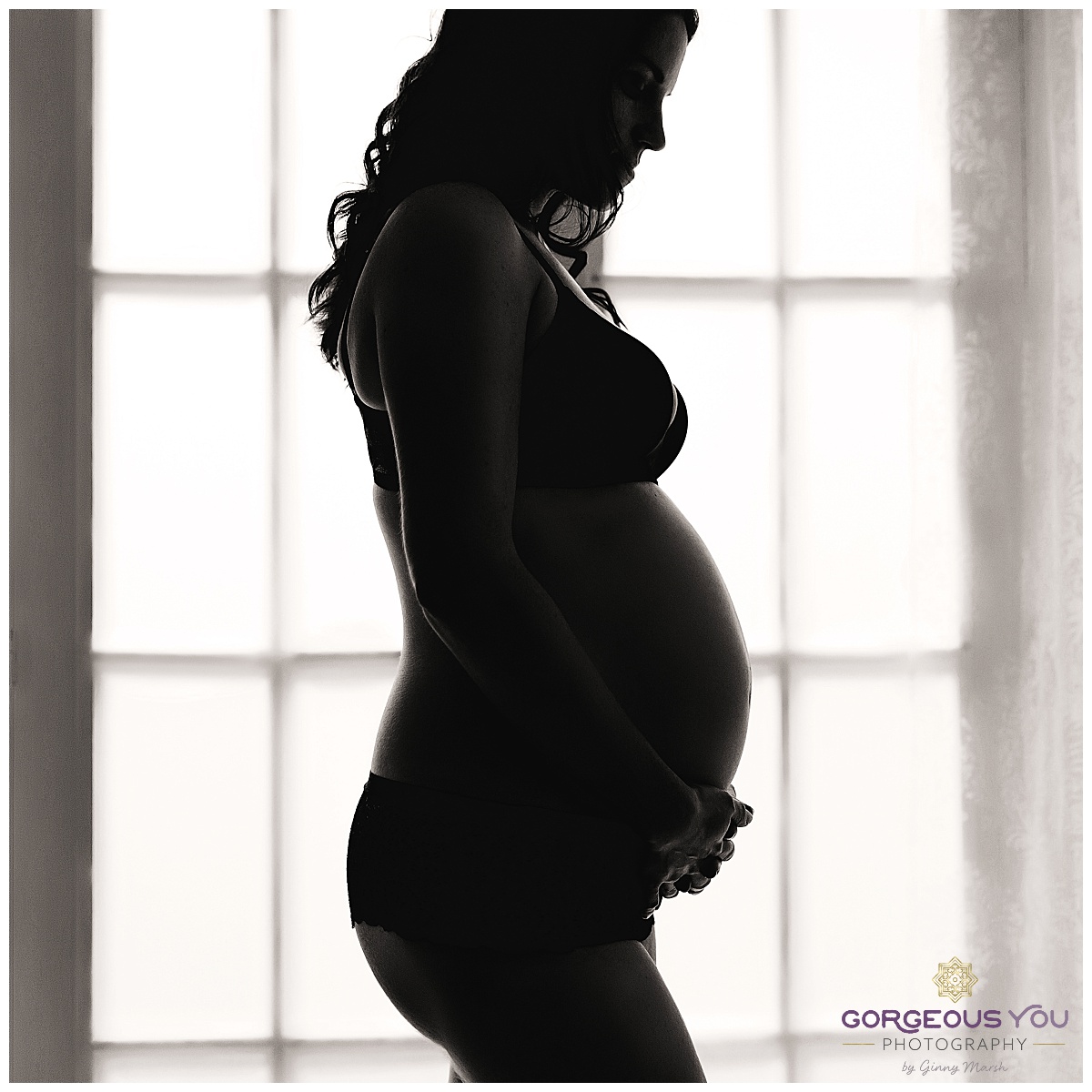 Lindsay tells me why it was so important to have a pregnancy boudoir shoot…
"It's my first pregnancy and I really wanted to document the journey. Your body goes through so much and the changes you experience can make you feel out of character and also at times inhuman; but at the same time so powerful and proud as a woman. You have to accept the fact your shape and body is constantly changing and embrace it. So it's lovely to be able to capture this roller coaster of a journey forever.

The photos are mostly for me to document this journey I have been on and to remind myself to embrace my pregnant body – it is so strong & powerful. I will be coming back for some newborn shots for sure! I'll proudly display them all in a frame to remind me of what an amazing job I have been able to do!".

Socially distanced photoshoots post-COVID-19…
I wasn't able to work with my hair & makeup artist at this time, unfortunately. Luckily, I have a little dressing table where my clients can do their own hair & makeup if needed. And I'm obviously being extra cautious about cleaning everything, as well as using 70% alcohol spray sanitiser. My hair & makeup artists are also able to give virtual or in-person makeup lessons for my clients. This is great because then you can learn how to do your own professional makeup for any occasion!
Lindsay's thoughts: "For the current situation, I guess COVID rules made everything more challenging in terms of maintaining a social distance that felt comfortable but also could still get good results from. You were totally professional about ensuring all standards were met and to still get some beautiful photos".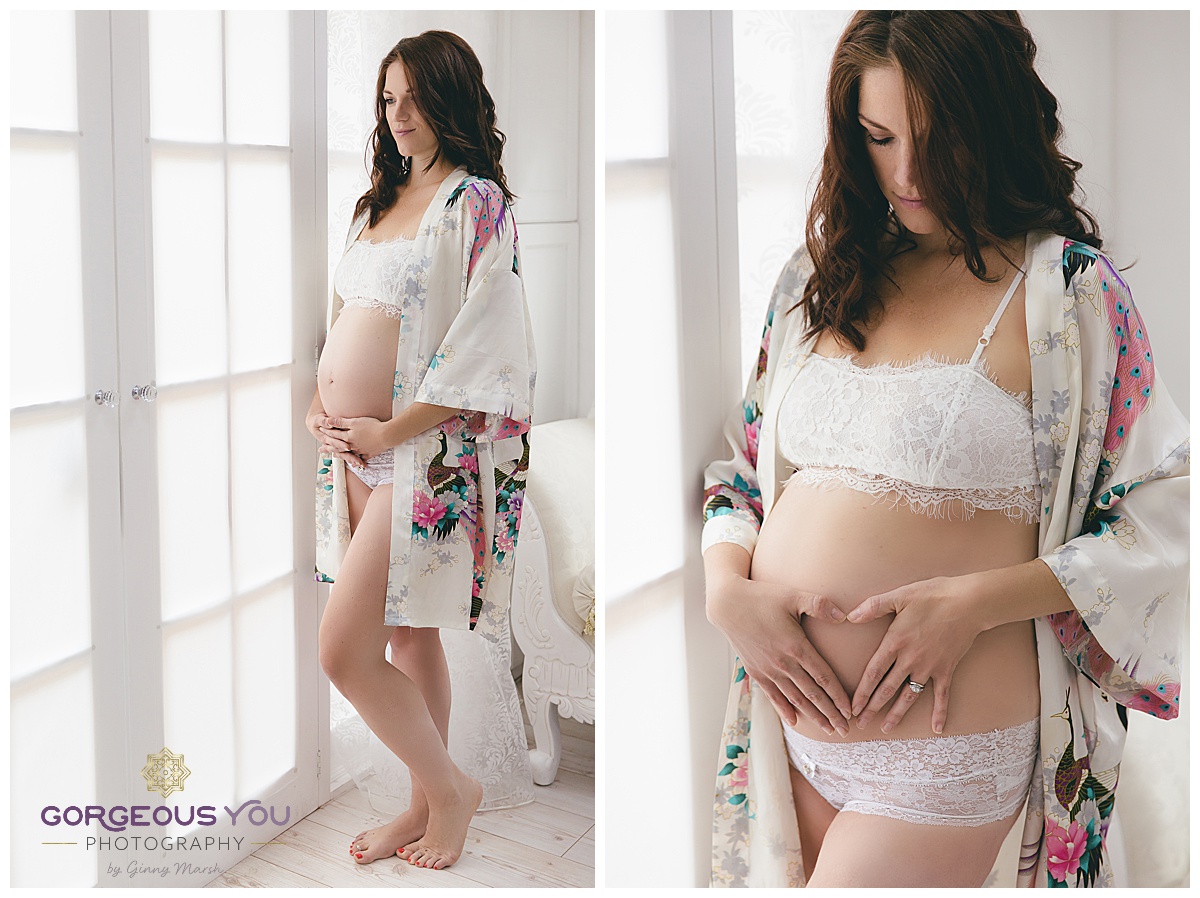 The Boudoir photoshoot experience…
It's so important to me that you feel happy, safe and supported when you book a shoot with me. It's not just a photoshoot, it's a transformational experience!
Before each shoot, I will have a planning session with my clients to make sure both I and they know exactly what they want. This can be in person or online via Zoom. I'll typically make a shoot plan and mood board on Pinterest with images that inspire you. Then I'll add your outfits onto the board and work out what would look perfect for each look. I want to make sure you don't just get the same poses and style that everyone gets – each shoot is designed to suit each client individually. I always want to hear if you've got any ideas of how you'd love to see yourself. If you're not sure, I'll help you discover what you'd love most.
I'm also so excited to be training as a Body Confidence Coach. I can coach you if you'd love more confidence and to change your life in some way. This could also be if you're nervous putting yourself in front of my camera or about seeing yourself and your body in a new way.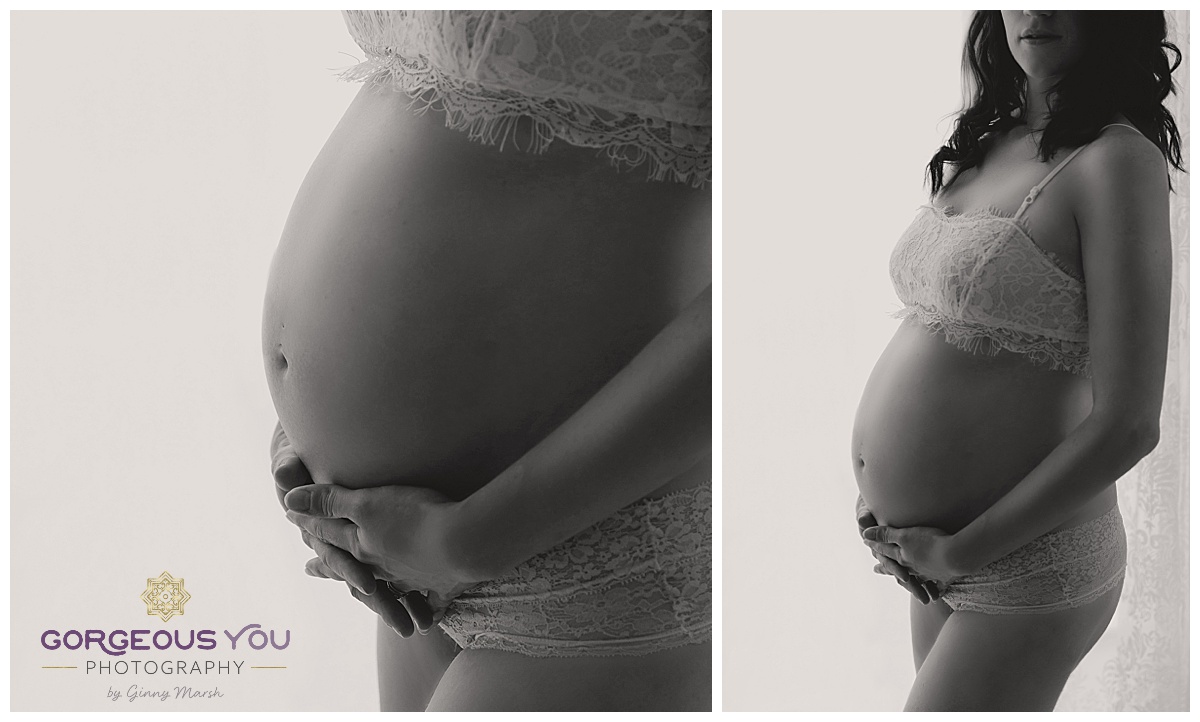 Lindsay's pregnancy boudoir planning session…
Lindsay initially just had one idea of what she wanted to end up with from her pregnancy boudoir shoot – a black and white silhouette of her bump! She wasn't even sure if she wanted her face in it… but the more we looked through images and chatted about options, the more images got added to the list of ones she liked.
And at the end of the day, I can take photos you may not have thought you would like, but each individual is different. You don't have to choose them if you don't like them. But you could trust me and you might just be surprised 😉 I will always make sure I take the photos that are exactly what you want… then I will quite often add in a few others if you're game!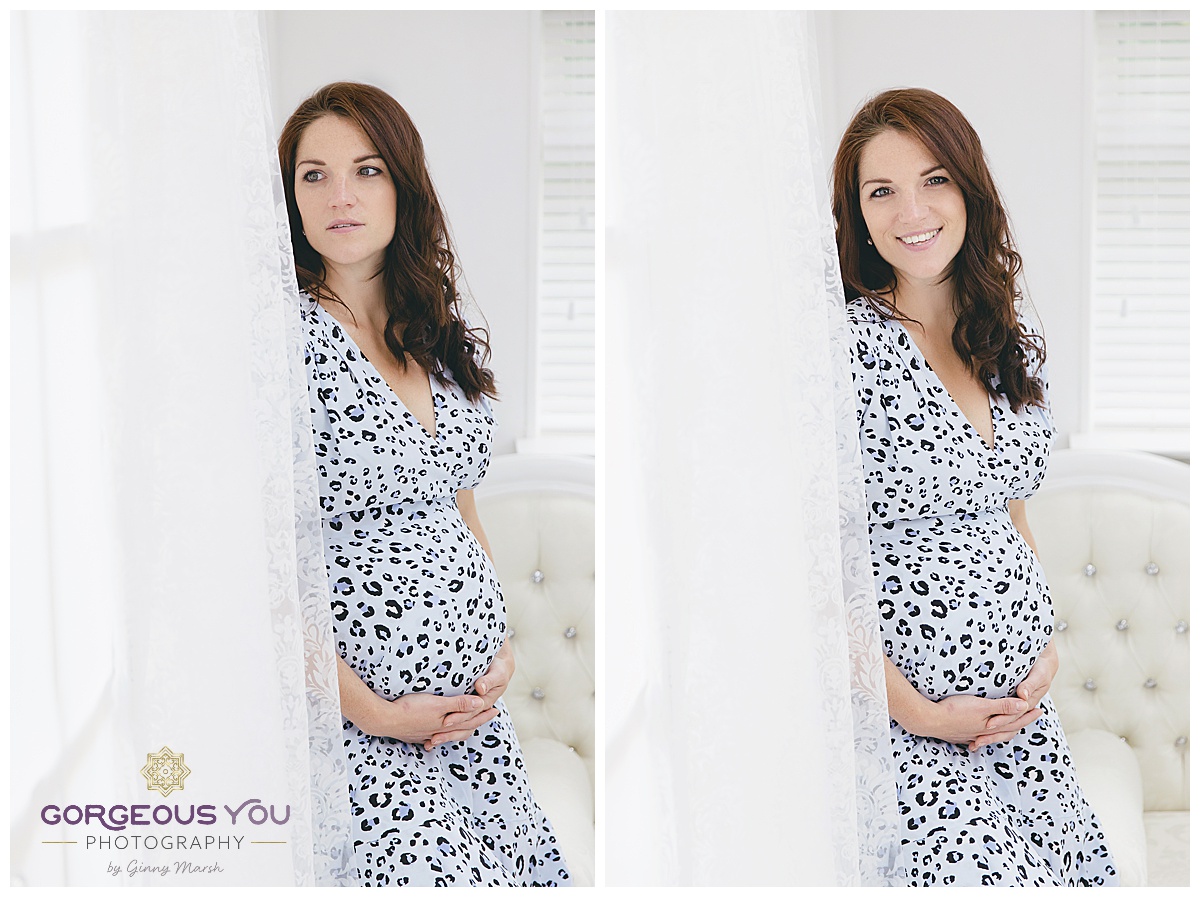 Showing off Lindsay's gorgeous bump
Lindsay says: "I felt totally comfortable during the shoot. You were great at directing me in different positions to compliment my body and the camera and I didn't need to think about it at all. I loved the fact there were lots of props to use (as well as whatever I brought) which really enhanced the photos. The studio was gorgeous! You would have no idea this was a garage in a garden, it's so professional and has everything you need, styled beautifully.

My photos were simply perfect! You listened to my brief and delivered everything I asked for as well as more. I can't believe I can look like I did and just viewing them was a real magical and emotional experience. My favourite photo from the shoot is the silhouette of my gorgeous bump."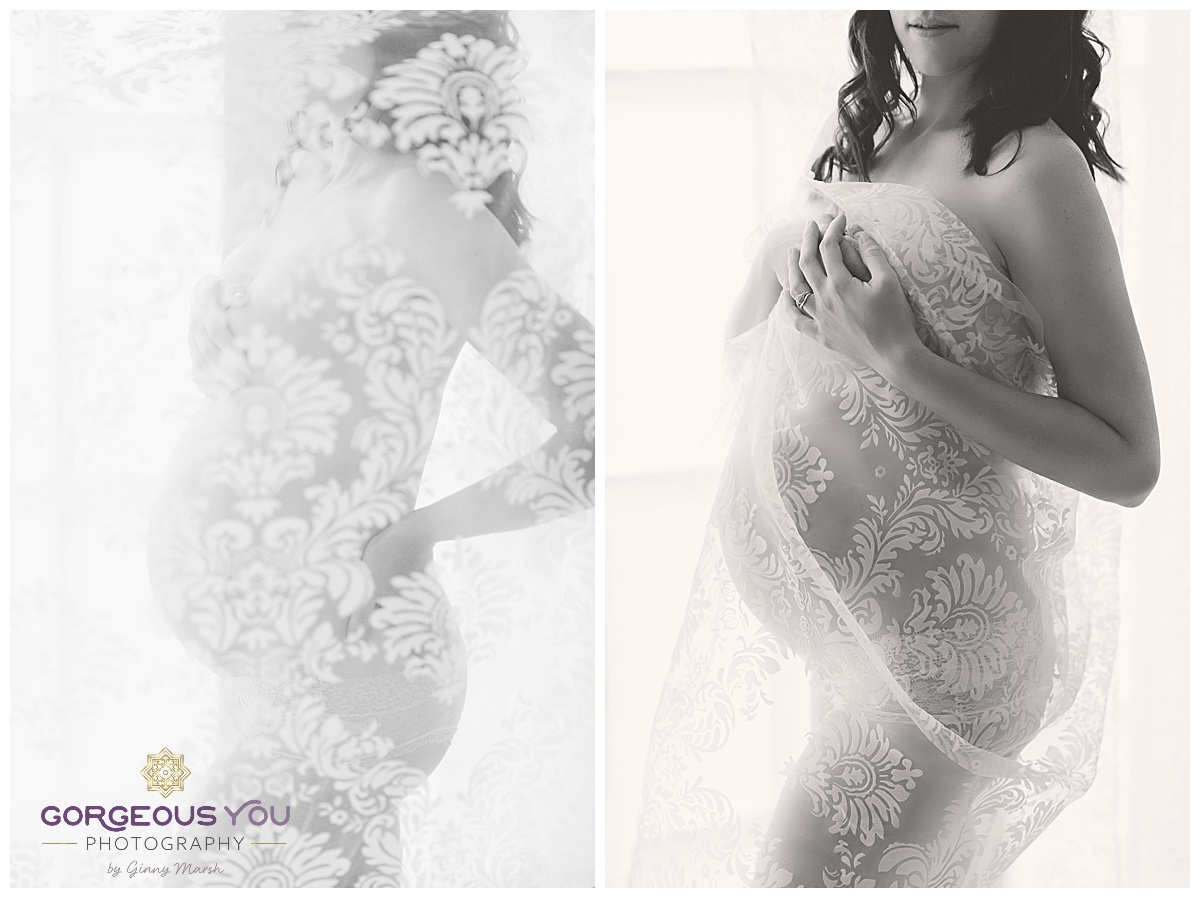 Document your pregnancy to celebrate what a strong, beautiful woman you are…
"Having the photoshoot has allowed me to be more confident with showing off and not trying to hide my bump. It's something that should be embraced and be proud of!

I would absolutely recommend doing a pregnancy boudoir photoshoot to other women – at a time when you typically feel fat, frumpy & lethargic every woman should document their pregnancy journey to show themselves what strong beautiful women they are. If nothing else, it's just nice to get all glam-ed up (even if you have nowhere to go!)"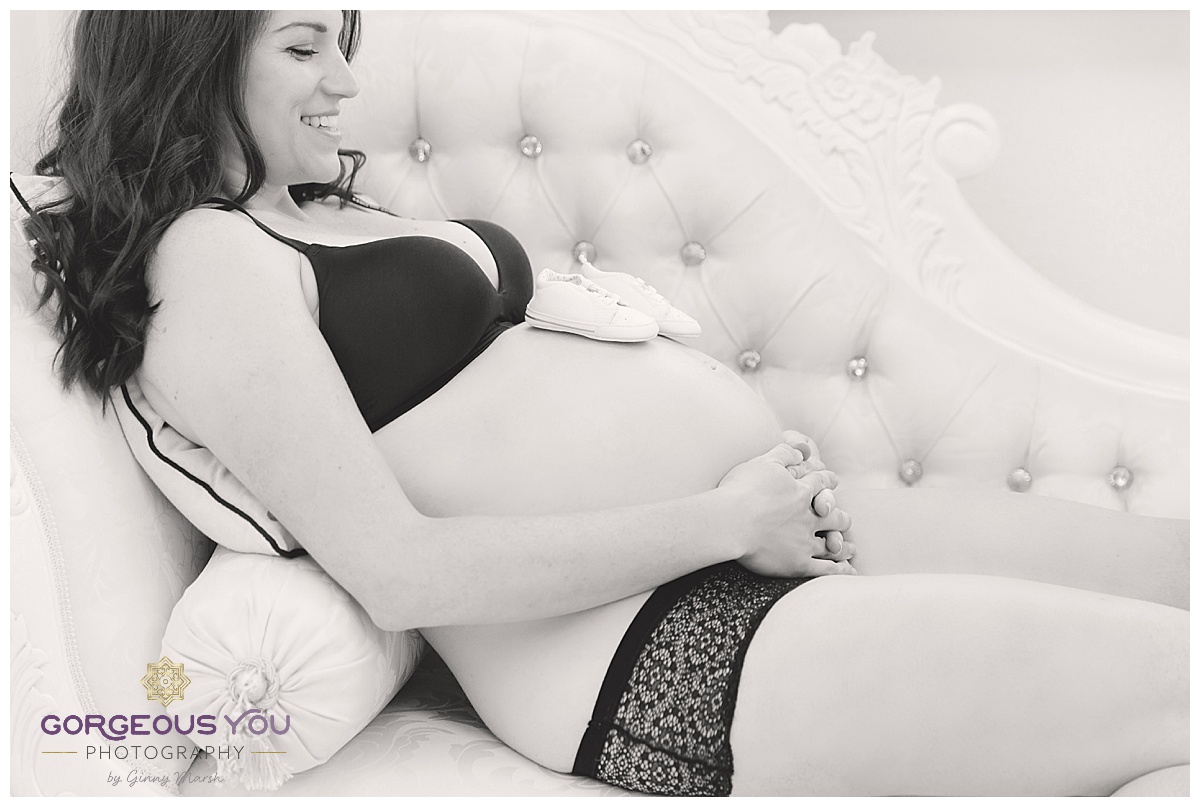 If you'd love some images to capture this time in your life, I'd love to hear from you!
Alternatively, here's another pregnancy boudoir shoot you might like to check out:
>>> Fiona's Pregnancy Boudoir Shoot at Home <<<
Here are some more of Lindsay's gorgeous images, which she's kindly allowed me to share!
Thanks for reading 🙂 Ginny x