Guest Blog – Personal Branding & Confidence to be visible with Beckie from Miss Digital Media
I recently collaborated with Beckie Sanderson of Miss Digital Media on the topic of Personal Branding and visibility in business. Beckie was kind enough to give an online training session in my private Facebook group, Gorgeous You – the confidence to be visible. She even shared her "Ideal client cheat sheet" and it was so useful!
Beckie has over 15 years experience as a creative professional with Personal Branding, teaching and publishing. Her business, Miss Digital Media, offers branding design, online marketing support and training, and book publishing (self-publishing & eBooks). Beckie tells me about how writing a book helped her own Personal Brand and how she now helps her clients. She also gives an honest account of her own struggles with confidence as a business owner and starting a new business…
Starting the "Miss Digital Media" brand…
"Throughout the process of starting my business (Miss Digital Media), I felt that my own brand didn't quite look or feel right. I lacked confidence in myself, my business and how I presented my brand. As a branding designer that was somewhat frustrating! I couldn't understand why I felt like this, or why I can do this for other people but not myself?
My frustration with my own brand design was hampered with my underlying low self-esteem and lack of confidence in doing selfies and videos, let alone live videos. Because of this, I struggled with networking and promoting, which greatly affected my ability to make myself and my business visible to my customers. It was a vicious circle.
As I felt unsure about my logo and branding, I decided I would redesign. I created some new ideas for my logo and branding, and I shared these with a group of people for feedback. I was tweaking this and faffing with that and still, it didn't feel right. This made me so frustrated that I decided to leave things as they were for the time being at least!
I needed a break from all of this… So I decided to focus on other more practical and constructive tasks in an effort to calm my mind and shift my focus.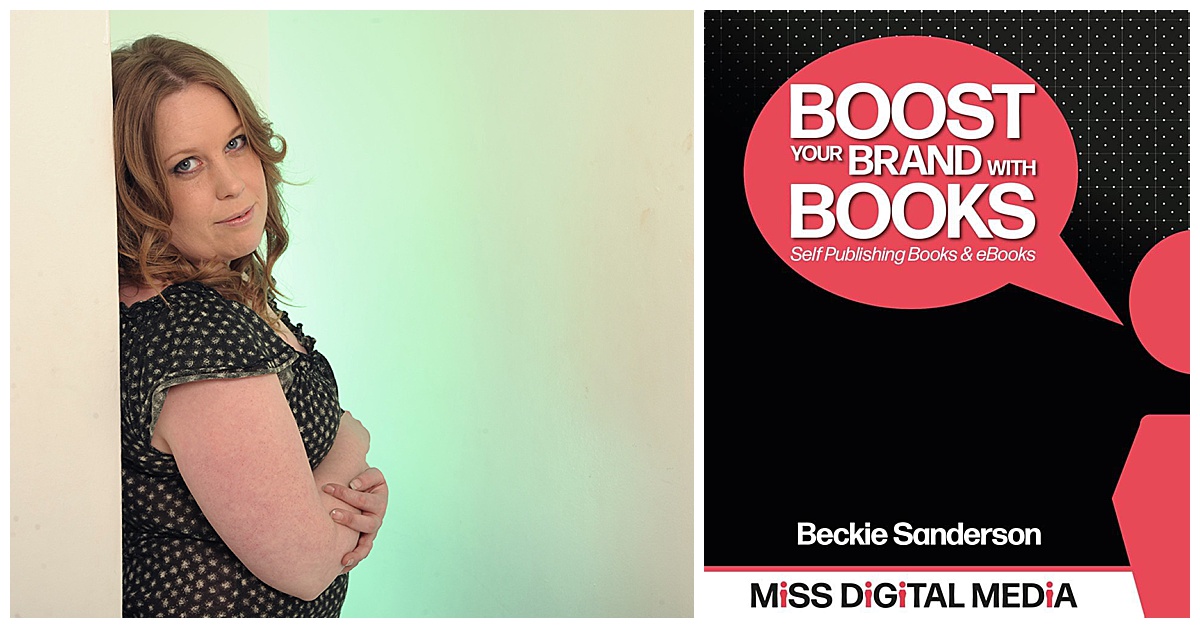 "Boost your Brand with Books"
After a period of rest and reflection, I started writing my first book called – ''Boost your Brand with Books". It was a really therapeutic process for me. I felt so much clearer about what I was aiming for. Then more client work started coming in. I wasn't stressing and overthinking so much about my business development and branding as I was focussed on the client work and I felt much more at ease.
In writing my book, I realised quite a lot about the brand design that I had already created. It didn't need to change. That's how my gut and heart wanted it to look – so why fight it? It's how it was meant to be! Brands evolve, they don't happen overnight. Looking at it from a different perspective, I actually felt quite pleased with it. I feel that the tone comes across as friendly and helpful, which is definitely a big part of my values, purpose and mission. I like to use the words "I'm here to help" and "Boost your Brand" in my marketing. The pink lady icon that I developed for my logo, I absolutely love and have started using it in my marketing a bit more. It's to represent me and the fact 'I'm here to help!'. I can tweak things as I go along. My company branding might not be perfect in some people's eyes but it is good enough and so am I!
Getting out of my comfort zone and being more visible…
Since starting my business Miss Digital Media, I have been reluctant to do live videos. However, during Lockdown I have been taking part in lots of online networking. I was interviewed for a podcast and I have done a few live videos to small and big audiences recently. These have really pushed me out of my comfort zone, but I felt the fear and did it anyway!
This really highlighted to me how much I really need to work on my own camera confidence, as the way I spoke on the podcast was so much more confident. I was being interviewed, rather than just me talking to the camera. Throughout the videos, I felt so nervous. I kept looking at my notes and stumbling on words; at other times I felt that I spoke more confidently and enthusiastically. I was pleased with the content and information I shared, but my presentation skills weren't great at all! However, I am sure many people feel the same! I'm getting there though with more practice!
I've certainly noticed a difference in the number of enquiries I've had from new customers since doing the live videos and being more proactive and visible with my social media. It feels great actually!"
Beckie's top three personal branding tips are:
1. Know your ideal client – do your research! Sign up for my newsletter – Click here to get access to my Ideal Client worksheet.
2. Remember that building a great brand doesn't happen overnight! It takes time. Do your groundwork, be consistent and get a good return on any investment by making sure your marketing is fit for purpose and effective.
3. Get your business visible – Feel the fear and do it anyway! Collaborate, network and promote everything that is great about you, your products and services.
You can connect with Beckie from Miss Digital Media below:
Miss Digital Media's website
Facebook Page
Instagram page
To see Beckie's interview and learn more about Visibility, Personal Branding and camera confidence…
It's specifically for business women who want to get more camera confident and be more visible in their business.
For more information about Personal Branding photography and to see some gorgeous images, CLICK HERE!