A Personal Branding Shoot for Entrepreneur Charlotte Emery
Meet Charlotte
I recently had the pleasure of doing a personal branding shoot for Charlotte in her house. She's an Entrepreneur with a few businesses – she's an Arbonne consultant and a Mortgage Adviser, and now I'm excited to hear she'll be taking over as Athena Regional Director for the Blackwater Valley region!
So Charlotte was looking for personal branding images to use for a few different roles. As they are very different, it was important to discuss who her ideal clients are, where she wanted to use the images and what type of images she'd love to end up with.

Charlotte's lovely thoughts on her branding images…
I had a lot of fun photographing Charlotte in her home, so it was really nice to hear her feedback:
"Ginny is brilliant at capturing what your brand is all about and she was flexible enough to take on helping me get amazing photos for more than one of my businesses!!! Not only did she help me plan what I wanted to achieve but also really understood what I am about so that the photos truly reflect me. I am delighted with the results and I now have a huge range of pictures to work with. Thank you Ginny"

Before the shoot
When planning a shoot, it's vital that I understand what your business is, your mission, values and how you want to be conveyed.
I had a consultation with Charlotte before the shoot to really get a good idea of this, as well as the clothes she would wear and the type of photos she likes. This helps both myself and the client get prepared for the shoot. We had hair and makeup artist Alix Holdaway-Salmon, who's also an Arbonne consultant, to get Charlotte camera ready and looking her best. This is an important part of my shoot process as it helps give you a little confidence boost before the shoot. It also helps make your features stand out more for the camera.
It's great to use branding images for Social Media, LinkedIn, your website and business cards. I always keep that in mind when taking photos and check to see if my clients have any specific requirements beforehand.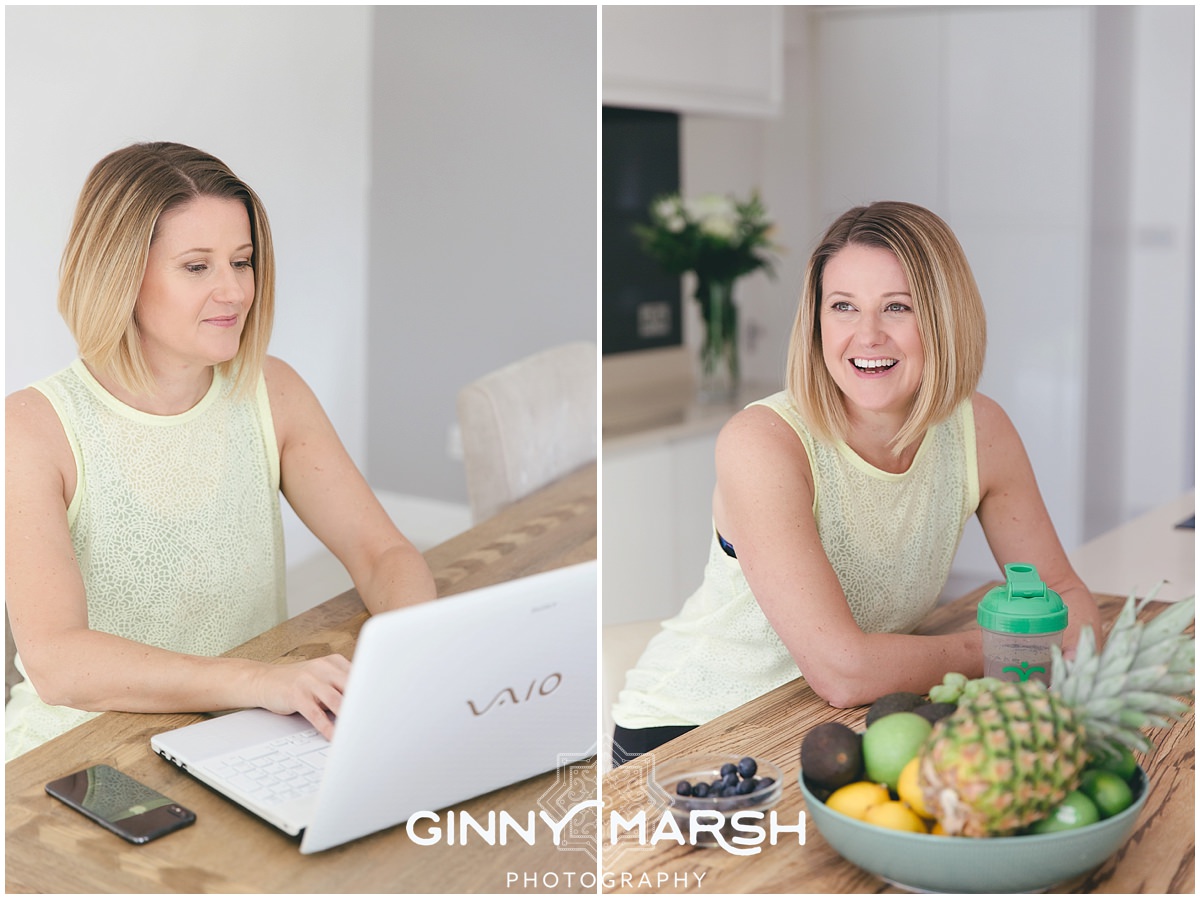 Branding photos for an Arbonne consultant
Arbonne is a skin and health care product company, it is all about providing healthy, cruelty-free, safe products. So the photos needed to show Charlotte as healthy and inspirational with a fun, flexible business. Arbonne is often represented by Green colours so it was important to use that colour in the shoot, especially as green is usually associated with nature and health. I spoke to Charlotte about what her work as an Arbonne consultant involves so we could portray her work process; from using the fabulous products, talking to clients, receiving orders and other admin work. As well as her work process it was important to show her healthy lifestyle as a result of Arbonne and help her inspire others.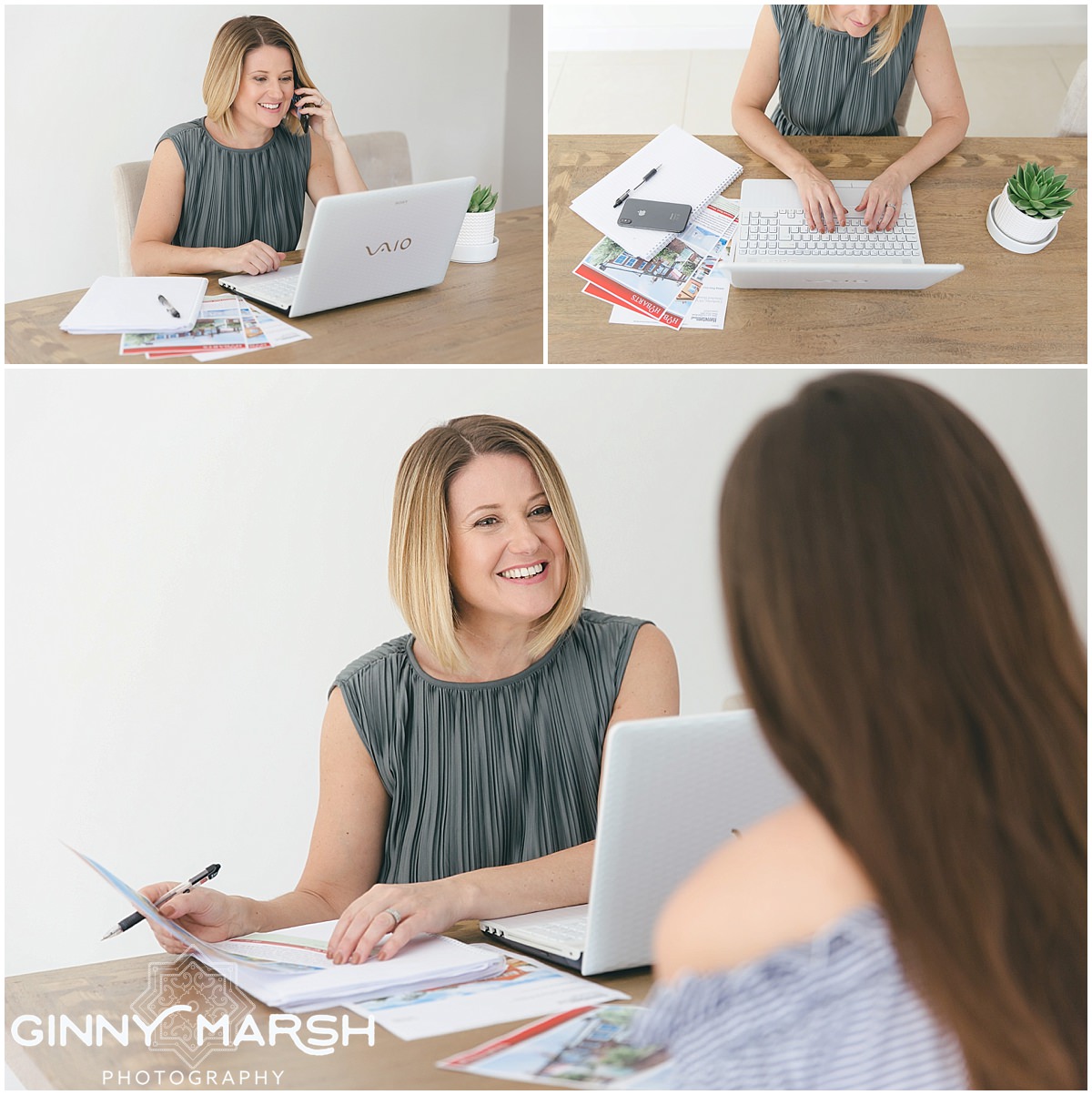 Branding photos for a Mortgage Advisor
Working as a Mortgage advisor differs slightly from an Arbonne consultant. Although Charlotte is still helping people she needs to come across as a lot more professional. So it was important she wore slightly more formal clothes. As a mortgage advisor, Charlotte also needs to come across as trustworthy and approachable. We also showed how she works with clients. Letting clients see your 'behind the scenes' work process makes them more likely to trust you straight away (see above).
For all jobs, it is also important to have a headshot. A good headshot helps the client get to know the face behind the brand, and is just a nice introduction. It can be used throughout social media and on your website. So I made sure to get a variety of headshots with some different outfits.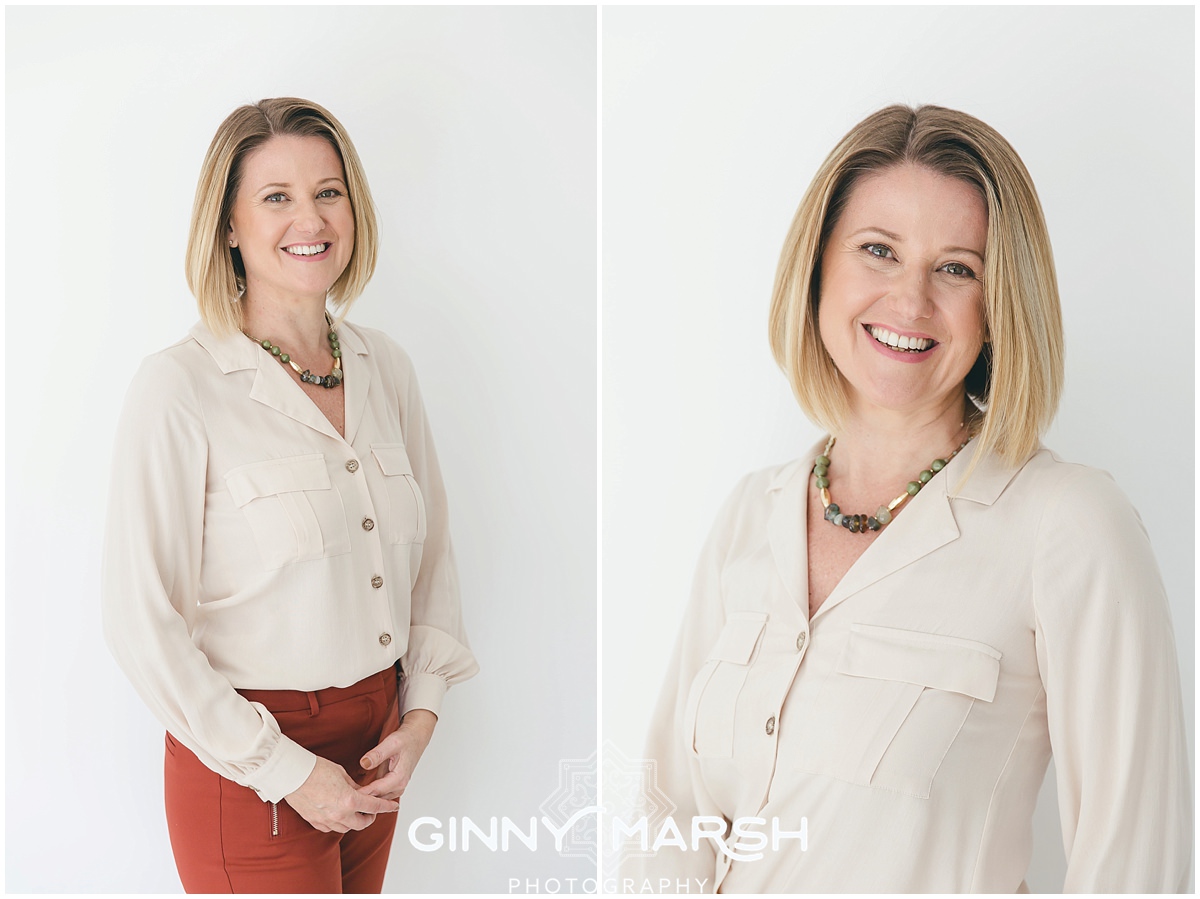 Thank you Charlotte for your lovely feedback! It was great fun photographing you. 🙂
Hair and Make-up: Alix Holdaway-Salmon
Photographer: Ginny Marsh Photography
Are you ready to step your brand up to the next level with some amazing branding images?
Get in contact and let's have a chat about how I can best show off your brand!
Thanks,
Ginny x