Sharon's 50th Birthday Boudoir Photoshoot

Meet Sharon
Sharon came to me to celebrate her 50th birthday with a boudoir shoot. She went through a divorce two years ago and felt it was now time to celebrate herself, and give herself a bit of a confidence boost. I am so happy that Sharon came for a photoshoot with me. My goal is always to help boost my client's confidence!
Sharon's thoughts about her 50th birthday boudoir shoot:
"I have always lacked confidence and hated having my photograph taken. Since my divorce two years ago I have been trying to improve my confidence and to try to feel good about myself. So I thought a photoshoot would help and I would hopefully be left with a beautiful picture of myself that I could be proud of. Turning 50 seemed like a perfect opportunity so I decided to go ahead.
I was most nervous about smiling, I really struggle to smile & look comfortable. I was extremely nervous at the start as one of my main anxieties were people looking at me, I have always tried to blend into the background and hoped nobody would see me. Ginny made me feel comfortable & when the shoot was over I wanted to do it again! The photos are beautiful and I love looking at them. Everyone that has seen them loves them too.  The studio is lovely and the makeup artist made me feel very comfortable. I would really recommend this experience!"
Planning Sharon's shoot…
I met Sharon before her shoot for a pre-shoot consultation. We had a good chat about why she wanted a boudoir shoot, the style of photos she wanted and we went through different outfit ideas! This helped prepare both myself and Sharon ready for the shoot. I use Pinterest with my clients, so I can see exactly the type of photos my clients want. I love Pinterest because you can create folders within folders. So I can see the hairstyles, make-up, outfits, style of photos and poses you like. Then we can plan together what outfit you will wear for each pose and also help prepare the hair and make-up artist.
Having hair and make-up before your shoot is really important even if you don't normally wear any/ little make-up. My hair and make-up artists are great at creating very natural looks. It's important to have your hair and make-up done as the camera doesn't see as much as the human eye. So this helps make you camera ready!
I kept in mind everything we'd discussed in Sharon's consultation to make sure I got everything she wanted. For example, Sharon pinned some images on her Pinterest board which had ivy hanging down, so we incorporated that into her shoot also.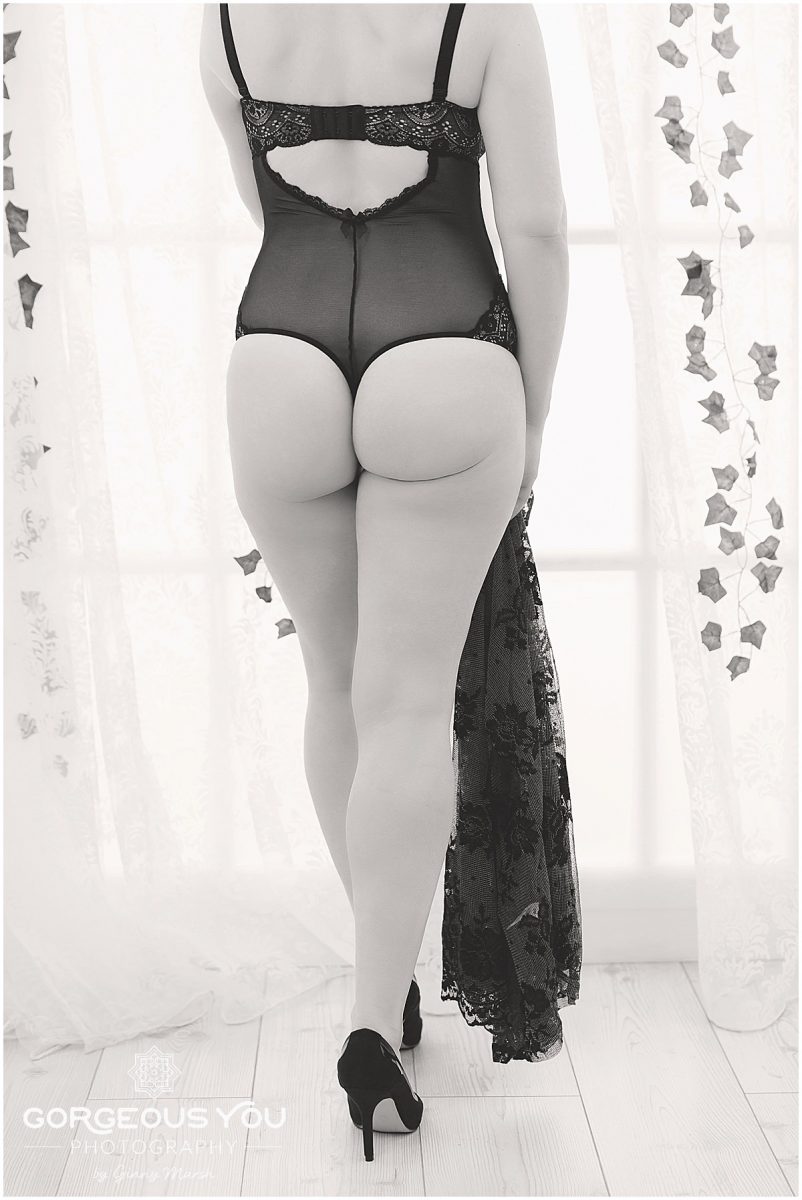 Sharon's fiery 50th birthday photoshoot
I really enjoyed photographing Sharon, capturing a mixture of portraits and more artistic boudoir shots. Throughout Sharon's 50th birthday photoshoot I guided her into the most flattering poses for her body shape. I am so happy Sharon enjoyed her shoot and I was able to give her photos she can always look at and appreciate how gorgeous she is! She's come a long way in being able to see herself as a confident, beautiful woman and this is all part of the process.
Photographer: Gorgeous You Photography by Ginny Marsh
Hair and make-up: Nicky from Nastasha Wiggins Hair and Make-up
In need of a bit of a confidence boost? Please get in touch and let me see how I can help you!